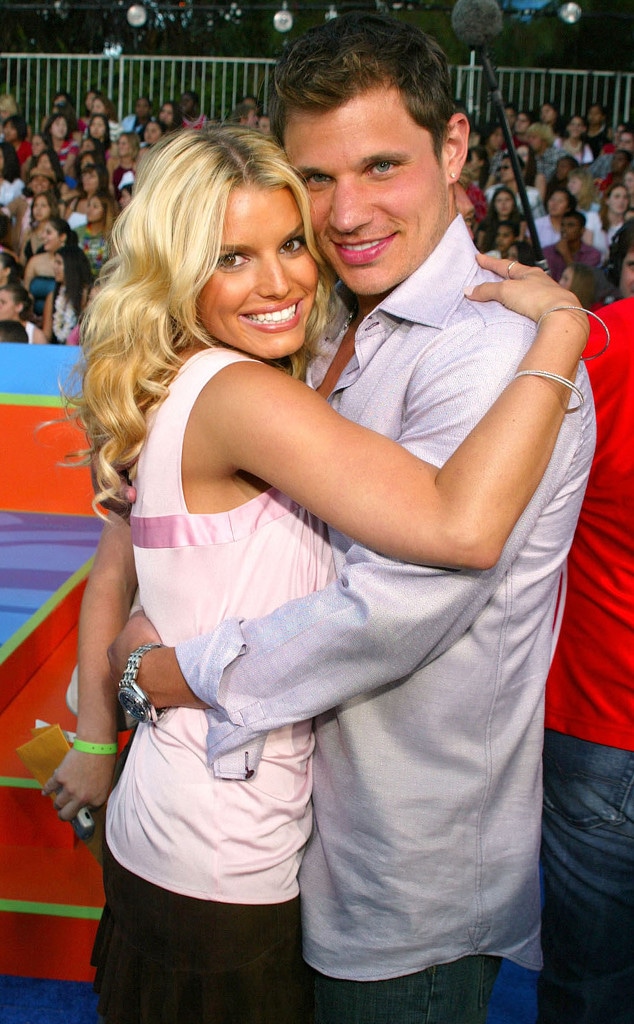 Jeffrey Mayer/WireImage.com
"I believe that Nick and I are going to last forever. And if we don't, it'll make a good reality show."
When Jessica Simpson uttered those fateful words to Rolling Stone in 2003, she had no way of knowing it, but she was only partly right.
The superstar singer had just celebrated the first anniversary of her wedding to 98 Degrees singer Nick Lachey and the first season of their hit MTV reality series Newlyweds: Nick & Jessica had just finished its run on the cable network. And while it may have seemed at the time that they were on top of the world, it wouldn't last. Their marriage would come to an end shortly after the show did, just three years after it began, but their young love would leave an indelible mark on pop culture history.
And while they both moved on, found the true loves of their lives, and built lasting families, the impending 15th anniversary of Newlyweds' series premiere has us here at E! News feeling a bit nostalgic for a simpler time, a more pure time, a time when all we had to wonder about was whether it was chicken or fish in Jess' bowl. So, strap yourselves in. We're going on a romance rewind.
When Jessica met Nick in 1998 at the Hollywood Christmas Parade, they were introduced to one another by the manager they had in common. Her first album had yet to be released, while 98 Degrees was only just beginning to break through thanks to the release of their debut album. They came from different worlds—Jessica's Dallas-bred religious upbringing stood in contract to Nick's blue-collar Ohio roots—and yet, they were drawn to one another. "After we met," Lachey reminisced to People in 2003, "I found myself looking through the crowds for her all night."
After another run-in at a Teen People party in Florida in January of 1999, they both returned home to L.A. and began dating, even buying condos in the same building, two stories apart. As Nick admitted later during a joint CBS News interview with Jessica, "The first time I ever heard her sing, I got chills. And I told the guys [in 98 Degrees]..., 'I'm going to marry that girl one day.'"
Soon, they began mixing business with pleasure. Nick would feature on "Where You Are," the second single released from Jessica's debut album Sweet Kisses. Jessica would travel with 98 Degrees throughout the year as the opening act in select North American cities on their Heat It Up Tour. Things were going swimmingly until early 2001 when Jessica broke things off with Nick to focus on the release of her second album, Irresistible. Jessica would later explain the reasoning behind her decision on an episode of Newlyweds, saying, "It was during the release of Irresistible and you know, it was just one of those things where I thought I needed to date other guys and see what else was out there."
The self-avowed virgin, who'd rocked a purity ring since receiving it from her father Joe at age 12, was barely 18 when she began dating Nick, who was seven years her elder, so the decision made a bit of sense. After only five months and one massive national tragedy, though, they pair were back on and better than ever. As she explained on her website, "After 9/11, I knew that I never ever wanted to be away from Nick ever for the rest of my life."
In February of 2002, Nick proposed to Jessica as the sun set across the Pacific Ocean while aboard a yacht chartered in Hawaii. "I was wearing a huge sweat-shirt that came down to my knees," she admitted to People. "If I had known he was going to propose, I would have at least dressed up cute." They were married in October of that year at the Riverbend Chapel in Austin, Texas. It rained on their wedding day—a thunderstorm, actually. Not the most auspicious start. 
Before the couple could begin their new life together, there was the delicate matter of the wedding night. While it certainly shouldn't have been any of our business, Jessica's public proclamations about waiting until marriage certainly made it our business and so, inquiring minds and all, she opened up about the special evening with Blender. "It was the most amazing moment of my life," she told the publication. "I'm so lucky I didn't lose my virginity in the back of a Jeep or something. Instead, I had this amazing, elaborate wedding and I topped it off with that."
True to Jessica's traditional views on marriage, she and Nick didn't live together until they tied the knot which, in retrospect, makes the decision to film their first year together all the more cruel. But when papa Joe, who was acting as his daughter's manager, learned about a discarded reality TV pitch originally crafted for Michael Jackson and Lisa Marie Presley back in 1994, he sold MTV on the idea of bringing cameras into the home his daughter was making with her new husband. The network had just struck gold with The Osbournes and were keen to continue this celeb-reality trend. And what better way to boost flagging record sales than to bring Jessica and Nick into fans' homes every week?
"When I first heard Nick and Jessica wanted to do this show," Jess' mom Tina, who also worked as her stylist, told People just after the show debuted in 2003. "I just thought, 'Oh Lordy, here we go!' I know what it's like during the first year of marriage—you have so many changes and things to get used to."
For five months in their first year of marriage, as they truly got to know one another's remarkable quirks, cameras documented every second of it. We watched as fastidious neat freak Nick bugged out over Jessica's lax approach to keeping a home and grappled with her spendthrift ways. We laughed as she wondered if tuna was chicken or fish, revealed that she believed buffalo wings to be made of actual buffalo meat, struggled to understand the phrase rigor mortis. They were The Odd Couple, only they were also in love.
As the show took off and became a hit, the benefits of its success were only really felt on Jessica's end. She'd become the meme generator, her third album, In This Skin, became her best-selling to date, she landed her feature film debut as Daisy Duke in the Dukes of Hazzard adaptation. Nick, on the other hand? His debut solo album, SoulO (we know, we're groaning too), flopped. And despite a 2004 ABC variety special in the vein of The Sonny & Cher Show starring the couple, the career opportunities just weren't rolling in. And to have started this relationship as the one with the higher profile, that had to sting.
With MTV cameras rolling until Newlyweds wrapped its third season in early 2005, the pressures of an incompatible marriage truly began to take their toll. With her family, Joe especially, always around—"We're Southern, and we're spiritual, and we're really close," Joe told Rolling Stone in 2003, to which Nick commented, "I think it's weird."—and the age and lifestyle differences often leaving Nick feeling as though he was still helping to raise Jessica ("I am a baby; Nick married a baby," she told People), it seemed as though the natural progression of things would be for Nick to initiate the divorce.
"You could feel there was tension between the two of them. They were very different people. He was a blue collar guy—he did a lot of things himself, like he and his brother would build things. He was frugal, and she had excessive taste. In the end they weren't suited for each other. The only thing they really had in common was their music," Newlyweds producer Sue Kolinsky recalled in a 2017 interview with Complex. "She was really young; I think he's seven years older than her. He wanted a family, and her father thought maybe she was too young. Her father was very involved in her life."
But when the time came to call it quits and the couple announced their separation in November of 2005, it was Jessica who filed the divorce papers the following month, citing "irreconcilable differences." While reports conflicted on exactly why Jessica wanted out—one side chalked it up to Nick's partying ways and his refusal to attend Thanksgiving with her family, while the other said it came entirely out of the blue, blindsiding Nick as he drove her home after dinner; you figure out which is which—there was no disputing that it was Jessica who pulled the plug.
The divorce was heavily publicized and finalized on June 30, 2006. The couple famously had no pre-nup, leaving Jessica to reportedly pay her ex-husband $12 million to leave him. In 2015, the fashion mogul behind the billion-dollar Jessica Simpson Collection would quip that her first marriage was her "biggest money mistake" during an interview with CNBC's Closing Bell.
Both Nick and Jessica would rebound quite nicely after the painful split, with Nick releasing "What's Left of Me" (his best-selling solo single to date) before the ink was dry on the divorce papers and eventually marrying former MTV VJ Vanessa Minnillo in 2011. Jessica would go on to launch her aforementioned wildly profitable clothing lines before meeting retired NFL tight end Eric Johnson, welcoming two children into the world together, and eventually tying the knot in 2014. So, no need to feel too bad for either of them.
The marriage between Nick and Jessica may have been doomed from the start and introduced the world to the so-called "reality TV curse," but looking back, Jess sure was right about one thing: It made for damn good TV while it lasted.