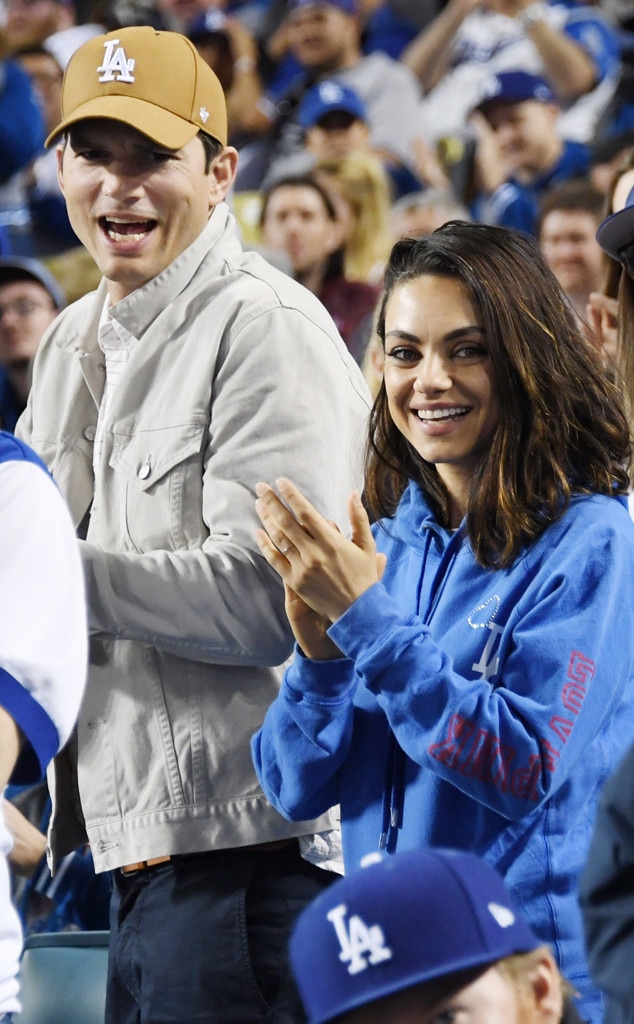 Courtesy of Los Angeles Dodgers
Mila Kunis and Ashton Kutcher shared the screen on That '70s Show, but they likely won't star alongside each other anytime soon.
Kunis shot down the possibility during a recent interview with Sunday Today With Willie Geist.
"Probably not going to happen," Kunis said in a Friday sneak peek of the interview. "I can't look at him and not be like, 'What are you doing?'…No, it's weird."
The Spy Who Dumped Me star explained the spouses now get distracted by each other's acting mannerisms."
"In a scene with him I was like 'Oh I see you acting.' Like I can catch it...and he looked at me and was like 'What's that face you make?'" she said. "And I was like 'We can't do this. We can't be together in a scene.'…You can catch each other on like the weird shtick so to speak."
While Kunis isn't keen on working with her husband again, she said she'd "absolutely" reunite with Kristen Bell and Kathryn Hahn for a third Bad Moms movie. However, she said it would have be "done right without being rushed." 
Watch the video to see the teaser for her interview.
It's been over a decade since Kunis and Kutcher have starred alongside each other as Jackie Burkhart and Michael Kelso; however, they've since taken on new roles: spouses and parents. The couple celebrated their third wedding anniversary this summer and are raising two children, Wyatt and Dimitri.
To see Kunis' full interview, watch Sunday Today With Willie Geist this weekend.
(E! and NBC are both part of NBCUniversal).