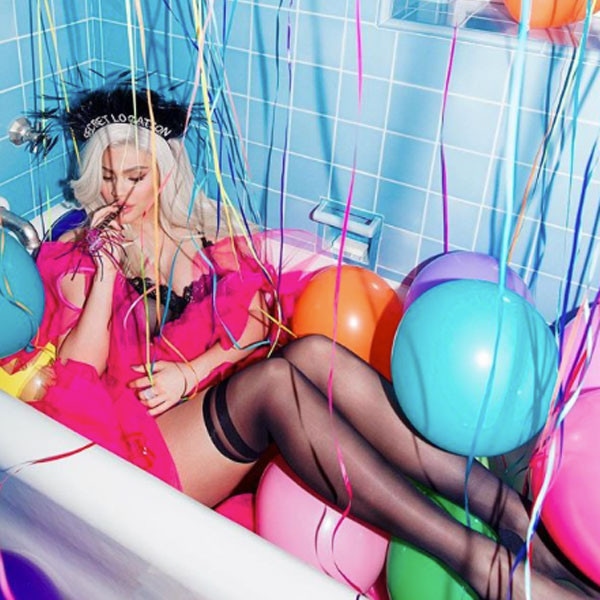 Brendan Forbes for Brendan Forbes photography / KGM Entertainment Inc
It's no secret the Kardashian-Jenner clan throws the best parties!
And now, Kourtney Kardashian is spilling some exclusive details about how her famous family plans to celebrate Kylie Jenner's 21st birthday this week (the makeup mogul turns 21 this Friday).
"I think we're gonna do a big party…21!" the Keeping Up With the Kardashians star recently revealed to E! News.
Kourt says Kylie wants her sisters to party just as much as her this weekend.
"She wants me to [act] like this is my 21st birthday also," Kourtney explained. "I think I did that for Kendall's 21st. I was like, 'Guys, it's my 21st birthday!' Like I pretended like it was my birthday too. So Kylie was like you better be pretending like this is your 21st also. So it's a lot of pressure but I'm going to have to have a lot of fun that night."
Time to turn up, Kourt!
In addition to chatting about Kylie's milestone b-day, Kourtney also recently opened up about Kylie's baby daughter Stormi Webster and Khloe Kardashian's newborn little girl True Thompson.
"It's amazing watching them," she said of the new moms. "And I think I can also now say, 'Now you can see how I did it, why I was feeling this way.' I think we just relate to each other and I think you never know how you're going to be as a mom, so watching them and how they're doing it—like everyone has their own way. You really can't predict what you're going to be like. So I think just watching them is really, it's really special to see their journey."
"I don't even know how we got here with so many babies but it's so amazing," Kourt added. "Just the fact that our kids can all grow up together…it's such a magical time in our family."