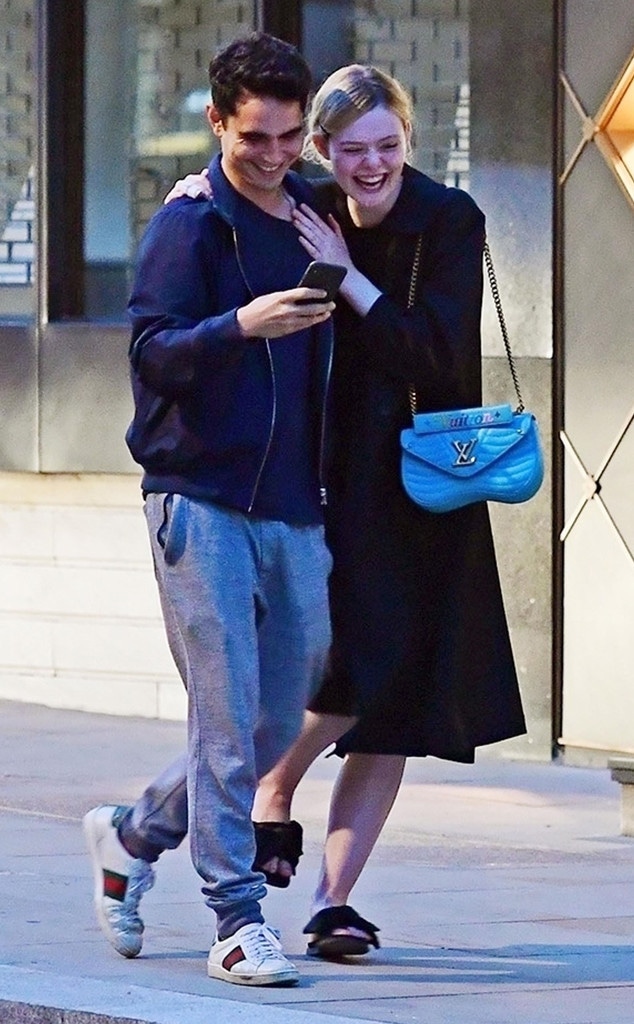 BACKGRID
Love is in the air!
Elle Fanning and Max Minghella of The Handmaid's Tale were spotted holding hands and kissing while taking a walk through the streets of London Wednesday night. The actress casually wrapped her arm around the 32-year-old's shoulder as she laughed at something the actor said. Likewise, her rumored beau had his arm resting on her waist.
An onlooker says they looked like a couple as they strolled through Mayfair. "They were all over one another. She kissed him on the neck as she draped her arms around him," the onlooker adds. "They looked really happy together and laughed a lot as they took selfies with each other."
However, the two have yet to comment on their rumored romance. 
Together the pair is working on the indie film Teen Spirit, with Max directing and Elle taking on the lead role. The project is set for release some time in 2019. 
Fanning, meanwhile, is currently in London to film the second installment of the Disney film, Maleficent, with Angelina Jolie. In a picture shared to her Instagram, the 20-year-old looked overjoyed to reunite with the activist as they started shooting the sequel to the blockbuster film. "It's bring your mom to work day on the #Maleficent2 set," the blonde beauty joked. 
Praise be to this potential couple.