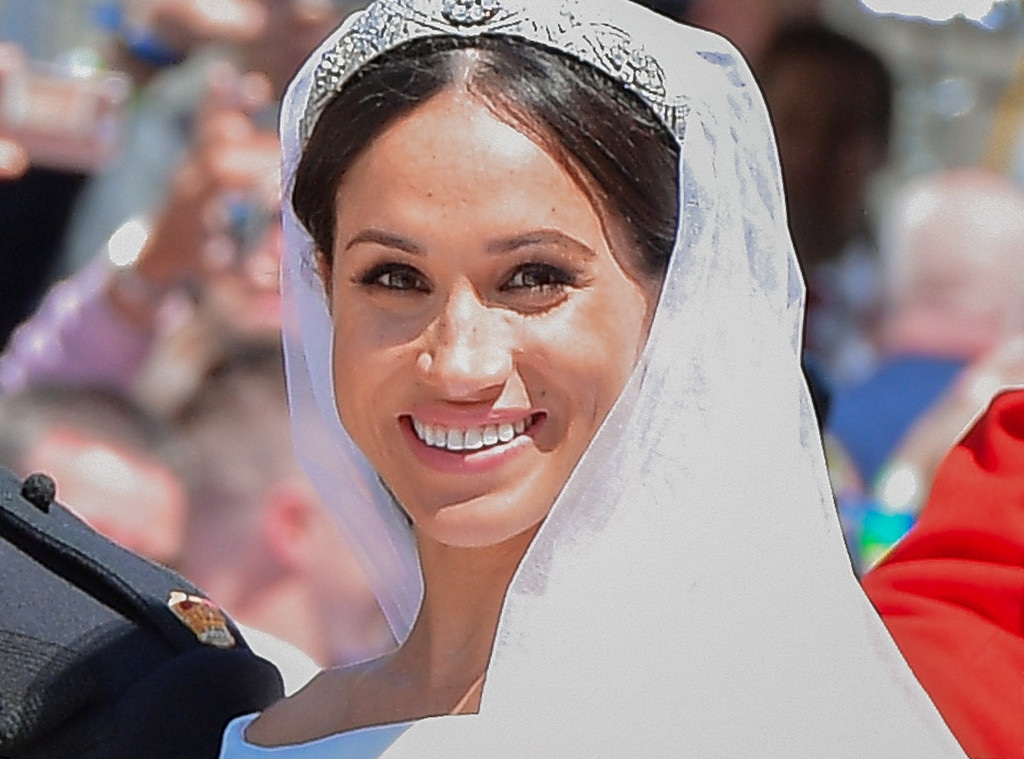 George Pimentel/WireImage
At this time last August, Meghan Markle was touching down in Botswana, prepared for an epic birthday trip with her boyfriend of 13 months, Prince Harry. He had planned a barbecue for her to socialize with all of his friends in the nation he's called his "second home" and booked a stay in a tented suite at Meno a Kwena, a clifftop camp overlooking the Boteti River. There was even chatter he was gearing up for a proposal during their three-week stay. Either way, they were already making plans for Meghan to leave her home and acting career behind in Toronto so she could settle down with Harry in his Kensington Palace cottage. 
What a difference a year makes, huh? 
Since then, the L.A. native has declared her love for the 33-year-old royal—currently sixth in line to the British throne—accepted his three-stone engagement ring and traded vows in a worldwide event that captured the attention of millions and offered her the chance to don two custom designer gowns and an actual tiara.
It also meant embracing a second family and the responsibilities that come with it. (As such, she will actually spend her 37th birthday today not on a wildly romantic getaway, but at the wedding of Harry's childhood friend Charlie Van Straubenzee). And because her new coterie of kin include the actual Queen of England, such familial obligations extend far beyond your typical summer reunion or Great Aunt Alice's birthday party. In the handful of months since she officially joined The Firm—the cheeky name the younger royals have bestowed upon their family—Meghan has had to memorize a lengthy list of dos and don'ts to ensure she doesn't step one Givenchy-clad foot out of line at the series of events she now must attend on behalf of and, at times, with Queen Elizabeth II. Because should she flub one iota of protocol, cameras are waiting to capture the moment and millions of royal watchers are ready to dissect the briefest crossing of her legs or any near stumbles. 
But for all the necessary decorum, painstakingly chosen outfits and, yes, important charity work, the most challenging part of the gig is likely something she never considered. 
Because who would have thought her own dad would be her biggest hater? 
It almost felt inevitable that her catty half-sister, Samantha Markle, would throw lobs from her home in Florida. After all, as she rationalized, this was her opportunity to cash in, find her 15 minutes of fame through the sibling she didn't really grow up with and hasn't seen in years. Her memoir, The Diary of Princess Pushy's Sister, is forthcoming. 
But who knew Thomas Markle was writing a story of his own? After insisting his initial sit down with Good Morning Britain was just meant to clear the air and his reputation, giving him a chance to explain why he hired a photographer to follow him around his adopted city of Rosarito, Mexico, he now seems intent on talking to just about anyone who will listen. And that list isn't short. 
With each interview worse than the last, Thomas has moved on from feigned concern about his daughter's on-the-job appearance ("I think she is terrified,") to outright taunting of the royal family. ("Who cares these days about a dusty old crown?" he recently grumbled to The Mail on Sunday.) In a nine-hour chat with the British paper, drawn out over an agonizing three days, he revealed, once again, that he's been cut off from his daughter. (No huge surprise there.) And it's so bad, he says, that he has no way of even sending over a card for her birthday. 
Not that he really wishes her well. "What riles me is Meghan's sense of superiority," he griped to the paper. "She'd be nothing without me. I made her the Duchess she is today. Everything that Meghan is, I made her." He went on to list his proof: payments he shelled out for her private schooling and a trip abroad. While most would view that as a simple act of parenting, Thomas seems to see it as a down payment toward a gilded palace life. Or at least a public shoutout. 
"And did I get any recognition for it? Any thanks?" he wondered. "She doesn't even speak to me now. How cold is that?"
Chris Jackson/Chris Jackson/Getty Images
Of course he doesn't seem to appreciate the sort of conundrum he's put his daughter in. How she can't be sure that if she reaches out now, he won't run to the closest media outlet and dictate every detail. 
Instead, he seems content to frame her reticence as the act of an ice princess—or, worse, a lackey who's simply following orders from the monarchy. "They have Meghan treating her father in a way that Harry's mother, Princess Diana, would have loathed," he said. "That's not what Diana stood for." 
It's unclear how the late princess would have handled this particularly prickly situation. But we can't imagine she'd be thrilled with the man putting her new daughter-in-law through this, particularly when Thomas shows no signs of wearing himself out. "I tell you, I've just about reached my limit on Meghan and the royal family," he surmised. "I'm about to unload on them." 
In other words, somehow the worst is still yet to come. "They want me to be silent, they want me to just go away," he opined. "But I won't be silenced. I refuse to stay quiet." 
Threat issued, the palace is now forced to contemplate some sort of response as it seems waiting him out simply won't work. UK paper The Mirror reports advisors have held at least three meetings in which they discussed possible options of silencing the 74-year-old former lighting director. On the table: having Meghan make a direct appeal to her dad (which, of course, could only serve to provide him more material), assigning an intermediary to reach out and ask for his discretion or simply continuing to avoid contact—a method that has shown no signs of working thus far. 
And the longer it carries on, the worse the betrayal for Meghan. In an article for Best Life, Imagining Diana author Diane Clehane quotes one pal who says the former actress is flummoxed by her father's behavior: "She is trying so hard to fit in and adapt to this new way of life and she was once again blindsided by a father who supposedly cares about her and doesn't want to embarrass her." 
John Stillwell/PA Wire/AP Images
This is a situation in which Harry's beloved mother Diana would have made a great ally for Meghan. But thankfully the newly minted duchess isn't short on available mentors. Should she not wish to bother Queen Elizabeth with her father's antics (though all signs point to she and Harry's granny having a particularly close relationship), she has another option just across the Kensington Palace grounds. 
Kate Middleton, after all, is no stranger to embarrassing relatives and she's been pulling off the commoner to blue blood transition for some eight years now. And while she likely didn't foresee this exact situation, she has made a standing offer to Meghan to help serve as a sounding board about the perils of entering royal life. "Since very early on she made it clear that should Meghan ever need something, or just want to chat, she shouldn't hesitate to get in touch," a source told E! News earlier this year. "Kate knows how difficult it is navigating one's way through this very different world." 
And in those two years since their first meeting, the duchesses have only grown closer, even making a splash together at Wimbledon where they watched Meghan's pal Serena Williams play. "What's characterized these months are the two great relationships that she has struck up with the Queen and with Catherine," Robert Lacey, historical consultant for The Crown, recently told People of Meghan. "They seem to be her closest friends and partners in the official set-up."
James Gourley/BPI/Shutterstock
And, of course, she has Harry, the man she's described as the "best husband ever." With a few slow weeks ahead, the couple are said to have plans to retreat from the spotlight, potentially visiting the Queen at Balmoral, her royal residence in Scotland, and spending time at their own country cottage on the bucolic 4,000 acres of Great Tew Estate. 
"They spend a lot of time in the Cotswolds, more than people realize," one friend revealed to Vanity Fair of their rental some 90 minutes outside London. "They are in the country way more than they are in London and they are enjoying a low-key and very domesticated start to married life. Harry's not around that much anymore. Meghan likes him to keep his diary clear at the weekends so they can be together in the countryside."
There, a local told the mag, they can hide out in their tree-lined property: "It is very remote which is why they like it," reported the neighbor. "It's like a fortress. There's a huge security presence, you can't get close."
Arthur Edwards/The Sun/PA Wire
Frankly, Harry would like to keep everyone at an arm's distance right now. During a lunch ahead of his Sentebale Polo Cup last week, he reportedly had a screen erected to block press members from catching sight of his lunch with his bride. And Daily Express' royal correspondent Richard Palmer recently unleashed a Twitter thread complaining that he and other members of the royal rota "are being kept further away from her than we were before the wedding. That means we can't hear what she is saying. If you can't get direct quotes from members of the royal family that often makes for dull stories."
The extra precautions, reports Vanity Fair, are Harry's way of shielding his new wife from overexposure. "He worries there is too much hysteria around Meghan and he wants to row back a bit," says a source. 
Royal editor Camilla Tominey tells the outlet the heir is erecting all sorts of barriers. "Extremely protective" of his wife, says Tominey, "Harry has certainly built an emotional fortress around himself and Meghan. They have both been extremely upset by Thomas Markle's behavior and that of Meghan's half sister, Samantha, and other relatives speaking out to the press. If the royals value one quality in others more than anything else then it is loyalty, and the couple will feel very let down by what's happened."
As such, Harry has reissued his previous directive for loved ones to keep any private dealings to themselves. Though the source notes that Harry used to not pay much attention to what was written about him, he's become more defensive now that most of the press clippings revolve around his wife, the same woman who inspired him to issue an unprecedented plea to the press for privacy. "They both expect a code of silence," says the source. "If you talk to the press you're out."
In other words, Thomas better get used to the view from the outside.