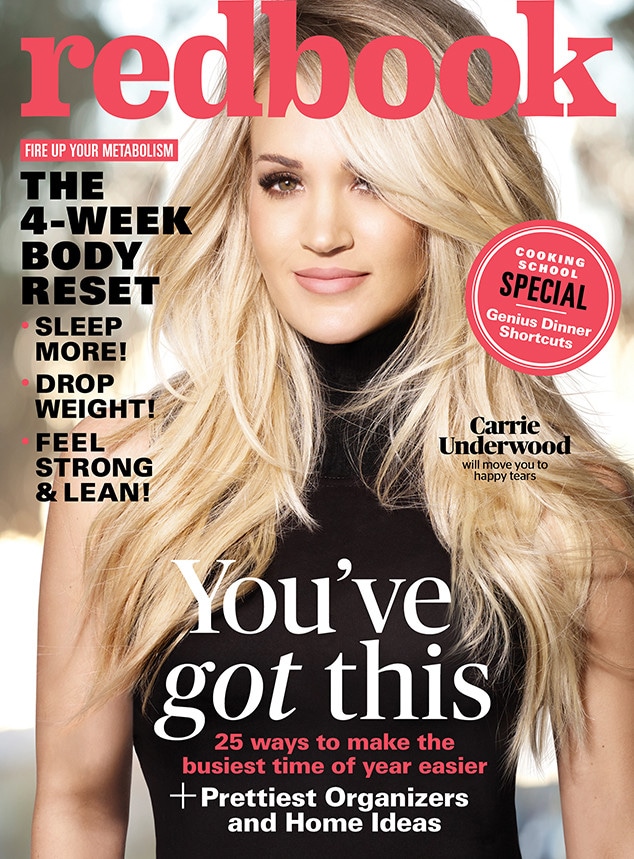 Randee St. Nicholas/Redbook
Even if Carrie Underwood looks more or less the same, she feels much different.
Last year, the 35-year-old "Cry Pretty" singer suffered a freak accident at home that resulted in 40-50 stitches in her face and surgery for a broken wrist. "Any time someone gets injured, it looks pretty bad in the beginning, and you're like, 'What is this going to wind up like?' You just don't know," says Underwood, who broke the news of her injury to fans via a newsletter in January. "It was also a perception thing, because I look at myself [now] and I see it quite a bit, but other people are like, "I wouldn't have even noticed." Nobody else looks at you as much as you think they do. Nobody notices as much as you think they will, so that's been nice to learn."
Underwood, who graces the cover of Redbook's September issue, avoided being seen in the public eye as she recovered. At the time, rumors circulated that she'd had plastic surgery and it was a publicity stunt. Not so, says Underwood. "I'm on some magazine every other week for something crazy. It's a little sad, because the truth is just as interesting. I wish I'd gotten some awesome plastic surgery to make this [scar] look better," the country music superstar jokes. "But I try not to worry too much about it. My mom will be like, 'Did you see they are saying this about you?' And I'll be like, 'Mama, I don't care. I'm just trying to raise my son and live my life.'"
The singer spent much of the past year working on her upcoming sixth studio album, out Sept. 14. "A lot happened in 2017 during my 'off year.' I love it when people say, 'You took a year off.' I'm like, 'You know, I had this shoot and this thing, and I was writing this and doing that,'" she explains. "There was always so much to do, but it was also a very soul-searching year for me." Underwood says her year of introspection was prompted by some "personal things," but she doesn't offer specifics. "I had the accident and all of that to get through...and just life," she adds. "Life is full of ups and downs, and I might have had a few more downs than ups last year."
Admittedly, things are looking up for Underwood. Looking toward the future, she says, "I'm hoping I'm still lucky enough to be making music. I love going on the road and putting together shows I'm proud of, but I don't know where I'll be in 10 years. I don't know where I'll be next week. By the grace of God, I'm just lucky enough to live another day, and that's good by me."
As for whether she'll have more kids with Mike Fisher, her hockey player husband of eight years, she admits to Redbook, "I'm 35, so we may have missed our chance to have a big family. We always talk about adoption and about doing it when our child or children are a little older."