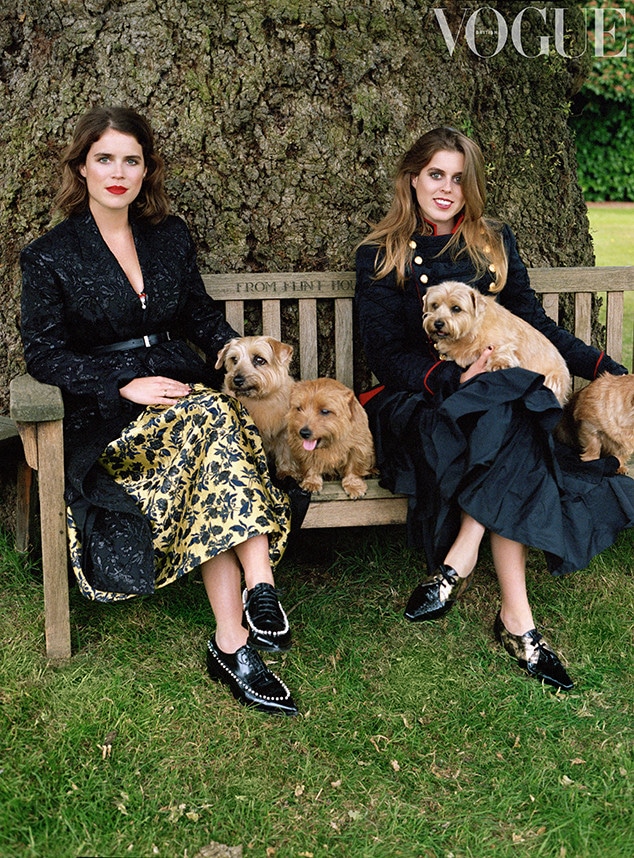 Sean Thomas for <i>British Vogue</i>
Wedding planning can be stressful for any bride, but Princess Eugenie doesn't seem too anxious about her big day with fiancé Jack Brooksbank.
"I'm not stressed at all," she tells British Vogue for its September issue, which she appears in with her sister Princess Beatrice. "It's very nerve-wracking because you want it to be perfect but then you realize that you're going to be with the person you love forever and nothing else really matters."
Sarah Ferguson and Prince Andrew's youngest daughter has already secured her wedding date and venue. The bride and groom will tie the knot on Oct. 12 at St. George's Chapel in Windsor Castle—the same place Prince Harry and Meghan Markle said "I do."
The 28-year-old royal also reveals she wants her wedding to be as plastic-free as possible.
"It's been eye-opening," she tells the magazine. "My whole house is anti-plastic now—and Jack and I want our wedding to be like that as well."
News of the couple's engagement broke in January. Brooksbank proposed during a trip to Nicaragua—popping the question with a padparadscha sapphire and diamond ring in a picturesque lake setting.
"The lake was so beautiful," the Princess of York told BBC 1 in an interview. "The light was just a special light I had never seen. I actually said, 'This is an incredible moment,' and then he popped the question, which was really surprising even though we've been together seven years."
While the wedding will certainly garner a lot of media attention, Eugenie is used to living in the limelight. Still, it can be difficult for her and her sister to know how to handle every public situation. 
"It's hard to navigate situations like these because there is no precedent, there is no protocol," Beatrice tells the magazine. "We are the first: we are young women trying to build careers and have personal lives, and we're also princesses and doing all of this in the public eye."
In addition to talking about the wedding, the royals open up about social media and revealed one of the biggest sibling feuds they've ever had.
"One of the biggest fights we ever had was about a pair of converse trainers," Beatrice says. "We have the same size feet and both of us had identical pairs. One pair got trashed and the other sister may have swapped them." 
To read their full interview, check out the September issue of British Vogue, which Rihanna covers. The issue is available on newsstands starting Aug. 3.