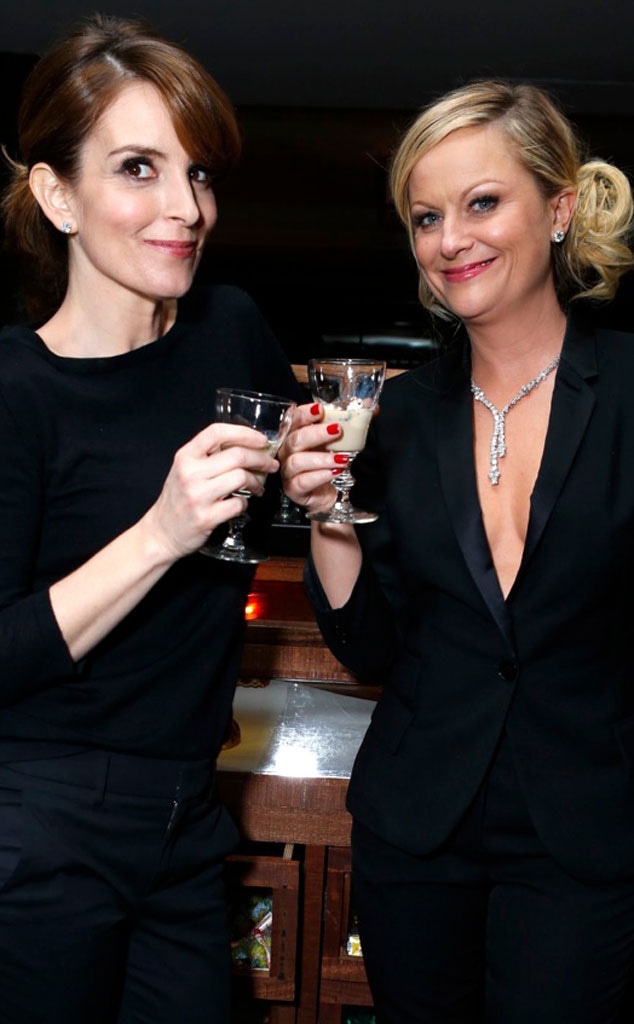 Alexandra Wyman, Wireimage
Twenty-five years ago, a fresh-out-of-college blonde and a bold brunette bonded over the art of eyebrow shaping.
At the time, neither expected that their lighthearted conversation during a Chicago improv class would evolve into a lifelong friendship marked with milestone achievements like co-anchoring the first all-female "Weekend Update" segment on Saturday Night Live, co-hosting the Golden Globes for three years running and co-starring in their very own comedy films.
But without a doubt, Amy Poehler and Tina Fey have rightfully earned the status of modern-day comic geniuses.
Perhaps even more importantly, these queens of comedy have proven time and time again why they are one of Hollywood's most admirable pairs of BFFs both on and off National Friendship Day.
Watch:
Tina Fey and Amy Poehler Talk 20-Year Friendship
The witty besties first met in 1993 at ImprovOlympics, an improv theater and training center that boasts notable alumni like Stephen Colbert, Seth Myers and Vince Vaughn. From the start, the theater's co-founder, Charna Halpern, knew that Amy and Tina would make a perfect pair.
"They were just instantly brilliant," Charna said in an interview with New York Post. "They were not the typical women who get steamrolled by men. [They] were no shrinking violets. They were bold and ballsy and fearless."
Rather fittingly, the duo bonded over a beauty revelation. Tina had just discovered that eyebrows could be plucked and waxed, and she decided to share the news with fellow female classmate Amy, who fondly remembers the exchange as her first real beauty lesson.
In her autobiography, Yes Please, Amy reflects on her initial impressions of now-BFF Tina, writing, "She was sharp, shy, and hilarious. We took classes together and sat in the back. She would whisper funny and harsh things about Del [our improv coach] to me… Her name was Tina and she was like me but with brown hair."
Soon after performing in their "Women of Color" two-woman show, the up-and-coming comics auditioned for Second City's touring company on the same day. Unsurprisingly, both talented ladies scored job offers, but the dynamic duo's time together didn't last long. Within a couple of years, Amy branched out on her own and moved to New York with her sketch group, the Upright Citizens Brigade, while Tina joined Second City's Mainstage company.
After gaining some experience in the spotlight, Tina put her acting on hold to try her hand at penning skits for SNL. She became the Saturday night show's first female head writer in 1999, and after years of begging her old improv BFF to come on the show, Amy finally joined SNL's ranks.
"I was so happy. Weirdly, I remember thinking, 'My friend is here! My friend is here!'" Tina wrote in her autobiography, Bossypants. "Even though things had been going great for me at the show, with Amy there, I felt less alone."
From that point on, the pair spent the next decade collaborating on countless instances of comedy gold. They had their two-year stint as the first female co-anchors of SNL's iconic fake news segment, "Weekend Update," then both appeared in Mean Girls and starred as the leads of the 2008 comedy Baby Mama.
The pair always worked together with passion and energy, and Holland Taylor, a co-star in Baby Mama, couldn't get enough of their sweet friendship. In an interview with Parade, she said, "Tina is very cool and mental. Amy's just this gushing little oil pump of affection. And yet they're absolutely peas in a pod. They adore each other. They're like sisters."
Despite hectic schedules as leads of their own hit sitcoms, 30 Rock and Parks and Recreation, and their roles at home as mothers of two, the A-list blonde and brunette decided to take on the challenge of Golden Globe co-hosts in 2013.
"Sometimes Tina is like a very talented bungee-jumping expert. All it takes is Tina to softly say, 'We can do this, right?' and I suddenly feel like I can jump off a bridge," Amy wrote in Yes Please, upon reflecting on the decision to host the highly-anticipated awards show.
Leaning on each other for support, the duo excelled in their role as co-hosts and increased the awards show's viewership by 17 percent from the previous year. With their snarky comments and quick-witted jabs at celebrities, the comic sensations were met with resounding approval and accepted the invitation to return as hosts for the next two years.
Finally, in 2015, the inseparable gal pals starred in Sisters, a movie that gave testament to the love and appreciation these celebs have for each other.
In an interview with POPSUGAR, Amy discussed her special bond with Tina and the chance to shoot the film. She gushed, "I think that Tina and I are chosen sisters. I think we are chosen family, so I think it's been fun to experience that thing I never got to experience in real life."
Today, the Hollywood besties are closer than ever. Whether performing in reunion improv shows at Upright Citizens Brigade, pranking each other with live rats on Christmas Eve or even hoping their children fall in love with each other someday, these funny ladies are sure to make us laugh along with them for years to come.