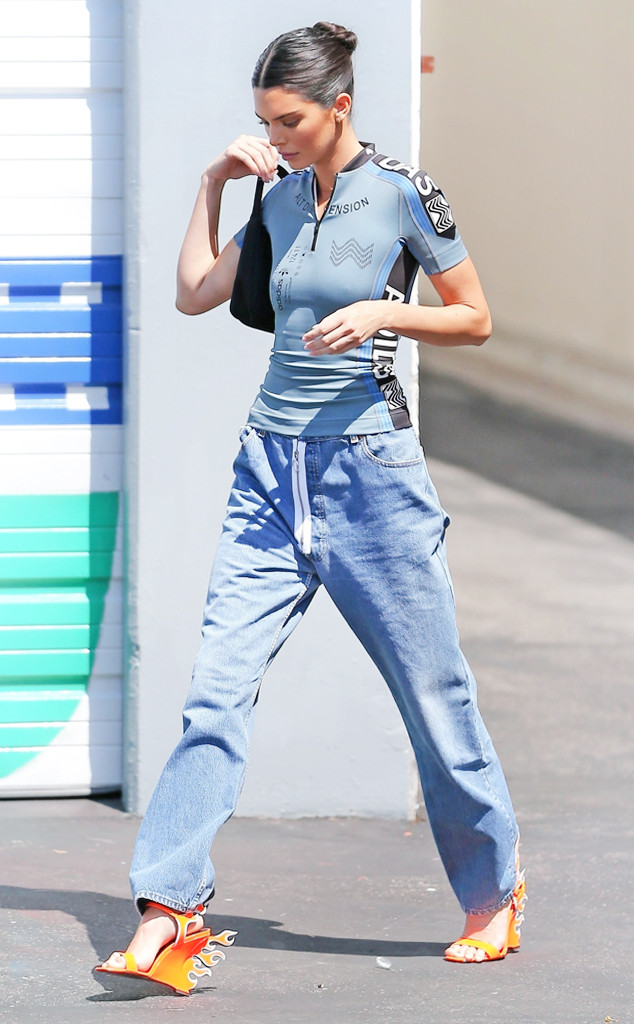 Dream team / BACKGRID
In the name of Flamin' Hot Cheetos!
There are so many obvious puns available to describe how visually striking Kendall Jenner's Prada wedges are: lit, fire, super hot…you name it. But, first, let's acknowledge the fact that it takes gall to pair such statement dimensional shoes with an Adidas Originals by Alexander Wang cycling top and Off-White boyfriend jeans. This is a look, friends—and we're here for it.
Love or hate it, you can't deny that each trend, whether it be bodycon cycling gear, oversize denim or ugly shoe, balances out in an ensemble that is very on-trend with a tinge of throwback feels. Is it just us or do those flames remind you of our grade-school Hot Wheels?
It may seem like there is a hodgepodge of trends here, but the styling is rather quite genius. The tightness of the top balances out the proportions of the pants. The pop of orange in the shoes is made bolder by the monochrome blues, which flatter the model's skin tone.