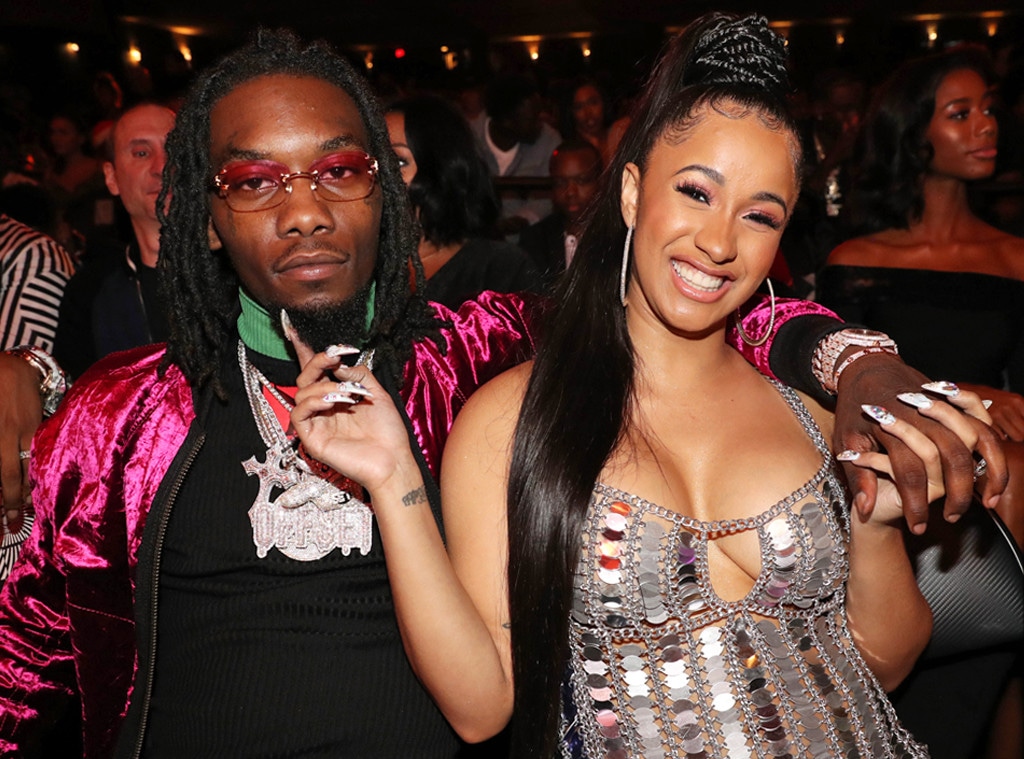 Johnny Nunez/WireImage
July has been a hectic and powerful month for Cardi B.
Not only does the "Bodak Yellow" rapper lead the MTV Video Music Award Nominations, but she also gave birth to her baby daughter Kulture Kiari Cephus on July 10, whose arrival she announced in a stunning Instagram photograph. Cardi's journey into motherhood, however, hasn't necessarily been all rainbows and butterflies for her and husband Offset.
Cardi B is known for telling it like it is. After all, we know she's a boss and makes bloody moves. And that's why we love her. Now, the rap superstar is getting even more candid about motherhood and the tolls this new chapter is taking on her life and body. Aside from buying matching Lamborghinis with Offset, that is.
While sometimes it can seem like celebrities have picture-perfect lives, more and more new moms are opening up about their post-partum difficulties. Just look at Chrissy Teigen and her "mom bod." The fact that celebs like Cardi are ripping down the curtain and promoting transparency about themselves is an inspiration for new moms. Here are some of her best lessons that moms can learn from the "Bartier Cardi" rapper.
1. Getting real about the physical toll of giving birth to Kulture: In a July Instagram live video, Cardi said, "I met my match...She is very demanding, like I can't believe I have a boss." Later on, Cardi explains that she can't ever leave daughter KK's side. "I can't leave my baby, not for one second," she said. In the video, Cardi spills the truth on getting her body back and how the process is taking much longer than she expected. It's not just healing Cardi is looking for—it's repair: "I thought six weeks was gonna be long enough. No bro! My a— is broken...she broke me. She really broke me. She took all the strength from my body."
The Bronx native tweets all the time about how much she loves Kulture, but her baby's sleep schedule is messing with hers, too. "My baby don't sleep night or day" she tweeted. Baby Kulture apparently gives her mama attitude, too.
2. Being open and honest about her career realities: On July 26, Cardi announced in an Instagram note that she had to drop out of performing with Bruno Mars on his 24K Magic Tour this fall. "I think I underestimated this whole mommy thing," she wrote. The note continued, "Not only am I just not ready physically, I'm not ready to leave my baby behind since the doctors told me it's not healthy for her to be on the road."
Mars didn't let Cardi's cancellation go unnoticed. Mars followed suite à la Instagram note and wrote, "You are absolutely doing the right thing...We love you Cardi and we will play "Bodak Yellow" every night in your honor.
Canceling the Brunco Mars tour doesn't mean that she's stopping work completely. She called out doubters in her Instagram video: "My life is not over, you know." She repeated similar sentiments from an earlier interview before giving birth when some haters told Cardi her "career is over." In typical Cardi fashion, she let them know her thoughts: "Why do I gotta choose a career or or a baby? Why can't I have both? I want both."
Both she shall have.
3. Changing up her manicure to something more baby-friendly: Cardi B and her nails go together like Ariana Grande and her ponytail. It's her statement. Her MO. Her look. In one Instagram video in which Cardi thanks her mom and sister, she holds a tiny toy monkey that is nearly the same size as her nails. 
Don't expect Cardi to sacrifice this style just because of her newborn. Although she won't give up her signature nails completely, some modifications are necessary. On Tuesday, Cardi tweeted, "Ok so if you noticed I changed my nail shape from pointy to square so i [sic] won't hurt my baby." But there might be an exception for one nail: "I'm thinking about only changing my pinky nail shape back to pointy so i can take my babies little boogers out."
4. Not letting those real mommy shamers bring her down: Cardi calls out those who have suggested she hire a nanny, and she really doesn't want to. "It's so hard because I wanna be with my baby every second. Even when I be doing my hair in the other room I just gotta be around her," she said on Instagram. 
Just like so many moms out there, Cardi has a full-time career. After she gave birth, one source told E! News, "She loves being a mom but also wants to make sure she has a legacy, and is a very hard worker."
Neil Rasmus/BFA/REX/Shutterstock
5. Allowing privacy for herself and her baby: Cardi is a glamorous superstar, which we all know, but that doesn't mean she doesn't suffer from bad hair days either. When MTV VMA nominations came out, the honoree posted a video talking about how thankful she was, but it was more like a ventriloquist act than a selfie. With the camera pointed at a doll—and her nails, of course—Cardi left no stone unturned while describing her current look: "I wish I could show my face right now but a b–tch look f—ked up. My hair's f—ked up, my eyes are so dark and puffy, I'm wild pale."
Neither Cardi nor Offset has posted a photo of Kulture, joining the ranks of fellow music superstar moms like Beyoncé who has been known for holding off posting pictures of her children at first. We must note, too, that Cardi's album title is called Invasion of Privacy. It sounds like she's giving us a bit of a hint.
6. Learning the power of patience: Cardi doesn't hide her love for Offset. It's actually pretty much the opposite of that. On Tuesday, Cardi tweeted a picture of her husband with the caption "Hey cowboy, I want to take a ride on your horse." 
Cardi is literally counting down the days until she and Offset can—ahem—ride off into the sunset together. "3 weeks and 4 days Yes b-tch I'm counting, wussup!" she replied to one Twitter user who told her she "probably still gonna finish healing first."
For now, baby KK is enough for Cardi and Offset, but she isn't ruling out more kids in the future. "Later on in life I'll have more babies" she replied to a Twitter user who asked if she wanted a brother or sister for Kulture.
All we can say is that Cardi B as a mother, Cardi B as a record-breaking rapper: we like it like that.