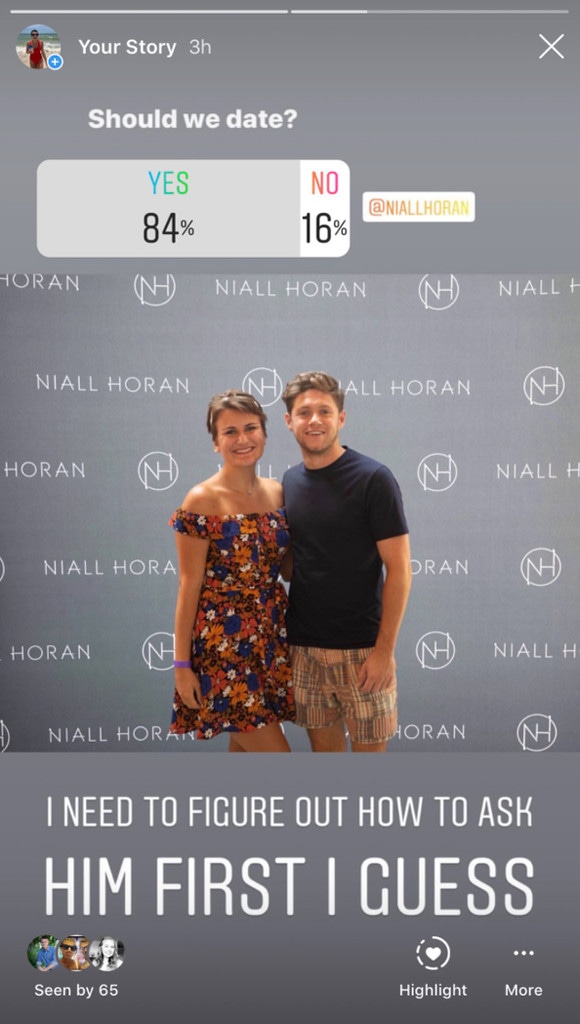 Twitter
One lucky fan of Niall Horan almost had her chance at dating the boy bander, but fate had different plans.
The Twitter user shared a picture of herself meeting the singer at an event and asked in a poll, "Should we date?" A majority of her followers voted in her favor, while a small percentage disagreed, including Niall—or so it appeared.
Turns out the singer, who is currently dating Hailee Steinfeld, did not actually participate in the Instagram poll created by Tory Appel, despite a pretty convincing photo that made it look like he did.
After the hilarious photo went viral, Twitter users were quick to point out the small flaws that indicated the pictures had been tampered with.
And besides the low-key obvious signs the picture had been edited, the One Direction fan later admitted to Punkee, "Niall didn't actually vote. I Photoshopped the photo to make it look like he voted, because I thought the concept of him voting no on a poll for a girl he doesn't remember/met once was way too funny not to make."
Much to her surprise, a lot of people thought her joke was funny, with over 300,000 people liking the post in just a few days. "I had no idea it would get this big. Again, I figured my friends would like it and the tweet would get 70 likes if I was lucky. I still can't believe how many people have seen and commented on it, none of the situation feels real," she told the outlet.
It's safe to say this is going to be the story of her life.