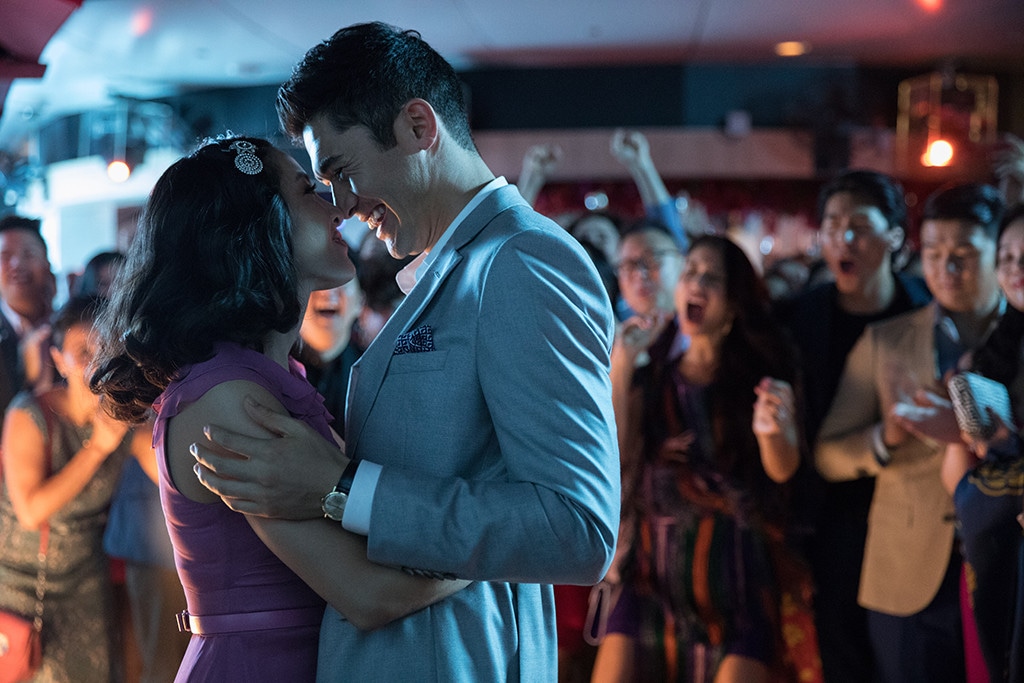 Sanja Bucko/Warner Bros. Entertainment Inc.
To say a lot is riding on Crazy Rich Asians would be an understatement.
The romantic comedy, premiering in theaters Aug. 15, is adapted from Kevin Kwan's best-selling novel, published in 2013. Three years after the book hit shelves, Kwan found himself sweating over whether to sign a production deal with Warner Bros. or Netflix The traditional studio had outbid its rivals, but the streaming service swooped in at the last minute, offering complete artistic freedom, a guaranteed trilogy and seven-figure-minimum paydays for its investors. Warner Bros. didn't make a counteroffer; instead, it gave him 15 minutes to reply.
Had he accepted Netflix's offer, "I could have moved to an island and never worked another day," Kwan says in The Hollywood Reporter's Aug. 1 issue. But, with the wholehearted support of his producing partners and director Jon M. Chu, he decided to go with Warner Bros., who promised to release it theatrically. "I could sense every lawyer on the call shaking their heads: 'Ugh, these stupid idealists.' Here, we have a chance for this gigantic payday instantaneously," he says. "But Jon and I both felt this sense of purpose. We needed this to be an old-fashioned cinematic experience, not for fans to sit in front of a TV and just press a button." Chu admits they were "rolling the dice" by "turning down the big payday" and hoping for box office success.
Warner Bros. Entertainment Inc.
Constance Wu plays the protagonist, economics professor Rachel Chu. The story begins when she agrees to accompany her boyfriend Nick Young (Henry Golding) to Singapore for his best friend's wedding—only to learn that he comes from one of the wealthiest families in the world.
Wu shared a letter via Twitter Tuesday explaining why the film already is so important "to so many people." Years ago, after trading New York City for L.A., she booked a leading role on the ABC sitcom Fresh Off the Boat. "It was my first every leading role on a TV show," she wrote, noting that "it was also historic," as it was the first TV show in over 20 years to focus on an Asian American story. "Suddenly with Fresh Off the Boat's success, people were talking about the lack of Asian American stories. Why had it taken 20 years? Why hadn't anyone been talking about that lack before? Today, Fresh Off the Boat is heading into its fifth season as the first network show starring Asian Americans to reach syndication," she wrote. "That's truly historic."
Warner Bros. Entertainment Inc.
Wu is now experiencing "a bit of déjà vu," as Crazy Rich Asians "is the first Hollywood studio film in over 24 years to center an Asian American's story. Before CRA, I hadn't even done a tiny part in a studio film...I never dreamed I would get to star in one...because I had never seen that happen to someone who looked like me. CRA is changing that, just like FOTB did. CRA not only centers an Asian American story, it is also filled with a talented, dynamic, unique all-Asian cast."
Calling Chu her "hero," Wu told her followers, "I hope you help our movement."
"The last five years of my life have bene nothing short of miraculous to me. But the best gift hasn't been the roles. The best gift has been YOU—the Asian American women and men I have heard along this journey," she added. "You've taught me so much. You have the biggest hearts."
Wu ended her note by quoting Ava DuVernay—the first black woman to direct a $100 million movie with A Wrinkle in Time. "My friend Ava DuVernay says, 'I work in an industry that really has no regard for my voice and the voice of people like me and so, what do I do? Keep knocking on that door or build your own house?' My dear Asian American friends, we are building our own damn houses. We got the tools, the ability and we definitely got the style. Just because others don't see it, doesn't mean we don't have it. We do. I've seen it. I hope Asian American kids watch CRA and realize that they can be heroes of their own stories. I know CRA won't represent every Asian American. So for those who don't feel seen, I hope there is a story you find soon that does represent you. I am rooting for you. We're not all the same, but we all have a story," she said. "I am the American daughter of immigrants. Immigrant stories are the stories of dreams, of love, of sacrifice, of courage, of honor. They are what truly make America great."
Wu shares a similar sentiment in The Hollywood Reporter. "I tried to make Rachel's story about identity. What does this say about the experience of being Asian-American, how it shapes you differently than the experience of being Asian-Asian? People think it's the same," she explains, "but when you grow up without your face being a part of dominant culture, it changes things."
The actress' castmates can certainly relate to that feeling.
"We've all been 'that Asian' on set at one point," says Awkwafina, who plays Goh Peik Lin, Rachel's best friend. "That dynamic didn't exist here." Ken Jeong, who plays Peik Lin's father, Goh Wye Mun, tells The Hollywood Reporter, "We've gotten to a point where it's accepted to have Asian-American supporting roles in major movies, and I've been a beneficiary of that. But when all the participants are Asian, it's even more joyous to support the story and each other."
Will Kwan's decision to sign with Warner Bros. pay off? "We can sugarcoat it all we want, but the moment you bring up an Asian-led movie, there's one example to point to, and that'll be us," Chu argues. "To be on the biggest stage with the biggest stakes, that's what we asked for."