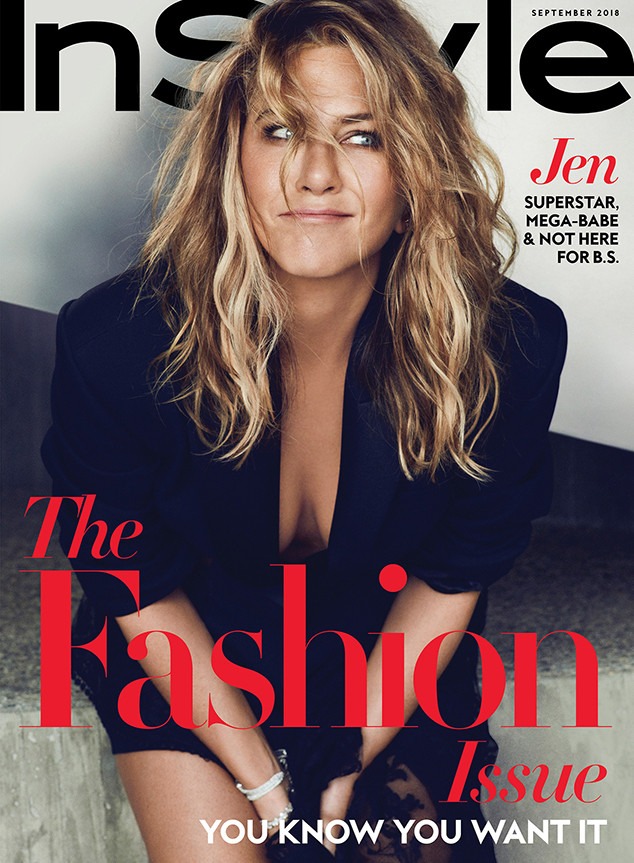 Ben Hassett/InStyle
Jennifer Aniston hasn't given any major interviews since announcing her amicable split from Justin Theroux five months ago—until now. In the September issue of InStyle, Jimmy Kimmel Live!'s co-head writer Molly McNearney, her friend of six years, begins their Q&A some very ballsy questions. "I want to start this interview off light. When are you getting back together with [Brad Pitt]? Did Justin ever wear your jeans?" she teases. "And when are the twins due?"
Laughing, Aniston replies, "You're the only person who could start an interview like that and actually send me into hysterics, not hives." The actress has been a tabloid target since Friends began airing in the '90s, though McNearney says she's been "poised and balanced" throughout it all. "There are definitely moments of not being balanced and poised, but I do that all in my own personal space," Aniston says. "For the most part I can sit back and laugh at the ridiculous headlines because they have gotten more and more absurd. I guess they're feeding into some sort of need the public has, but I focus on my work, my friends, my animals, and how we can make the world a better place. That other stuff is junk food that needs to go back in its drawer."
Asked to name the "biggest misconception" about herself, Aniston replies, "Oh, boy, there are so many. Let's see. I'll just Google myself and find out...Oh, look, I'm having a $100,000 revenge makeover!" The never-ending tabloid stories can be "pretty crazy," she tells McNearney. "The misconceptions are 'Jen can't keep a man,' and 'Jen refuses to have a baby because she's selfish and committed to her career.' Or that I'm sad and heartbroken. First, with all due respect, I'm not heartbroken. And second, those are reckless assumptions. No one knows what's going on behind closed doors. No one considers how sensitive that might be for my partner and me. They don't know what I've been through medically or emotionally. There is a pressure on women to be mothers, and if they are not, then they're deemed damaged goods. Maybe my purpose on this planet isn't to procreate. Maybe I have other things I'm supposed to do?"
Aniston adds that she has experienced her "fair share of sexism in the media," particularly regarding her personal life. "Women are picked apart and pitted against one another based on looks and clothing and superficial stuff. When a couple breaks up in Hollywood, it's the woman who is scorned. The woman is left sad and alone. She's the failure. F that," the actress says. "When was the last time you read about a divorced, childless man referred to as a spinster?"
Later in the interview, McNearney asks, "Have you ever wanted to punch someone?"
"OK, let's be honest. I've had a moment when I've totally wanted to do it, yes, but it's in your fantasy. It's in your head," Aniston says. "I wouldn't actually go through with it." That being said, she sees value in releasing anger. "Boxing is a great way to get aggression out. You get a mental release of all this crap you're taking into your ears and eyes every day and have little fantasy moments imagining who you're actually punching. I'm just grateful it's not actually the person, even though there's one person," Aniston says. "You know what I mean. It's all good."
So, what's next for America's Sweetheart?
"There have been moments when I would just love to get out of Dodge and move to Switzerland—or somewhere—and start anew," the California-based actress admits. "Just have this shit behind me. Does it really matter? Are we really doing anything? What is my life's purpose? Every seven years I try to sum up what I am doing and what I want to make my focus. I'm trying to make better choices. I went through a period of saying yes to projects that I shouldn't have, but I felt like, "How dare I say no?" Now I'm trying to get better at saying no and to be a part of projects that actually, really matter à la Dumplin' or The Goree Girls or this other film we're working on called The Fixer, about an amazing crisis manager named Denise White."
Rest assured, Aniston doesn't have any plans to retire from show business. I'm grateful as long as people still want me to come to the party. I think I'll always want to keep acting as long as there's a desire for me to do it," she says. "As long as I'm fulfilled in other ways creatively, spiritually and all of that stuff, I know that I could do this until they put me in a home."
InStyle's September issue is available on newsstands and for digital download Aug. 10.