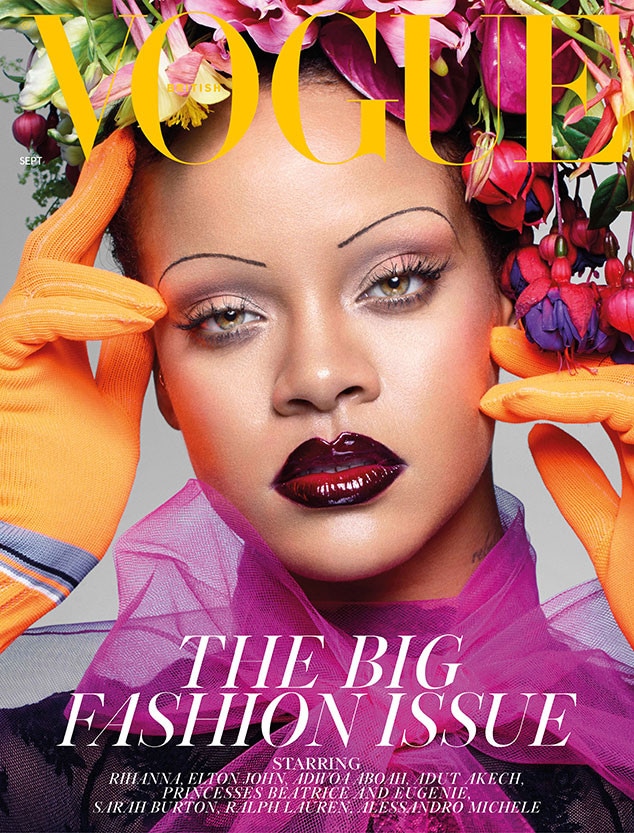 Nick Knight
When it comes to the art of transformation, Rihanna is the master of disguise. 
The Grammy winner, makeup mogul and style savant is British Vogue's cover star for the highly coveted September issue. Once again, she's a style shapeshifter as she poses in bold textured and ruffled ensembles paired with striking floral headpieces. 
As the final touch for this avant-garde transformation, the songstress gazes into the camera with a glossy plum pout, ethereal eye makeup and barely there, pencil-thin brows—an impossible-to-miss departure from her typically thicker arches. 
While it's unclear exactly what we should credit for bringing this brow makeover to fruition, the 30-year-old superstar has once again proven she can pull anything off. 
Still, there are some things she's figuring out just like the rest of us. When asked about her figure and why she's the woman other women "fancy," the triple threat answered in her signature candid way. 
"Ok, you're asking the wrong person. I don't know, maybe it's because I'm 'thicc' now. I don't know. I'm about to get back into the gym and stuff, and I hope I don't lose my butt or my hips or all of my thighs. I'll lose some but not all. And I think of my boobs, like, 'Imma lose everything, everything goes!' But, you know, it comes with a price. You want to have a butt, then you have a gut," she told the magazine. 
As one of the biggest names in Hollywood, fans are naturally also curious about her love life and how she manages the dating world. "I get a lot of boy-advice questions," Rihanna told British Vogue. "I think a lot of people meet people and then they're dating the idea of what the person could become, and that person never shows up and then they're just mad disappointed. A person can always get better, they can always get worse, but you've got to be fine with what you met them as." 
Sage advice from the one and only Rihanna. Having been in the industry for more than a decade, the performer has learned a thing or two about letting people into her life, whether romantically or otherwise. 
"I'm very picky about friends. I don't like to open myself up to everyone and so when you find people who are great and loyal, you don't want to let go of that," the star explained to the magazine. "I've been out here on my own since I was a teenager, so these people become like your family."
See the full feature in the September issue of Vogue, available on digital download and newsstands on August 3.