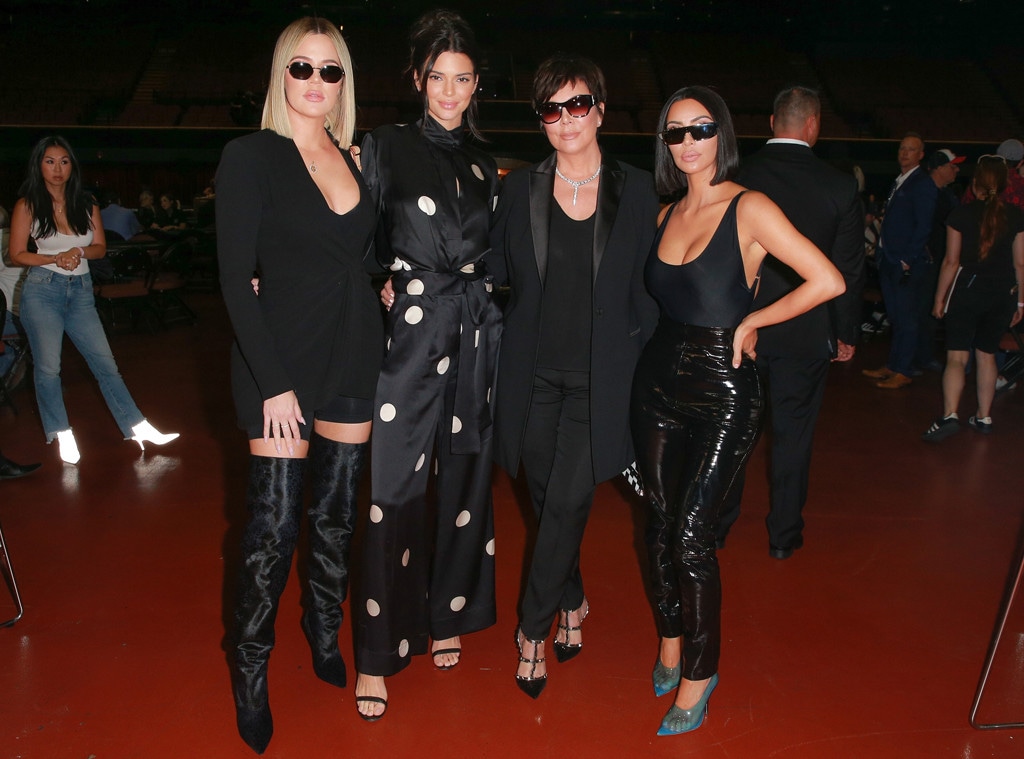 Rich Fury/Getty Images
Thou shall compliment your sister is an edict that's doubtlessly etched in the Kardashian handbook, perhaps somewhere between knowing your best angles for selfies and saving the juiciest drama for the video cameras. 
But at a City of Hope charity poker tournament in Ingelwood, Calif. July 29, Khloe Kardashian and Kendall Jenner's appraisal of Kim Kardashian's 5-foot-3 figure was so effusive that the social media-loving star simply had to document it for her Instagram stories, eating up their remarks while half-heartedly protesting that 119 pound was "not that skinny." No, of course her arms were not the size of Khloe's pinky, she demurred, and it's simply ridiculous to suggest she was the same size as Kendall's can-only-fit-a-phone-and-lipstick purse. 
Nor, to be clear, should that be the goal. And we'd strongly caution against throwing words like anorexic around as a compliment. But there's no denying the 37-year-old is putting her absolutely fittest foot forward thanks to the implementation of a few two-a-day workouts and a bare-bone, low-sugar diet. And she's not alone in her pursuit of Spandexed perfection. Khloe, as promised, has been killing it in the gym since welcoming daughter True Thompson (with boyfriend Tristan Thompson) in April, we'd imagine Kourtney Kardashian's bikini Instagrams are affixed to refrigerators across America as inspiration and even formerly gym-adverse Kylie Jenner is getting in on the sweat game. (And Kendall, of course, still looks like a supermodel.)
We were curious as to what kind of wizardry (read: cardio drills and strength training) the sisters were using to look so sculpted, so we dug up their secrets. Just try to keep up. 
Dimitrios Kambouris/Getty Images
Kim's fitness journey kicked off last year, when she came across "ripped" bodybuilder and trainer Melissa Alcantara on Instagram and was introduced to the wonders of deadlifts and planks. Before then, the mom to North, 5, Saint, 2, and Chicago, 7 months, (with husband Kanye West) admitted on her app, "I used to think that lifting weights was intimidating because I didn't want to look bulky." She wanted to look and feel stronger and build lean muscle, she said, she just didn't really know how to go about it. "Mel showed me that doing cardio alone isn't enough to get the physical results that I wanted," Kim continued. "Once you burn off the fat under the skin and around the organs, that space needs to be filled in by muscles in order to have that toned and defined look. To build those muscles, I had to lift weights and eat real food with whole ingredients that would fuel my body." 
So dutifully six days a week, Kim met up with Alcantara working through a 90-minute mix of cardio (either 30 minutes of moderate climbing on the StairMaster or 10 minutes of sprint intervals) and weight training. "We kind of hit each muscle group one time a week except for legs we do twice," Alcantara told E! News. "So we'll do something like back and triceps or chest and biceps and then we'll have a day dedicated to abs. It changes a little bit from time to time, but the fundamental exercises, the things that you just need always don't change like squats, dead lifts, bench press and shoulder presses."  
The combination was effective. "As soon as I started training with her, my body completely changed," the KKW Beauty founder detailed on her app. "I feel stronger and more confident in my workouts, and I was so much more excited to push myself in the gym!" 
Of course, exercise was just half of the equation. "The biggest part is not just working out," noted the trainer. "It's eating well to also look good." 
For Kim that meant cleaning the Nilla wafers, graham crackers and Rice Krispies treats out of her pantry and stocking her fridge with produce and chicken. (And during one particularly strict 10-day period ahead of the Met Gala shakes, salads and soups from the Sunfare Optimal Cleanse.)
"When I grocery shop, I buy lean protein, carbs, fruits and veggies," Kim shared on her website, adding that she splurges on sweets only once every 10 days. As she explained of her trainer-approved cheat meal strategy, "You can still enjoy your favorite food, as long as you get back on track the next day." 
In recent months, Kim has stayed diligently on course, even doubling up workouts some days. After attending her 20-year high school reunion in April, she connected with old pal Amanda Lee, who signed on to deliver an extra dose of toning two days a week.
"In the last three months, she incorporated more high-intensity interval training into her routine and it has really helped her lean out," Lee tells E! News of Kim's squat jump-, burpee- and jumping jack-infused sessions. Though each hourlong workout is different to prevent apathy, they're all "geared toward firming, lifting and tightening the muscles," she says. "We focus mostly on lower body and core—so booty and abs. Basically what every girl in the world wants." 
Grifoni-Sarmiento / BACKGRID
Those are certainly two areas Kourtney—another one of Lee's clients—is interested in targeting. When Kim reconnected with the pro this spring, her older sis signed on for the intense sessions as well, committing to a full five days a week with Lee. 
Building routines around her three top tools—resistance bands, a step and a bosu ball—"We do a lot of squat and lunge variations," Lee tells E! News. "We do a lot of side walking squats with the resistance band, we do a lot of step-up combinations with the steps, we do a lot of jumping squat combinations with the Bosu ball. We do a lot of leg lift donkey kicks—just a little bit of everything." 
That includes some high intensity intervals. Between lower body moves, Lee might hand Kourtney a medicine ball and have her walk on a treadmill inclined to 15 percent or do a minute of jumping jacks holding five pound weights. The back-and-forth is designed to spike the heart rate without having to log an hour of running. "It's actually much better than cardio because you have the benefit of your heart rate being up," notes Lee, "but you are also building muscle and toning and tightening at the same time." 
A routine so intense deters the 5-foot star from wanting to sabotage herself. Lee says the mother of Mason, 8, Penelope, 6, and Reign, 3, (with ex Scott Disick) is "really, really good" about sticking to the recommended high-protein, high-fiber, low-sugar diet. 
Currently that means, as detailed on sister Khloe's app, a post-workout smoothie for breakfast, along with avocado pudding blended with organic protein powder, E3Live blue-green algae and MCT oil, a chopped avocado-tomato-egg-and-cucumber salad for lunch, grilled salmon with asparagus, carrots or sweet potatoes for dinner and only the healthiest of snacks. 
"If I eat between meals, I love fresh watermelon and also veggies with homemade avocado hummus," wrote the 39-year-old, who only indulges in the smallest amount of gluten and dairy so she doesn't shock her system when she, say, travels to Italy with boyfriend Younes Bendjima. "I stock Hippeas chips made with chickpeas and crunchy snap peas in my pantry for when I'm craving something salty."
Other additions on the menu include one hot green tea per day and an afternoon blend of almond butter, almond milk, strawberries, blueberries, honey, bone broth protein powder and ice. And for dessert? The cleanest of indulgences: a scoop of dairy-free So Delicious mint chocolate chip ice cream made from coconut milk. 
As stringent as Kourtney is (Khloe says affectionately, "She's by far the most cray about her diet!"), Kylie has long been the opposite. With a penchant for In-N-Out burgers, "She eats like a typical teenager," Khloe once told Cosmopolitan. And while she popped in for one joint Don-A-Matrix session with her sisters, insists Khloe, she "doesn't really work out." (By contrast even cardio-hating Kendall, 22, will commit to a weights session, says the Good American denim co-founder and since she inherited dad Caitlyn Jenner's genetics, "It doesn't take a lot for her to get in shape.")
But watching her sisters, and BFF Jordyn Woods, training and toning has motivated the 20-year-old to give it a shot, a source reveals to E! News: "Kylie has never been a fan of working out in the past, but has recently started a new routine and has been trying to very consistent."
As an exercise newbie that means joining up with her sisters for a high-intensity interval training session one to two times per week. (She even documented a July 27 session with Woods and Kourtney on Snapchat.) 
With Khloe back in L.A. for the summer, they'll often team up with Kim and enlist a nanny to watch over True, Chicago and Kylie's 6-month-old daughter Stormi (Dad is her boyfriend Travis Scott) while they lunge it out for an hour or so. "She loves working out with her sisters and they motivate her a lot," says the source. "It's a really fun family event in the mornings." 
It's not so much that she's troubled by the way her 5-foot-6 figure changed post-birth (though she revealed back in April that she wanted to lose 20 more pregnancy pounds). In fact, says the source, "She loves her body after having baby Stormi, but wants to tone and tighten up areas that she feels are different now." 
High intensity interval training has proven to be just enticing enough to hold her interest ("The workouts have to be fun for Kylie to commit," admits the source) and quite effective. In just a few short weeks, says the source, "She is looking great and has already been seeing progress and changes in her body." 
But of all the sisters, perhaps Khloe's transformation is the most impressive. Having once vowed to "f--k up the gym" after giving birth to True (her daughter with boyfriend Tristan Thompson), she's kept her word, training first with Joel Bouraima (a.k.a. "Coach Joe") while in Cleveland and now Don in L.A. 
The intense sessions meant she couldn't possibly starve her way thin as some reports suggest. Besides, the 5-foot-10 reality star has long since broken the yo-yo cycling of her youth. "Dieting is great but dieting doesn't typically create long lasting results," she's explained. Instead, she relied on a protein-heavy menu of eggs, oatmeal, grilled chicken, fish and vegetables to keep her fueled for the gym, a place she's called her "sanctuary." 
And since she just gave birth not even four months ago, she said, "I didn't put any pressure on myself to lose the baby weight," she wrote in a recent blog post. "I just wanted to get back to my regular routine from before I got pregnant, which was working out five to six times a week." 
Though she diligently tracked her progress on the scale, "I honestly didn't give myself a number that I wanted to lose by this time," she said when she hit the three-month mark, "especially since I wasn't able to work out for the first six weeks." 
So she was floored when the readout showed she had dropped 33 pounds. "I'm shocked that I lost that much weight that quickly," said Khloe, chalking it up to "the combination of breastfeeding and being very active during and after my pregnancy." 
Not that she's tossing that number out to measure herself against other new moms or even her own sisters. "I never compare myself to other women as every woman has their own journey," she explained. Her own personal goal was simply about reclaiming her sweat sessions and "having that one hour where I can be selfish and alone in my place of refuge." 
It's a bit of me time she has no interest in relinquishing no matter how creative she has to get about scheduling. "Exercise is something I've always used to maintain my sanity and relieve stress," she said. "And, now that I have a baby, I still want to keep something that's my time, my space, something I'm doing for myself." 
Looking good in a selfie is just a nice bonus.