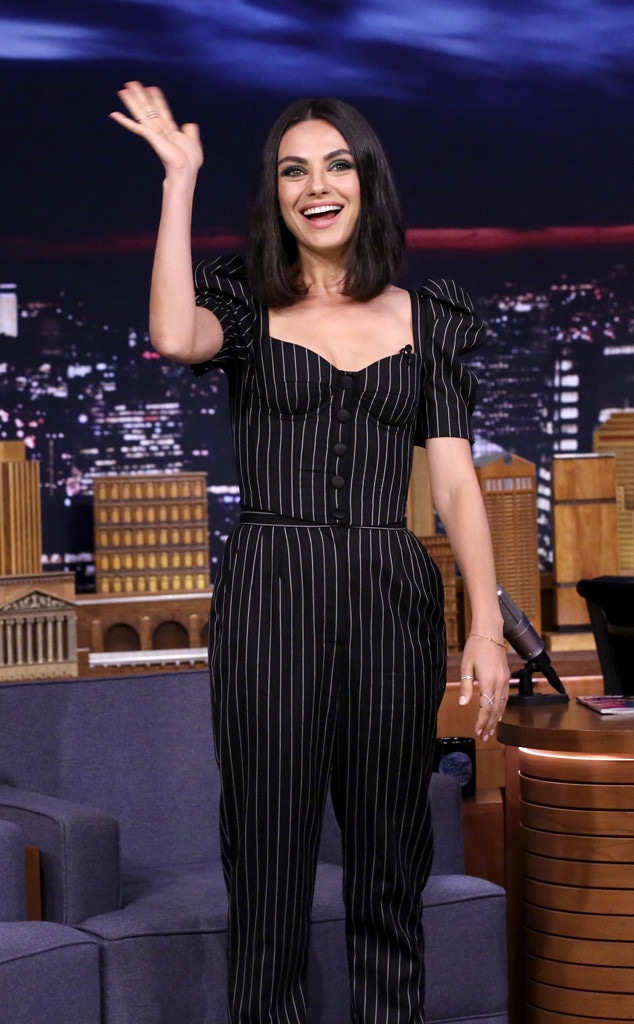 Andrew Lipovsky/NBC/NBCU Photo Bank via Getty Images
Mila Kunis and Ashton Kutcher recently celebrated their three-year anniversary, but their marriage didn't have the most romantic start.
The Spy Who Dumped Me star appeared on Monday's episode of The Tonight Show and told the story of her "absurd" honeymoon.
It all started when Kunis bought Kutcher an RV for his birthday. Excited by the gift, Kutcher determined the two should spend their honeymoon on an RV adventure. However, they wouldn't be the only ones on this romantic getaway. The couple also brought their baby daughter, Wyatt, and invited Kutcher's parents to join them for a trip up the California coast.
While Kunis said the newlyweds stayed in their "little tin can," her in-laws stayed in what her husband deemed the "Taj Mahal of RVs." What happened next, she said, could only be compared to the series of mishaps portrayed in the National Lampoon movies.
First, the air conditioner in Kutcher and Kunis' RV broke—forcing them to deal with the 110-degree heat. So, they set off to find a place where they could get it repaired. However, things soon took a dangerous turn. 
"We almost died on the side of the road when Apple Maps took us on a road—it wasn't a road," Kunish told host Jimmy Fallon. "It was a fireroad on the side of a mountain. We all had to jump out of the vehicle and walk for like three miles while my father-in-law drove the van and Ashton, like, navigated him over gigantic boulders because there had just been a massive flood."
Kunis said she also let her "wonderful, beautiful" mother-in-law choose the location of the RV parks. Instead of checking reviews online, Kutcher's mother picked the locations based on outdated travel books. So while the group thought they were staying in a park in Napa, Calif, the family ended up staying an hour outside of the city near two prisons.
"Yes, guys. That is where our RV trip ended," Kunis confessed. "My husband looked at me and goes, 'I quit.' And I was like, 'Me too.'"
However, it looks like the couple still managed to sneak in a few romantic moments.
Luckily, the six-day honeymoon from Hell didn't break the couple. Today, the That '70s Show stars are happily married with two children: Wyatt, who's now almost 4, and Dimitri, who's almost 2. It looks like Kunis' daughter thrives in her big sister role, too.
"My daughter is very sweet to him. She's actually really nice," Kunis said. "There are times where she's like an a-hole but more times than not she's actually really kind and really generous."
Watch the video to see her tell the whole story.
(E! and NBC are both part of NBCUniversal).