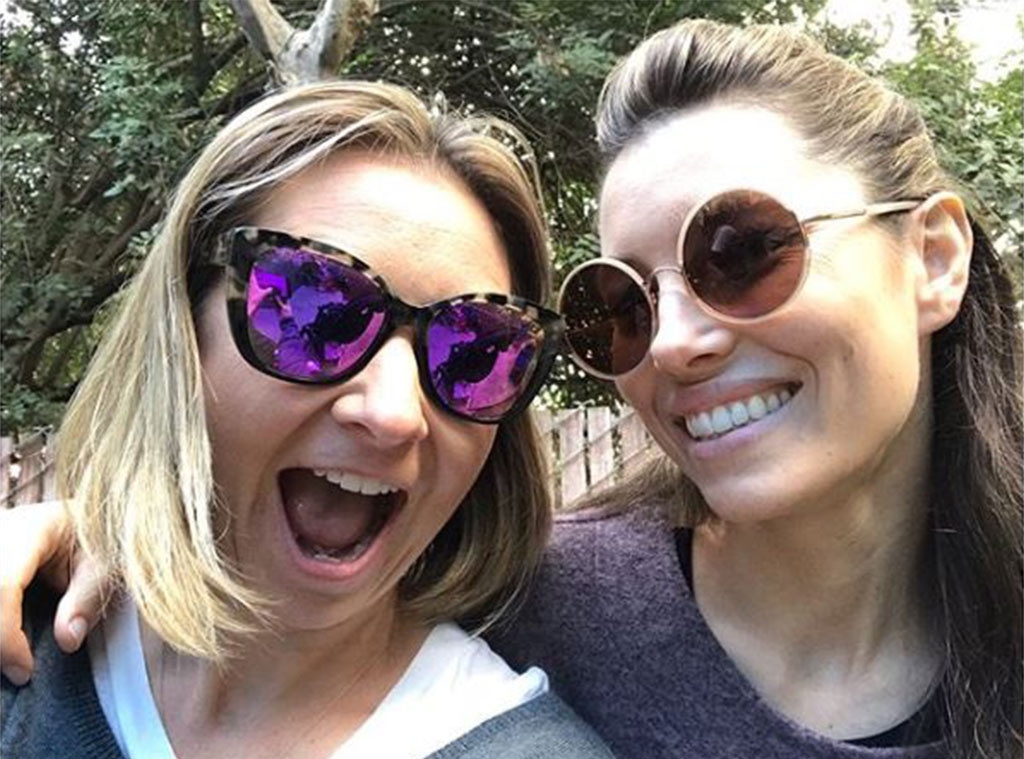 Instagram
They may not be related by blood, but by all indications, Jessica Biel and Beverley Mitchell are just like any other sisters.
After landing their roles as siblings on the show 7th Heaven in 1996, the duo began acting like real-life sisters. They laughed, messed around and hung out on set.
Little did they know that the show would last 11 years and the pair would grow up together.
In fact, their bond would last far beyond the show's ending—surviving loss, heartbreak, marriages and motherhood.
When Beverley and Jessica auditioned for a pilot for the WB network, they were relatively unknown actresses. Although both had done a little bit of work previously, this would be their big break.
Beverley landed the role of Lucy, while Jessica would be Mary. And even though Jessica played the oldest sister, Beverley is actually 14 months older than her counterpart.
For the pair, the friendship was immediate. Beverley wrote to her blog, "Jess and I got along from the start, we truly were the best of friends."
As their characters experienced the ups and downs of adolescence, the girls did in real life too. And just like in the show, they supported each other through it all.
One of the most difficult moments came when Beverley's friend died in a car accident at age 15. Her castmates were there for her during the tough time and helped honor her friend with the episode, "Nothing Endures But Change."
Beverley explained Jessica's support saying, "She has loved me through the best and worst of times and has always been there when I needed her."
Watch:
Beverley Mitchell Proud of Jessica Biel in "The Sinner"
Some of their best times were spent on set with Beverley explaining, "Pretty much every moment that Jessie and I were on set together was a favorite."
In fact, the two enjoyed working with each other so much that they would blow through their scenes, usually meaning that they had to head to the school room to do homework.
The show lasted for 11 seasons until the finale in 2007. Beverley was amazingly in all 242 episodes of the series. Since the show ended, she has focused on her family life and TV roles including The Secret Life of the American Teenager and Hollywood Darlings.
On the other hand, Jessica exited the family series in 2003 after she felt held back by the traditional values of the show. After her departure, she became a film star and appeared in over 28 movies since 2003.
As the two went from preteens to adults, their lives definitely changed, but their friendship remained a constant.
The strength of their friendship was proven when Jessica served as a bridesmaid as Beverley married her college sweetheart Michael Cameron in 2008.
Beverley was there for Jessica when she found love with husband Justin Timberlake as well.  She recalled the moment the adorable pair met to Access Hollywood Live, saying, "They met, it was at the Golden Globes. It was so cute because they were like—it's that moment like I like you, I think you like me. It was very, very sweet. They were definitely flirting. They were really cute."
Parenthood was the next step of the journey for the duo. Beverley welcomed her first child, a daughter named Kenzie in 2013. Just two years later, the girls were pregnant at the same time, both giving birth to boys, named Silas and Hutton, just three months apart from each other.
Amazingly, they're passing on their friendship to the next generation. Jessica has been on-hand for family milestones like Kenzie's third birthday, and their sons have already had playdates.
"Si and Hut are buddies. I would definitely say that Hutton has a deep love for Si and loves to give Silas big, big hugs," Beverley shared with Access Hollywood Live.
In an industry of feuds and frenemies, it's a rarity to see two women who have continuously supported each other over multiple decades. Beverley and Jessica have proved that it's more than possible.
Beverley best summed up their bond to Today saying, "She's everything I could dream of in a sister and more. And I'm really grateful that our friendship and love continues to this day, 22 years later."