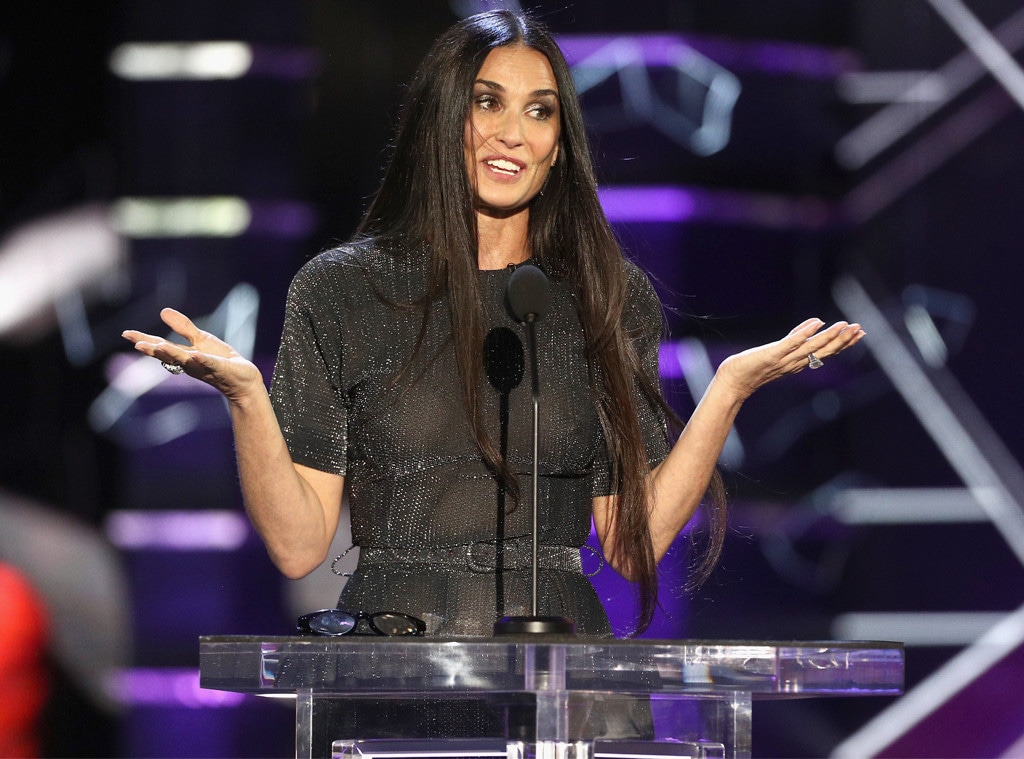 Frederick M. Brown/Getty Images
When it came time for Bruce Willis' Comedy Central roast, there was no one better to do the honors than his former wife of more than a decade, Demi Moore. 
The actress surprised her ex-husband during the Sunday night TV event with enough insults to induce laughing cramps. Moore came in swinging as she kicked off her part with a jab at Willis' memory. 
"Are you surprised, Bruce Willis?" she began. "I knew he would be even though I went over everything yesterday. I knew he'd forget."
Poking fun at their long history and the equally long Die Hard franchise, the actress continued, "For those of you who don't know me, I'm Demi Moore. I was married to Bruce Willis for the first three Die Hard movies, which makes sense because the last two sucked."
Phil Faraone/VMN18/Getty Images For Comedy Central
Frederick M. Brown/Getty Images
Soon, Moore moved on to their family life together. "We had some great times together. We shared a lot," she recalled. "I had three beautiful, amazing children...four if you count Bruce...and then there's the dogs and Ashton [Kutcher], so that's like six."
Moore was famously married to Kutcher for six years and there was a 15-year age gap between them. Her and Bruce's three daughters, Rumer Willis, Scout Willis and Tallulah Willis, were all sitting in the audience together and getting quite the kick out of mom's digs. 
"We did argue over the kids' names and in the end Bruce won—that's how they got stuck with Willis," she joked. "But, I have to say our daughters are incredibly well adjusted considering two of them are half Bruce Willis."
The zingers didn't end there as Moore continued to make fun of her former partner. "After our divorce, he said that he considered the end of our marriage his biggest failure, but Bruce don't be so hard on yourself—you have had much bigger failures," she quipped, noting that he turned down George Clooney's role in Ocean's Eleven to "focus on playing the harmonica."
As her portion came to an end, she delivered just one more dig. "I just look at our marriage like The Sixth Sense—you were dead the whole time," Moore told him, referencing his famous horror film.
As Moore concluded, "You've been a great friend, a great father and easily one of my top three husbands."
Willis definitely got a kick out of the whole thing. As he told her with a hug, "That was f--king great!"