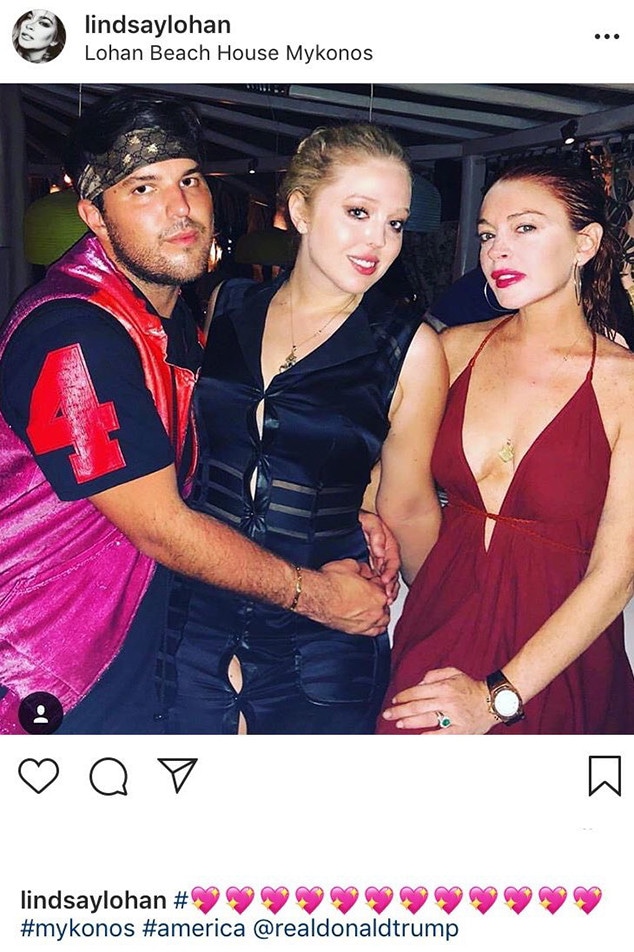 Instagram
New bestie alert? Lindsay Lohan recently partied with Tiffany Trump.
The 32-year-old actress and socialite posted on Instagram on Friday a photo of her with President Donald Trump's 24-year-old daughter and mutual friend Andrew Warren at a fundraiser for the victims of the Greek wildfires at the Nammos restaurant on the Greek island of Mykonos. Lindsay, who opened her new Lohan Beach House club there earlier this year, tagged the U.S. leader in her post.
Warren posted the same photo, which shows Lindsay wearing a plunging Grecian-style dark red dress and Tiffany sporting a sleeveless black tuxedo button-down dress. He and the actress later deleted the pics. He did keep a video of the two women at the gathering, showing Lohan playing with Tiffany's hair, posting on his Instagram Story.
Tiffany, one of the president's five children and his only child with his second ex-wife Marla Maples, is on vacation after completing her second semester at Georgetown University Law School in Washington D.C.
Lindsay and Tiffany have been pals for a while. In April, the two chatted on FaceTime. They also share a mutual group of friends, including Andrew, Abigail Breslin, Peter Brant Jr., and E.J. Johnson, according to Vanity Fair.
Lindsay told the New York Times in June that Tiffany, an old friend, planned on visiting her the following month in Mykonos, calling her "a really sweet girl" and "nice person."
The president had said on The Howard Stern Show in 2004, a few before Lindsay underwent legal and personal turmoil, that the actress was "probably deeply troubled and therefore great in bed."
"Here's the thing: very simple with politics," Lindsay told the New York Times in June. "He's the president. No matter what anyone says, he's still the president. I have no feeling. I have no emotion."