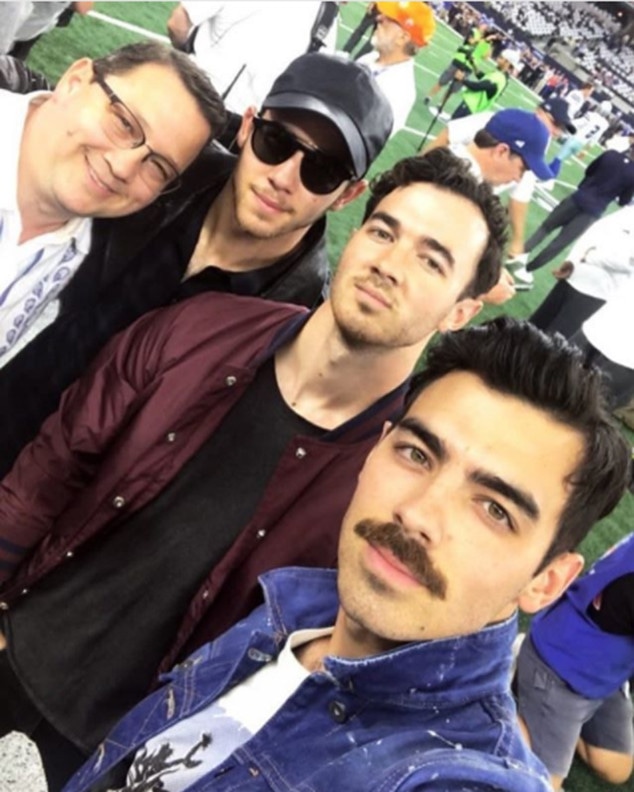 Instagram
There's nothing quite like brotherly love.
It's no secret that Nick Jonas is extremely close to his three brothers. After all, he found huge Hollywood success with two of them thanks to the Jonas Brothers.
But after the group decided to mutually split up, fans found the former Disney stars growing up and developing strong, romantic relationships.
Kevin Jonas was the first brother to get married in December 2009. Fast-forward to today and he's now the proud dad to two kids with wife Danielle Jonas. As for Joe Jonas, he decided to pop the question to Game of Thrones star Sophie Turner back in October 2017. Wedding plans are currently underway.
And just last night, E! News learned that Nick proposed to Priyanka Chopra after two months of dating. So what has the "Jealous" singer learned about love and relationships from his older brothers? For starters, family is everything.
Despite busy schedules that take each brother all over the world, there are still plenty of times where everyone can come together. From family holidays to engagement parties, this group makes it a priority to press pause on their work commitments and celebrate big moments as one.
"Beautiful night celebrating beautiful people. #JOPHIE," Nick shared on Instagram while celebrating Joe and Sophie's engagement at a star-studded party.
When it was time for Kevin and Danielle's baby girl to celebrate her "Dedication Day," Nick was proud to attend and reveal his new title as godfather.
"I love my sweet little angel of a niece Alena, and her incredible parents @kevinjonas @daniellejonas," he previously shared on Instagram. "As you can see this little angel makes me very happy."
Nick added in a separate Instagram post, "You light up my world every single day. Love you so much!"
And while having nieces added a whole new level of happiness to Nick's life, he also had reassurance from his brothers that fame doesn't have to prevent long-lasting relationships.
Whether attending award shows together or walking red carpets side-by-side, Kevin, Joe and their respective partners didn't try and hide their relationships.
Andrew H. Walker/WWD/REX/Shutterstock
In fact, Kevin and Danielle documented their life as newlyweds on the reality show Married to Jonas. Spoiler alert: Instead of being part of any and all reality TV curses, these two remain happily married more than five years after the show came to an end.
For those concerned about how fast Nick and Priyanka's love story has unfolded, we understand why two months could raise some eyebrows.
But in that time frame, both parties have already met each other's parents. They enjoyed a double date with Joe and Sophie. And Priyanka invited Nick to her cousin's wedding. You can't be mad at the family love.
While it's far too soon to talk about wedding planning, perhaps Nick wanted to get things moving along. After all, he already has big plans for brother Joe before his ceremony.
"It's our bachelor party. As much as it's for him, it's really for all of us," Nick joked on Live From the Red Carpet with E! News' Jason Kennedy. "We've got no plans yet. It is going to be respectful, very respectful."
He later added, "We're going to have fun. We have to. He is going to get married. It's a big deal."
A big deal that Nick will soon be able to experience for himself in the near future. Congratulations Jonas Brothers for all your happily ever afters.