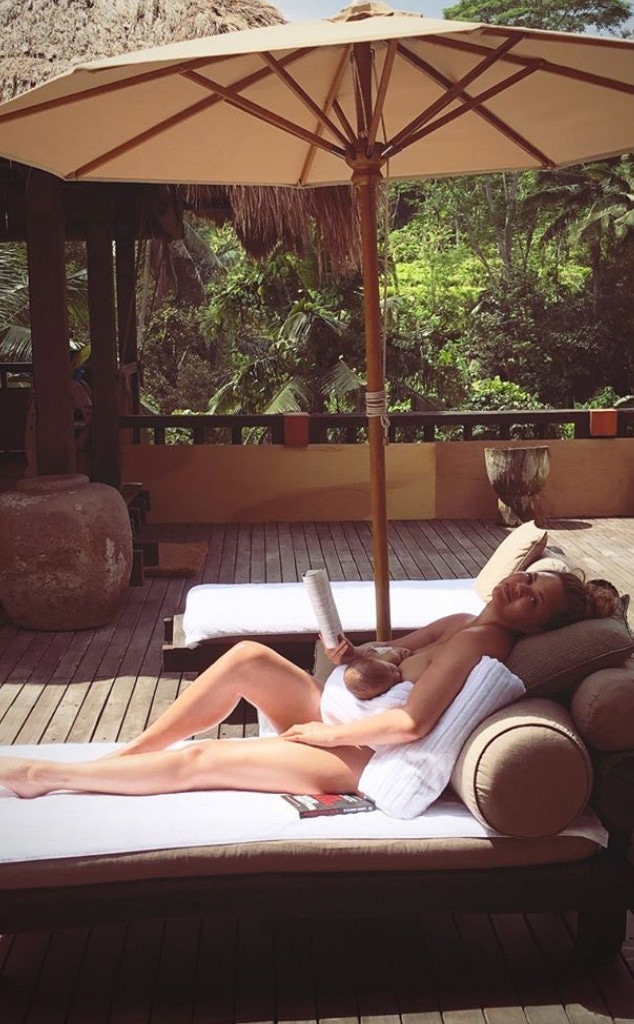 Instagram
Chrissy Teigen took to Instagram on Thursday to share a new photo of herself breastfeeding her baby boy Miles. 
The picture showed the Lip Sync Battle host soaking up the sun while nursing her 2-month-old son in the nude. She smiled at the camera as she balanced both her baby and her beach read.
Teigen and her little one are currently on vacation in Bali. Of course, her husband John Legend and 2-year-old daughter Luna were there, too. Teigen later showed a video of the proud papa holding his second child via Instagram Stories.
"Well, well, well look who's taking care of his baby—it's you," she teased.
She also shared a close-up of her happy baby boy.
This isn't the first time Teigen has posted a picture of her breastfeeding. Earlier this month, the mother of two shared a photo of her nursing Miles and his sister's toy doll.
"Luna making me feed her babydoll," she captioned the photo, which generated praise from many moms, "so I guess I have twins now."
But just a few days later, she took to Twitter to call out a man who allegedly took photos of her topless while she was pumping breast milk inside of her car.
"Also to the man who took photos into our car as I was topless and pumping you can go f--k yourself if you sell them," she wrote in a since-deleted tweet, per Entertainment Tonight. "If I wanted to show you my salami nipples I'd show you my salami nipples on my own doing!" 
While one social media user applauded Teigen for representing "the pumping moms," another Twitter user, named Jerry, asked Teigen why she was upset—arguing she had just posted her own breastfeeding photo a few days ago and that a car was not a private place.
"Yes jerry. Die on this hill," she clapped back. "This is what you should stand up for. A man's right to shoot his camera into my (tinted) car. This is a great cause."
Then again, Teigen is used to taking on social media haters. She recently laughed off criticism she received for taking a photo with her two kids on the boardwalk. After a social media user wrote her son "doesn't look [too] happy with the sun in his eyes," Teigen replied, "He told me he loves it."