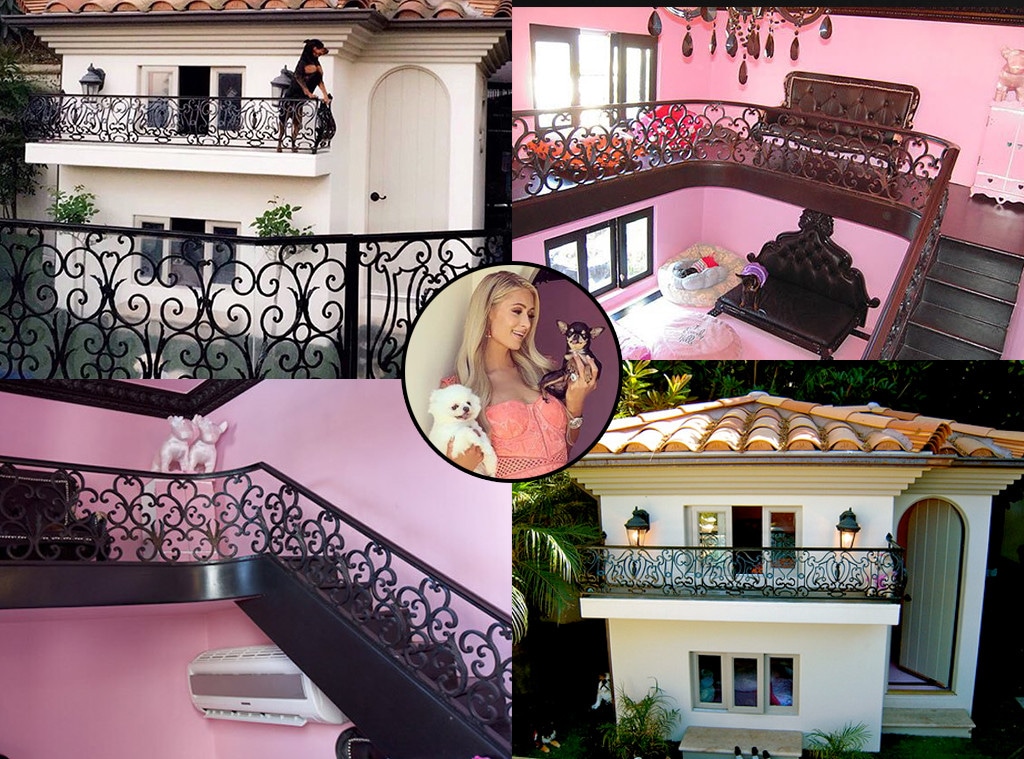 Instagram
It's no secret celebrities enjoy living in the lap of luxury—so why shouldn't their furry friends do the same?
Several stars have hooked their pets up with pads so sweet they would make any human jealous.
Take Paris Hilton, for instance. The hotel heiress has a two-story "doggy mansion" for her playful pups. The house is inspired by Hilton's Los Angeles home and features heating, air conditioning, crown molding, a chandelier and a balcony. According to Architectural Digest, the interior of the 300 square-foot doghouse was designed by Faye Resnick and includes furniture by Philippe Starck.
"They're very spoiled," Hilton said about her dogs during an interview with ITV2. 
Considering Hilton once purchased a Pomeranian worth $13,000, we can only imagine how much she spent on her dogs' digs.
Kylie Jenner is another celebrity who's gone all out for her four-legged friends. The Keeping Up With the Kardashians star recently gave fans a sneak peek of the house she's commissioned for her dogs. Like Hilton's dog home, it features air conditioning and heating. It also features an adorable white fence, a front porch and windows for natural light. 
"It's like a guest house," Kylie said in a Snapchat video.
Lisa Vanderpump also isn't afraid to spoil her pets. While Real Housewives of Beverly Hills fans already know her dog Giggy lives like a king, the reality star also splurges on her two miniature horses, Diamond and Rosé. The Bravolebrity has a gorgeous mini barn for her ponies that's painted in her favorite color—pink. In fact, TMZ reported real estate developer Mohamed Hadid—father to supermodels Gigi Hadid and Bella Hadid—designed the tiny barn.
Actress and model Rachel Hunter isn't afraid to pamper her pooches, either. The former wife of Rod Stewart purchased a Mediterranean mansion for her dogs. The house features grand wooden doors, a front porch, iron fixtures and doggy wallpaper and décor. La Petite Maison built the home. The company's website claims its average doghouse costs between $6,000 and $10,000 while its more high-end homes can cost $25,000 or more.