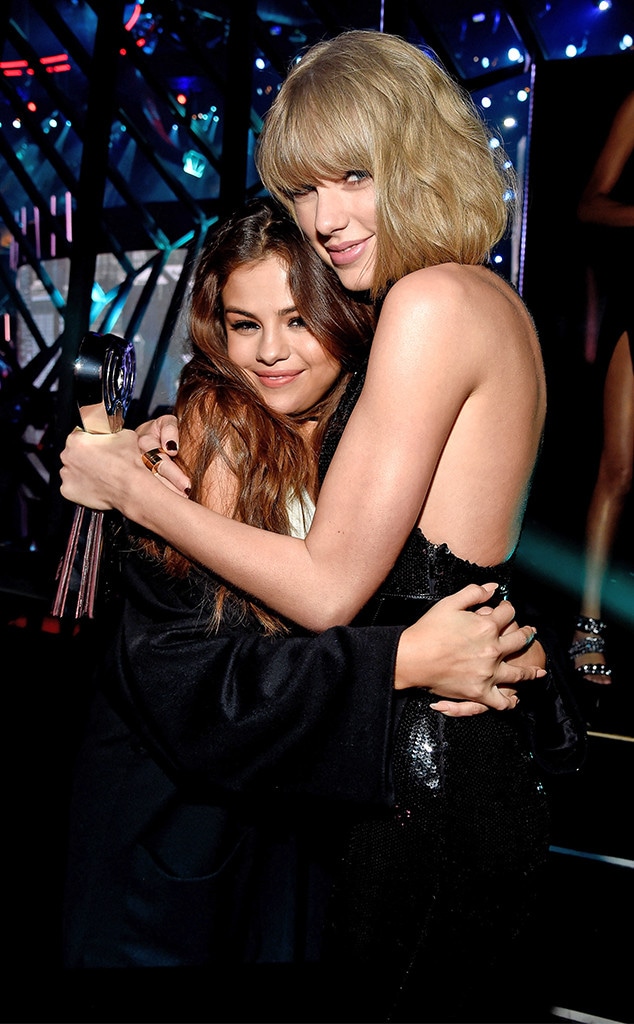 Kevin Mazur/Getty Images for iHeartRadio / Turner
"The reason why she has been one of my best friends is because this person has never ever judged a single decision I've made. She's always met me where I've been. She's encouraged me when I've had nothing to be encouraged about. And I don't know if I would be as strong as I am if I didn't have you and your family because you changed my life."
When Selena Gomez repeated those words in front of 60,000 people last year, it wasn't just a huge surprise for concertgoers experiencing Taylor Swift's reputation stadium tour.
Instead, it was a moment that instantly silenced the doubters and those left questioning where Selena and Taylor's friendship stands.
No, they don't post selfies together every week on Instagram. And no, they also aren't photographed visiting Hollywood hot spots month after month.
But for almost 14 years, these two pop music superstars have had each other's backs in a town filled with more than a few snakes.
Watch:
Taylor Swift Talks BFF Selena Gomez
"It's been the longest [friendship] I think either of us had really. When your life changes and you become thrust into this really strange whirlwind where what your life is is different from what other people think your life is. And your life is commented on and your life is written about and its fictionalized and all that. Both of us have kind of stuck it out and hung in there through all the different changes we've gone through," Taylor explained to E! News back in 2014. "Longevity is something you really can find very precious and rare in friendships."
In fact, they've been able to stick together when the tabloids weren't so kind. Back in 2014, rumors about the actual strength of the friendship surfaced when Selena was experiencing an on-again, off-again relationship with Justin Bieber. In fact, Taylor had to set the record straight in an interview with Rolling Stone.
"People think they have my relationships all mapped out. There were all these blogs, like, 'Are they feuding? Are they fighting?'" the "Shake It Off" singer recalled to the publication. "Meanwhile Selena and I would be on the phone that night, laughing about it. We let them have that one."
And when Taylor took a break from the Hollywood spotlight to work on her reputation album, some began to speculate that her "squad" and famous friends were put on the back burner. It just wasn't the case.
"I obviously love her so much and want her to do what she does and she's killing it. It's everything you would want and more so [I'm] very proud and obviously a major fan," Selena shared in 2017 with Apple Music's Zane Lowe when teasing her friend's top secret project. "It's honestly so inspiring. It's really cool to surround yourself with people and be involved with people who are inspiring and changing the way that they dictate what they love—whether that's acting or music—and she's one of those people who continues to do that."
Selena, meanwhile, continues to have her friend's back. When fans suggested it wasn't cool for her to post an Instagram showing herself modeling an item of SKIMS brand shapewear from Taylor rival Kim Kardashian, Selena was quick to respond. She, uh, swiftly deleted the image from her feed and then posted a selfie basically telling Taylor stans that they need to calm down. 
"My ride or die, I would die for this one," she wrote of her pal. "Thank you for forever being by my side. You have taught me so much, walked through all of this with me, STAYED and you remind me to be a better human being. I'm on your side for life."
And when Taylor revealed her ongoing fight with Scott Borchetta and Scooter Braun at her former label, Big Machine Records last night, Selena Gomez made it unequivocally clear where she stood. Taylor's claim that the two were blocking her from performing a medley of her hits when she takes the stage as the American Music Awards' Artist of the Decade, "makes me sick and extremely angry," she wrote in a lengthy Instagram post. "It's greed, manipulation and power. There is no heart or thought of anyone else's. No respect for the words my friend has written since she was a 14 year old in her bedroom." 
Because if anyone knows what it's like to painstakingly craft a song with lyrics that resonate in your soul, it's Serena. And when she puts out something as personal as her most recent hit, "Lose You to Love Me," Taylor is there to praise it. 
"This song is a perfect expression of healing and my absolute favorite song she's put out yet," Taylor wrote on her Instagram story, labeling it "a triumph." 
It was a review she had already delivered in person, Taylor of course getting an advanced listen to her bestie's new track. After all, she had gotten a firsthand look at the type of heartbreak that led to such a raw track. 
"She was frustrated when I was frustrated. She was sad when I was sad," Selena shared during a sit-down with Zane Lowe on his Apple Music Beats 1 show last month. "But more than anything, my friends stood by my side. I think they visibly saw me in so much pain and they didn't want it for me." All throughout, she continued, "They never stopped loving me. And I played her the song, and I played it with her mom and dad and I showed her the video and her mom and Taylor started crying. It wasn't because the song was emotional. It was just because the first thing they said to me was, 'We're so happy that you're here. After seeing all of that, this is such a cool moment.' And that's a huge thing for me." 
Kevin Winter/AMA2011/Getty Images for AMA
As individual artists, both Selena and Taylor have come a long way since walking their first red carpet together at the 2008 premiere of Another Cinderella Story. In fact, they likely accomplished more than they could have ever imagined.
And as both performers kept turning out chart-topping hits, they would find themselves sitting next to each other at the biggest award shows of the year including the Grammys.
In fact, they would delight fans with their dance moves from the audience at the American Music Awards. And yes, the pair would turn heads for all the right reasons when stepping out for the Met Gala together.
Despite their A-list status in Hollywood, perhaps it's the simple things that bring these two the most joy.
"Taylor's amazing. She's so smart and sweet and humble—and she's way more successful than I am!" Selena shared with Glamour in 2012. "When I see her after everything she's been through and she just wants to go home and bake cookies with me, that to me is awesome."
And rest assured this love story is only beginning.
"To the person I could call at any time of day, who has been there no matter what…you absolutely KILLED IT tonight," Taylor wrote on Instagram after Selena performed at her reputation show. "I love you."
Isn't that what friendship is all about?