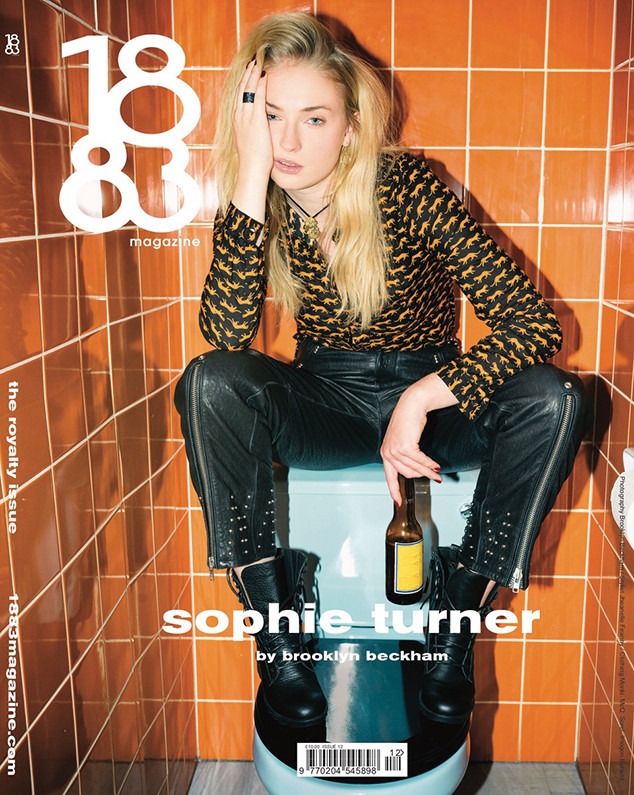 Brooklyn Beckham / 1883 Magazine
When you gotta go, you gotta go...photograph Sansa Stark.
David Beckham and Victoria Beckham's eldest son, Brooklyn Beckham, played pro photographer again for his first fashion editorial; The 19-year-old photographed Sophie Turner, 22, for a cover shoot for 1883 magazine's royalty issue, available on July 31 as part of the print magazine's summer 2018 relaunch.
In the cover photo, the Game of Thrones actress sits on top of a toilet tank while holding a beer bottle. She is wearing a black and tangerine panther-print shirt, black leather pants and black lace-up boots.
In another photo, Sophie lies on a patterned couch with a metallic copper and blue floral jacket draped over her, while wearing a white crop top and brown leather skirt, as well as sunglasses.
Brooklyn Beckham / 1883 Magazine
A third photo shows the actress lounging on a chair inside a northwest London shop, wearing a denim jacket and jeans.
Brooklyn Beckham / 1883 Magazine
Watch:
Brooklyn Beckham Makes a Name for Himself
Brooklyn posted on his Instagram page on Wednesday a photo of him and Sophie goofing around.
"Love photographing you for 1883 x such a lovely girl @sophiet," he wrote.