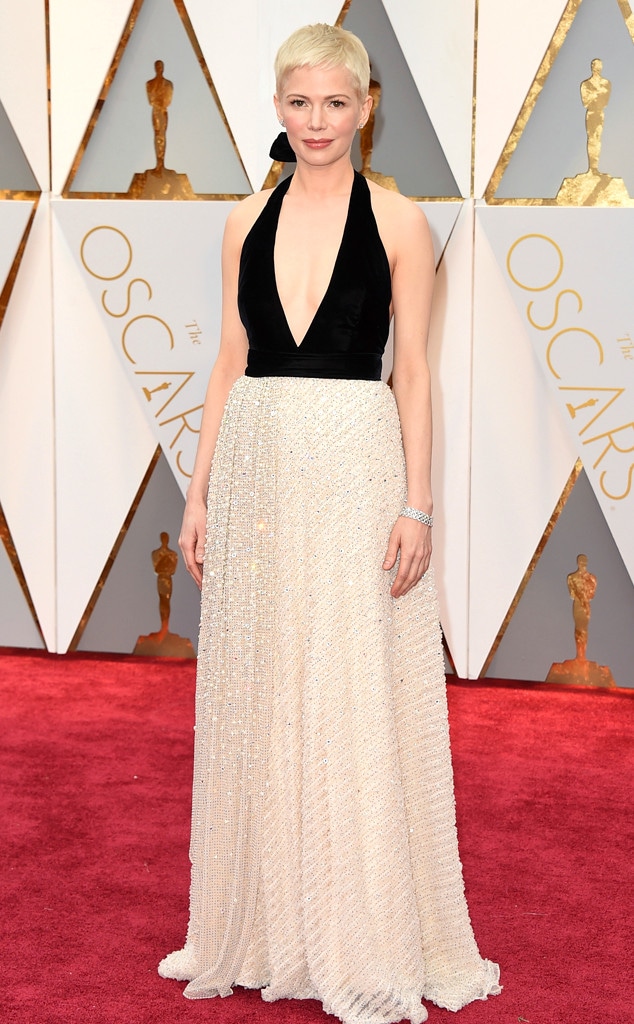 Jordan Strauss/Invision/AP
Michelle Williams hasn't won an Oscar yet, but once again, she should really be in the running for her latest performance.
The famously private actress added to her own legend this month, marrying singer-songwriter Phil Elverum in front of a tiny group of loved ones and only sharing her plans during a sit-down with Vanity Fair for its September 2018 issue.
Secret weddings are very chic among the celebrity set, of course, but last time anyone checked, she was dating, "very happy" with and even rumored to be engaged to New York-based financial consultant Andrew Youmans.
So how, within a few months, did she meet and fall in love with Elverum, a Washington state native who performs as Mount Eerie and just moved cross-country this month to be with Williams in NYC?
Jordi Vidal/Redferns via Getty Images
"In your 20s, you're still so jagged and fractured, and I feel like everything has sort of cohered," Williams explained her state of contentment to Vanity Fair, still unwilling to divulge (on the record, at least) the particulars of how her year took such a romantic turn.
At first, according to the article, Williams appeared to be dying to share, the way a girl in love wants to shout it from the rooftops, but instead the actress said, "I would tell you everything, in the spirit of women sharing with each other, but the Internet's an a--hole."
But in the interest of separating fact and fiction, really for the greater good, she did reveal that she and Phil Elverum (surprise!) were planning to get married, and would be married, in a small ceremony in the Adirondacks, by the time the VF cover story was published.
A mutual friend introduced them.
 Williams would only say that their relationship is "very sacred and very special."
The couple have since carved out a clean real estate slate for themselves, moving to a new home in Williams' beloved Brooklyn, where she has lived consistently for six years with daughter Matilda Ledger—and in happier times over a decade ago lived there with Matilda's father, Heath Ledger.
"It was unmanageable to be stalked like that, every moment of the day," Williams told Vanity Fair, recalling the relentlessness of the paparazzi in the days following Ledger's death by accidental overdose on Jan. 22, 2008, about five months after they split up. "So I left, in a desire to create a sane home environment." She and Matilda quietly decamped for upstate New York for four years.
Privacy has been of the utmost importance to Williams, who was determined to keep her child out of the public eye and knew that living in L.A.—or Manhattan, even—wouldn't be the right place for her family—even if it means she has to maintain a long-distance relationship with her BFF and frequent red carpet date Busy Philipps. (Who may have been the mutual friend in question, because there's a picture of Philipps has an Instagram picture from March taken with her husband and Elverum at the March for Our Lives.) 
Williams' very exciting announcement(ish) comes just as she's about to be in her splashiest movie yet, starring opposite Tom Hardy in Venom, and she recently got rave reviews for her comedic turn in Amy Schumer's I Feel Pretty playing a squeaky-voiced cosmetics fortune scion who's aching to be taken seriously.
All of which seems to be coming together in a metaphorical package that suggests Williams, while she'll always have her memories, is moving further past the tragic history that has shadowed her own star, even as she's made a reputation for herself as one of the most reliably terrific actresses working today. She is also a longtime face of Louis Vuitton and became fast friends with creative director Nicolas Ghesquière when he came aboard in 2013.
Taylor Hill/Getty Images, Jordi Vidal/Redferns via Getty Images
"It's a very hard thing for me to navigate," Williams, referring to the necessary public side of her life, "because my instinct is to keep my life very, very private. But I also need and want certain things out of my career that demand I assume a more public voice."
While Williams was in peripherally public relationships with Spike Jonze and Jason Segel, and linked to some other famous fellows here and there, the experience she had couldn't help but make her wary of...well, everything.
"In a strange way I miss that year—because of all those possibilities that existed then are gone," Williams said on Nightline in 2010, her first TV interview after Ledger's death. "It didn't seem unlikely to me that he could walk through a door or could appear from behind a bush, it was a year of very magical thinking. In some ways I'm sad to be moving further and further away from it."
"I never gave up on love," she told Vanity Fair. "I always say to Matilda, 'Your dad loved me before anybody thought I was talented, or pretty, or had nice clothes.' Obviously I've never once in my life talked about a relationship but Phil isn't anyone else. And that's worth something. Ultimately the way he loves me is the way I want to live my life on the whole. I work to be free inside of the moment. I parent to let Matilda feel free to be herself, and I am finally loved by someone who makes me feel free."
And it sounds as though she's provided mutual comfort for Elverum, also a single parent who prematurely lost his partner under tragic circumstances. His 2017 album A Crow Looked at Me is about the 2016 death of his wife of 13 years, graphic novelist and musician Geneviève Castrée, from pancreatic cancer at the age of 35. His daughter, Agathe, is now 3.
Like Williams, he preferred life off the beaten path and had been living in Anacortes, Wash., on the edge of Puget Sound. Talking to Pitchfork in March 2017, his plan was to build a house in an even more remote area, on a nearby island.
"As crazy as it sounds, Anacortes feels like it's getting too crazy for us," he told the music magazine. "Geneviève wanted to move, too. We bought this property out there together during the cancer. It was a dream, an aspirational endpoint for us."
"I don't have a big plan," Elverum also said on Marc Maron's WTF podcast that June. "As far as music and stuff, I wasn't planning on making more music, I wasn't planning on making this album. If anything, I thought music was irrelevant to my life. I would just get some job. It seemed self-indulgent to be focused on creativity in the way that I had been in the past."
Less than a year later, two souls who needed each other simply... found each other.
"I don't really want to talk about any of it," Williams said. "But there's that tease, that lure, that's like, What if this helps somebody? What if somebody who has always journeyed in this way, who has struggled as much as I struggled, and looked as much as I looked, finds something that helps them?"
Her advice, basically, was, "Don't settle. Don't settle for something that feels like a prison, or is hard, or hurts you. If it doesn't feel like love, it's not love."