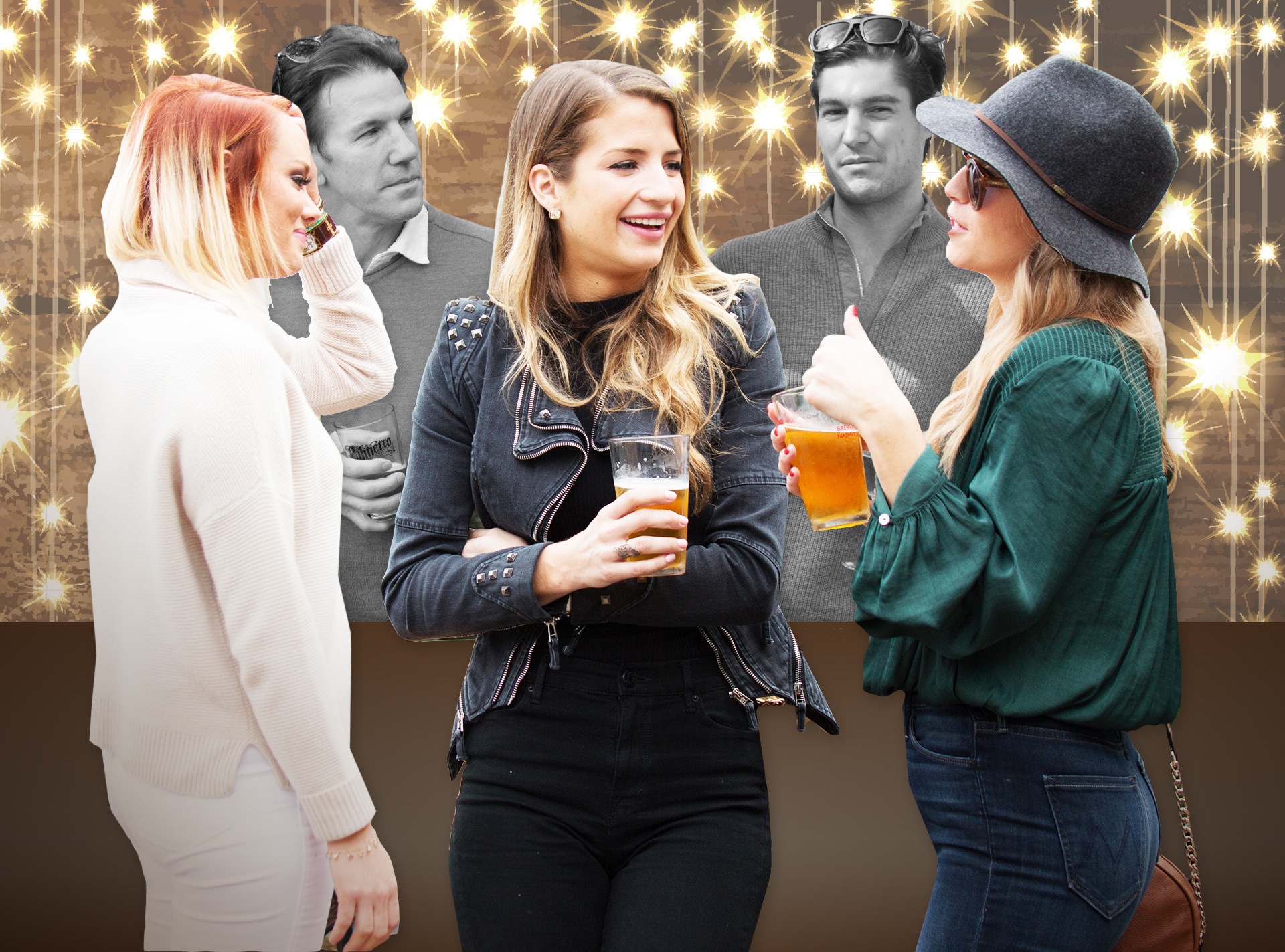 E! Illustration
 The revolution will be televised, y'all.
Ever since Oct. 5, when the New York Times published the first report detailing decades' worth of sexual misconduct allegations against Harvey Weinstein, Hollywood has been forever changed—on and off-screen. But one of the TV shows most heavily impacted by the #MeToo movement is also the most surprising: Bravo's reality hit Southern Charm.
Back when Southern Charm (which originally was a pilot presentation called Southern Gentlemen), was pitched to Bravo in 2013, the mostly female-oriented network liked that the male-focused series was "a fresh take for the network." 
"Obviously, we're a very female-oriented network and our main characters are female and Southern Charm turned that on its head by bringing men to the forefront, " Leslie Farrell, Bravo's vice president told E! News. "They're not there because the main characters are their wives or girlfriends, they are actually main characters themselves."
Clearly, times have changed, as the women have slowly but surely taken over the show. And in season five, the Peter Pans of Charleston were taken over by the Lost girls, the firmly established group made up of Kathryn Dennis, Naomie Olindo, Chelsea Meissner (promoted to series regular this season) and longtime recurring star Danni Baird, replacing their one-of-the-guys Wendy (Cameran Eubanks) as their sole voice of female reason. The men jokingly dubbed them "the break-up bunch," not realizing hell hath no fury like four independent women teaming up to end Charleston's "good ole boys system."
At the end of the premiere, we see the four women getting ready to face their respective exes at a BBQ, and it's clear that in the battle of the sexes that was season five, the show is taking the women's side, a far cry from the days of Thomas rallying the cast against Kathryn, the mother of his two children. 
"At the end of the day. We're all we've got. We're not going to screw each other over," Naomie said as they clinked their wine glasses in a cheers to female empowerment. "We're not going to do all this stuff that guys are going to do over and over again and be cool with it."
And by season's end, they kept to their word: they didn't screw each other over or get in a screaming match outside of a bar; they remained a united front, no small feat considering the uncertain and unpredictable nature of friendships on reality TV. (Just ask Real Housewives' Vicki Gunvalson and Tamra Judge or Bethenny Frankel and Carole Radziwill.)
For the women, who all found themselves single at the start of the season, it was about being their best selves and supporting each other, not the men who had wronged them...even as the men attempt to make the season's theme of girl power about them, with Naomie's ex Craig Conover even saying at the reunion, "There was no need for girl power. They were all dating really good guys and then they turned into a--holes."
He even goes on to say he treated Naomie like "a gem," before the cast and editors quickly call B.S. on that, rolling tape of Craig telling her, "You can speak now, child," and noting his penchant for white lies.
Kathryn's response following Craig's dismissal of this season's female empowerment, simply, was, "You can interpret it however you want, but girl power is just standing up for your self-worth, knowing it and acting accordingly."
Amen, sister.
But let's not kid ourselves into thinking change happens overnight in Charleston, Hollywood or anywhere, for that matter. It's still super messy and complicated in real-life and on the show. We can't even begin to break down the riddle that is Ashley Jacobs, Thomas Ravenel's new girlfriend who came in like a wrecking ball this season, and the women have continued to express concern over their friend Liz Madison's relationship with J.D. Madison, whose alleged infidelity was covered up for years. When Naomie exposed it on the show early in the season, seemingly with Liz's blessing and encouragement, because she was afraid of J.D. controlling the narrative, the women were surprised to see her take to social media after the encounter aired to defend J.D.
"I hear a lot of things about him and his bar that he used to have and the late nights he had there with young women, but then he comes across as this sweet family man," Chelsea said of calling J.D. out as a "con-artist" earlier in the season, with Cameran admitting J.D. "always had a bit of reputation" in town.
So why was he never exposed until now? Because, as Kathryn explained, it's just how things used to work.
"I wish people would've realized how the good ole boys system works, which is painting the women as crazy therefore any actions...if they were to come out and say them, they would be discredited," she said. 
No one understands this better than Kathryn, whose rocky relationship with Thomas Ravenel has played out over the course of the series. We've seen Kathryn, 26, have two children with a man almost 30 years her senior, lose custody of those children after failing a drug test, and then fight to turn her life around, with little to no support from her cast members until recently. It's been simultaneously inspiring and hard to watch. Now, she's been sober for two years and currently shares joint custody of Kensie, 4, and Saint, 2, but still takes random drug tests mandated by her former boyfriend. 
Thomas, the former state treasurer who spent 10 months in prison in 2007 for drug charges, was not at the reunion after he was accused of sexual assault by two women, including the couple's former nanny, and is currently under investigation by the South Carolina police. Thomas has denied the allegations.
"Along with Bravo, our client made the mutual decision not to attend today's reunion taping as there is a pending investigation," Andy Cohen read from a statement provided by Thomas' lawyer explaining his absence at the start of the reunion. "Our client is fully cooperating with authorities on that investigation. He expects to be completely vindicated once the investigation is concluded. He sends his best regards to his fans and his fellow castmates."
In part one of the reunion, Andy Cohen said being able to call the rest of the cast her friends must be a "watershed moment" for Kathryn, who agreed and said she feels ready to be vulnerable with people again after "feeling so misunderstood for so long." 
Kathryn, who got emotional after Cameran apologized for her attitude towards her in previous seasons (calling her "pathetic") and allowing Thomas to manipulate the group against her. "I view you now as more a victim, I do," she told her. "When Thomas met Kathryn, she was pretty much still a child. I think he took advantage of her." 
But really, Kathryn is no victim, refusing to be defined by her experience with Thomas. "That chapter is finally firmly in the past...I became a shell of the person that I was. But I'm not there anymore. I'm a different person, but a better person." 
Even Patricia Altschul, the matriarch of Charleston whose love for martinis was only surpassed by her disdain for Kathryn, has had a change of heart, realizing she had taken the information given to her by Thomas about Kathryn as gospel. 
After five years of jabs and judgment, Patricia finally gave Kathryn a chance at her season-ending white tie ball, and the two women, so representative of the old and new waves of feminism in the South, now have a friendship and even watched the first part of the reunion together. Thomas and Patricia (as well as Whitney Sudler-Smith, her son and the creator of the show) currently have no relationship, other than the occasional Twitter war. Quick, someone check for reports of pigs flying in Charleston!
When asked by Andy Cohen if the #MeToo movement had any influence on the women's attitudes this season, Cameran, who became a mother this season, said, "I think it has definitely influenced what has happened with Thomas recently in the news."
But it's more than just the allegations against Thomas; it's the undeniable shift that has happened on-screen within the power dynamics of the group, with the men finally being held accountable for their actions. 
"Every man in America did a mental take-stock of the last 20 years of their life," Shep Rose, who was called out for attempting to force a kiss on Chelsea last season, said of evaluating his own privilege. "If I told you I don't think about it more, I totally do."
Bless his heart. It may be small, but it's a start.
Part two of Southern Charm's reunion airs tonight at 9 p.m. on Bravo. 
(E! and Bravo are both part of the NBCUniversal family.)