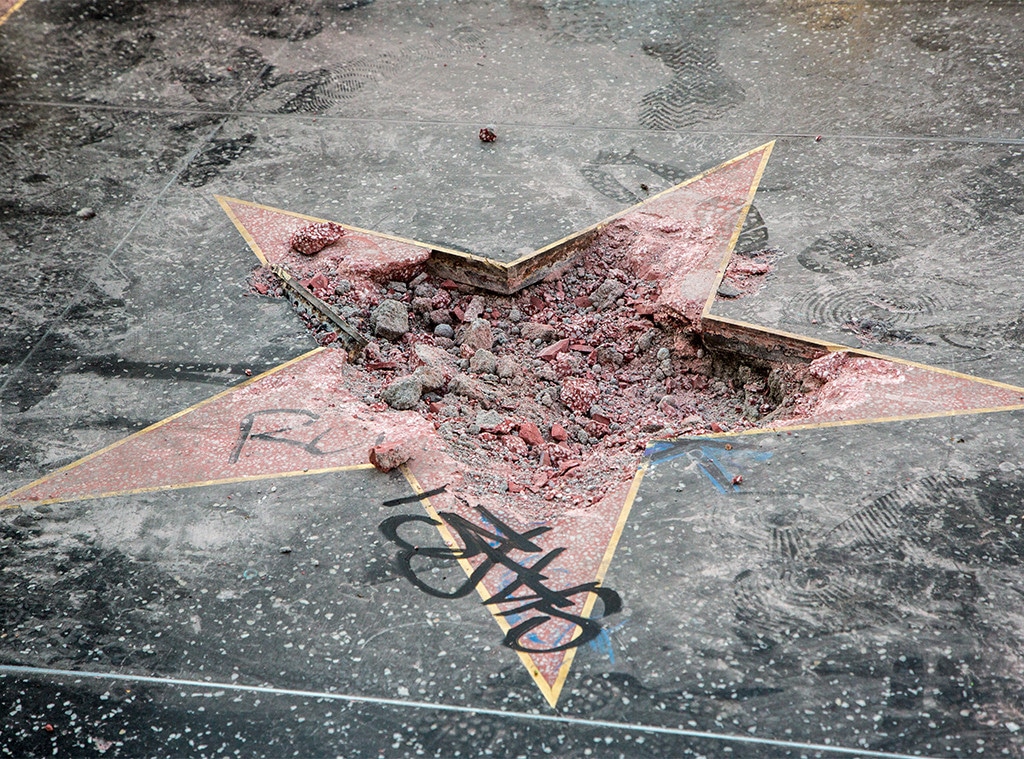 Gabriel Olsen/Getty Images
Donald Trump's star on the Hollywood Walk of Fame is in need of another repair.
On Wednesday morning around 3:30 a.m. local time, police were called to the President of the United States' star on Hollywood Boulevard near Highland Avenue.
According to NBC Los Angeles, police found a small pile of rubble in place of the star that Donald originally received in January 2007.
The suspect, who reported the crime to police, later turned himself in voluntarily. He was booked for felony vandalism. According to authorities, witnesses claimed the man concealed a pickax in a guitar case before the vandalism was done.
This isn't the first time Donald's star has been damaged.
Jean Baptiste Lacroix/WireImage
Back in October 2016, a man dressed as a construction worker was seen on video taking a sledgehammer and pickax to his star on Hollywood Boulevard.
The man responsible for the vandalism later identified himself to Deadline Hollywood as Jamie Otis. He reportedly said he was trying to extract the star from the sidewalk in hopes to auction it off.
The President/CEO of the Hollywood Chamber of Commerce would later release a statement in the wake of Donald's star being vandalized this week.
"The Hollywood Walk of Fame is an institution celebrating the positive contributions of the inductees...When people are unhappy with one of our honorees, we would hope that they would project their anger in more positive ways than to vandalize a California State landmark," Leron Gubler shared in a statement to E! News. "Our democracy is based on respect for the law. People can make a difference by voting and not destroying public property."
Back in 2007, Donald received his star before the season seven premiere of The Apprentice kicked off. His son Barron Trump made a special appearance during the ceremony when he appeared at the podium.
"It really has been a special moment in my life," Donald shared when reflecting on his ceremony.
—Reporting by Miana Massey