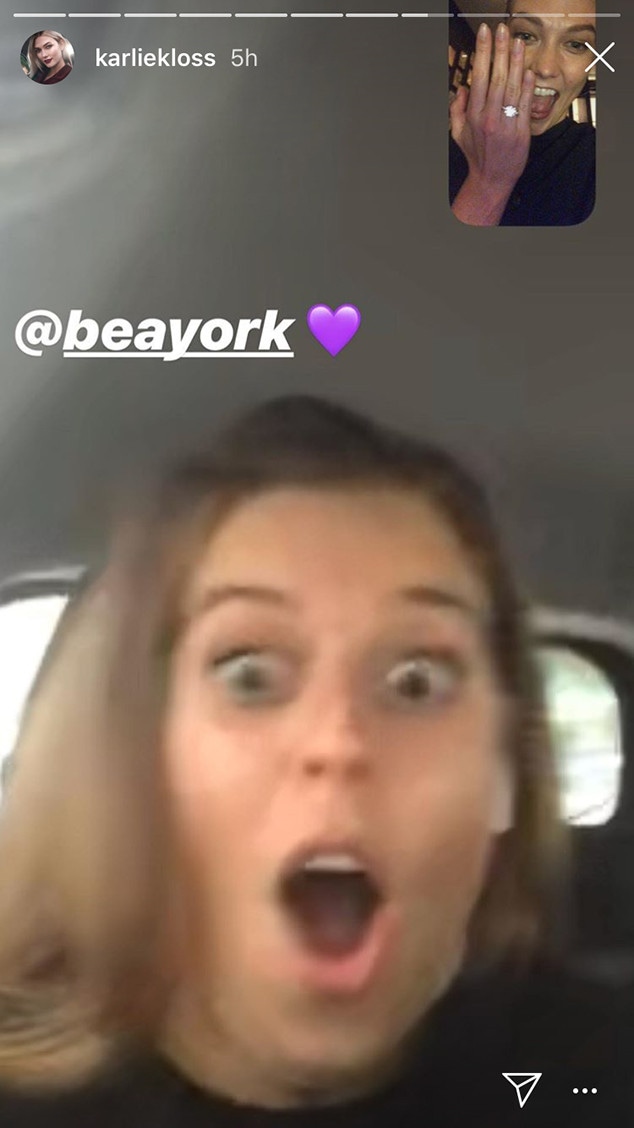 Instagram
Can Karlie Kloss keep a secret? Maybe not when she's celebrating her engagement.
Soon after announcing on social media that Joshua Kushner popped the special question, the supermodel took to Instagram Stories and expressed gratitude for all the love she was receiving.
"My phone is blowing up with the sweetest messages from loved ones," she wrote while in Beijing. "This poor makeup artist is gonna kill me."
Karlie later revealed some of her closest friends she had to FaceTime to share the special news with. In addition to close family members like her sister and grandma, the Victoria's Secret Angel took time to chat with Serena Williams and her "best friend since the first day of kindergarten."
There also was a friendly chat with Princess Beatrice that may have led to a big revelation. While sharing a screengrab from the conversation, Karlie just so happened to tag her handle @BeaYork.
We hate to break the bad news, but the account is private. In fact, the account that many believe is Princess Beatrice's secret profile, only has 651 followers.
Although the account has been kept on the down-low, Princess Beatrice of York's profile certainly isn't breaking any rules. Royals with formal working roles are not allowed to have their own social media accounts. Those who have jobs outside the family, however, are more than welcome to create one.
Princess Beatrice and Karlie's friendship has been going strong for several years now. Towards the end of last summer, the pair traveled to France to celebrate the marriage of art collector and dealer Alberto "Tico" Mugrabi and Colby Jordan.
Earlier in the summer, the duo also shared a box with Ivanka Trump at the US Open Tennis Championships.
Safe to say this royal family member will have a spot at Karlie's upcoming wedding.