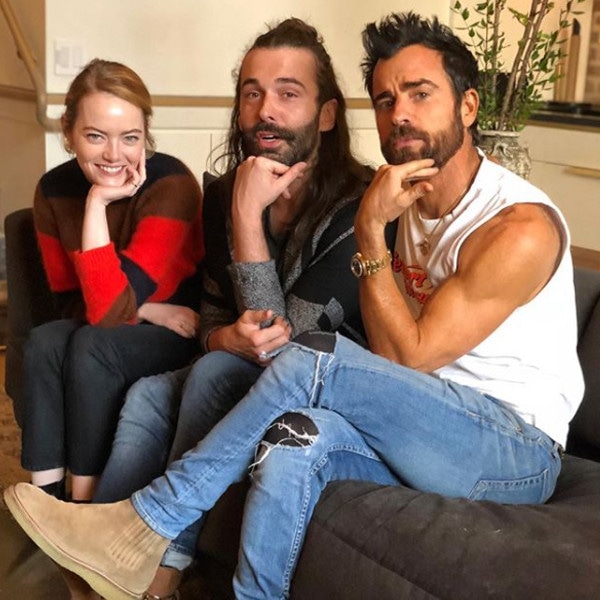 Instagram
So this is what goes on when Justin Theroux invites the Fab Five over for a hangout...
It's no surprise by now that the actor has become pals with some of our favorite TV men. "They've sort of included me in their little wolf pack," Theroux confirmed to Jimmy Kimmel of the Queer Eye stars. As the Spy Who Dumped Me actor explained on Monday night, he had binge-watched the first season of the hit Netflix series and decided to reach out on a whim. 
"I did one of those things that I've never done before in my life," Theroux recalled. "It was Easter. I was just like, 'I'm just going to DM him.'" In the midst of making a quiche, the actor noticed Jonathan Van Ness was in New York and thought he might by chance be interested in coming over. 
"I was like, 'Hey, you probably won't get this, but this is Justin and I'm making a quiche." Van Ness "immediately" answered and the rest, as they say, is history. 
Now, the star says he's become friends primarily with Van Ness, Tan France and Antoni Porowski. While he thought he might get a makeover of some sort out of his newfound friendships with the self-help gurus, it's actually the opposite. 
"I'm usually the one doing the shopping like, 'Oh my God the guys are coming over,'" he told Kimmel. "Antoni made me nachos once and that was about the extent of it."
While they do go shopping together, Theroux also revealed he once cut one of his own shirts to make a fringed crop top for Van Ness during Pride Week in the Big Apple. Perhaps arts and crafts are their forte because, on another night, Theroux broke out the art supplies for some drawing with Tan and Jonathan. 
"They never had seen a vagina aside from what you would see maybe in a textbook or something like that," he recalled. "I thought that was kind of a teachable [moment]."
As Theroux explained, "I said, 'We're gonna all draw vaginas,' because I was dying to know what in their brain that looked like."
Check out the clip above for Van Ness' artistic result!