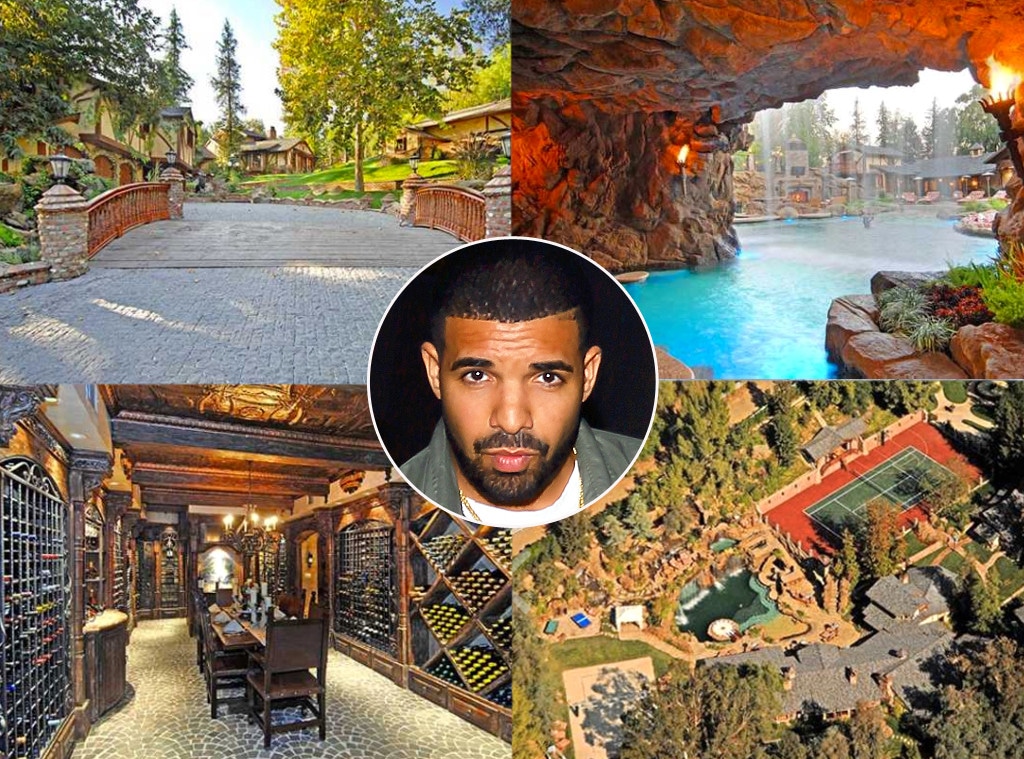 Trulia, AKM-GSI
So, Drake is absurdly proud of his pool. 
That much became clear when he made the somewhat odd choice to pay tribute to it in verse, rapping in his 2016 track, "Summer Sixteen," that "Now I got a bigger pool than Ye / And look man, Ye's pool is nice, mine is just bigger is what I'm saying."
To be fair, his three-acre Hidden Hill, Calif. compound—appropriately named The YOLO Estate—boasts an enormous swimming hole complete with man-made grotto, water slide, wet bar and flatscreen TVs that is larger than the one at the mansion Kanye West shares with wife Kim Kardashian.
Really, it's bigger than most any pool you can imagine thanks to some diligent research on the part of the "Hotline Bling" rapper. Having "the biggest residential pool on the planet" has long been a goal of his, he told Rolling Stone in 2014, so years before the Canadian earned himself a record deal, he typed that phrase into an Internet search. It turned up an estate from Saddle Ranch owner Larry Pollack that Drake kept as the desktop image on his computer for years, finally making a move when the sizable spread went on the market in 2009. 
Described by Rolling Stone as "part dude ranch, part gentleman's manor, part Medieval Times", the 12,500-square-foot pad is all wooden beams, vaulted fireplaces, cavelike walls with a dash of whimsy thanks to a stone elk, stone giraffe, 25-seat movie theater and a mechanical bull.  
Toto, we're not in Kansas anymore. Or Michigan. Or Pennsylvania. Or really any neighborhood where a non-millionaire can afford to buy. Because when price is no object (Drake's pad was listed for $27 million, but he paid less than a third of that, bragging, "I stole it from him!"), there's no stopping stars from going completely over-the-top when it comes to their real estate. (I mean, if Dale Earnhardt Jr. was your pal, would you tell him he didn't need to create a working Old West town, complete with saloon, a sheriff's office and working jail?) 
In a world where tennis courts, pizza ovens and movie theaters come standard—and no one really bats an eye at Alex Rodriguez's indoor basketball court or the bocce balls setup Anna Faris had at the home she lived in with Chris Pratt—celebrities have to get creative to truly stand out. We're looking at you and your black toilet paper, Kris Jenner! Behold, the lifestyles of the rich, famous and just a wee bit eccentric. 
Generally, the term champagne room conjures some not-so-safe-for-work images. But at Heather Dubrow's SoCal home (ahem, Dubrow Chateau), it's simply the spot where The Real Housewives of Orange County alum stashes her beloved Veuve Clicquot. 
Should she fancy a flute, she need simply ring the secret doorbell found deep in her master closet. "I have this three-way mirror. It's hidden, so when you pull the mirror forward, it's framed and it's black and white and has my initials on it, and it says, 'Press for champagne,'" she explained to Bravo's The Daily Dish. "And it rings in the kitchen." Though, as her husband Terry Dubrow pointed out, there are some kinks to work through. "Terry goes, 'Who's bringing you the champagne?'" she admitted. "I'm like 'You? I don't know.'"
If there's a downside to tricking your home out with unique features, 50 Cent discovered it when he tried to unload his Connecticut estate. After snapping up the 21-bedroom, 25-bathroom place from boxer Mike Tyson in 2003 for $4.1 million, he shelled out millions more to spruce up the nine kitchens, private casino and disco room—complete with several stripper poles so every night he and his pals could feel like they were "In Da Club." 
Sadly, even with the addition of a helicopter pad, he couldn't get buyers to bite at the $18 million asking price in 2007. He finally accepted an $8 million offer from a nursing home management company nine years later. 
James Aylott CelebrityHomePhotos.com; John Sciulli/WireImage
Outfitted with everything necessary to support his love of flying, John Travolta's Ocala, Fla. pad isn't likely to be listed anytime soon. 
A Gulfstream II jet is parked in one of the Qantas ambassador's two plane pavilions and his personal Qantas Boeing 707 sits in the yard. "It was always John's dream to have planes in his front yard—to practically be able to pull up to the house—so that when you wanted to go to dinner, all you'd have to do was step out the door, get on the plane and whisk off," wife Kelly Preston explained in a 2015 interview with Australia's Today (excerpted by Architecture and Design).
And with the addition of a runway that extends right up to their front door and a control center, the midcentury-style spot simply works for the flight happy pair. "We designed the house for the jets and to have at our access the world at a moment's notice, and we succeeded at that," noted Travolta. "For the last 11 years, we've been able to globe-trot for Qantas and movies...I've been really able to operate out of this house for business and personal reasons."
CelebrityHomePhotos.com; Getty Images
The business half of the equation was most key for Tiger Woods when designing his 12-acre home in Jupiter Island, Fla. Valued somewhere between $60 and $80 million (though if you have to quibble over the difference, it's probably too rich for your blood), the estate features a track and field area, two boat docks, a reflecting pond and a 5,700-square-foot fitness center. 
But the true standout is a four-green golf course designed, per the 11-time PGA Player of the Year's website, "to replicate tournament-like conditions, similar to those he faced around the world." 
Courtesy of Architectural Digest, Tuukka Jantti/PacificCoastNews.com
The 150-acre Calabasas, Calif. compound Will Smith commissioned with wife Jada Pinkett Smith is also designed with career enhancement in mind. Along with a recording studio (where daughter Willow Smith belted out her 2010 hit "Whip My Hair"), a screening room and Jada's meditation room is Will's favorite feature: a gazebo that sits in the center of a man-made lake. 
There, the two-time Oscar nominee noted to Architectural Digest, "Answers come to me." 
Perhaps he'll mull on which feature he can add next?