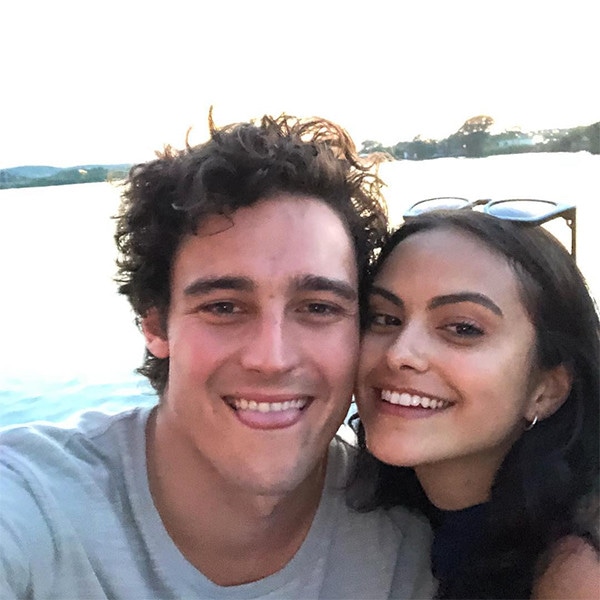 Riverdale actress Camila Mendes brought her new boyfriend Victor Houston to San Diego Comic-Con 2018, where they partied it up with her co-stars.
The group attended the EW's Comic-Con bash at the FLOAT lounge at the Hard Rock Hotel San Diego. Mendes and her boyfriend were spotted getting a drink at the bar and hanging out on a coach near other Riverdale cast members.
Earlier in the day, the two were spotted holding hands while walking with the cast near the San Diego Convention Center, E! News has learned. The actors promoted Riverdale at a photo call on Saturday and at a fan panel on Sunday. Mendes and her beau did not pose for photos together at any event.
Mendes had confirmed their relationship to E! News last week, about a month after their sparked romance rumors.
At the party, Riverdale star Madelaine Petsch arrived with her boyfriend, Travis Mills, while co-stars and real-life couple Lili Reinhart and Cole Sprouse were also spotted together there. He munched on some popcorn while she was seen holding a hot dog and sitting and talking to Petsch.
Marvel's Agents of S.H.I.E.L.D. star Chloe Bennet was seen walking with controversial YouTube star Logan Paul. The two also danced together with Mendes to "Crazy" by Gnarls Barkley near the rest of the Riverdale cast, many of whom joined in, including Sprouse, Morgan and Marisol Nichols, as well as Kelly Ripa, who accompanied her husband and show star Mark Consuelos. Bennet and Paul were also seen dancing to Nicki Minaj by the photo booth.
Aquaman star Jason Momoa hung out with friends, including Zachary Levi, star of Shazam!, and stepdaughter Zoe Kravitz, who stars in Fantastic Beasts: The Crimes of Grindelwald. The actors had promoted their Warner Bros. Pictures films in Hall H of the San Diego Convention Center earlier in the day.
Sprouse was later seen chatting with Kravitz and Morgan. 
Once Upon a Time alumni and real-life couple Ginnifer Goodwin and Josh Dallas, who is promoting the new NBC series Manifest, looked cozy sitting together on another couch, talking with a female friend. Kravitz was later spotted talking to the couple.
Ripa was later seen hugging Breckin Meyer, who attended the party with wife Deborah Kaplan. Meyer also chatted with Levi. 
Aisha Tyler was seen chatting with Robbie Amell by the bar.
Sharknado star Ian Ziering was spotted meeting Mendes, shaking her hand. 
Rachel Bloom arrived late, wearing a swimsuit that read "Swim Bitch" while screaming, "Swim bitch!" She then waded in the pool by herself. 
The Walking Dead's Danai Gurira was seen chatting with friends in a booth.
On Friday night, at another party, BuzzFeed's Spells & Spirits Conjured by the CW party celebrating Charmed at the Altitude Sky Lounge at the Gaslamp Marriott, the cast of the new reboot, Melonie Diaz, Madeleine Mantock and Sarah Jeffery were seen hanging out together. Also spotted, Colton Haynes.
At the San Diego Comic-Con Fandom party, held at FLOAT on Thursday, Bennet was spotted without Paul. She chatted with Paul Wesley and Olivia Holt. Wesley was also spotted talking to Tom Felton.
The Riverdale cast often hung out together off the set. At the show's Comic-Con panel on Sunday, Mendes told the crowd that they would go out for karaoke.
"We're each others 'best friends," Reinhart said. "Nathalie [Boltt] and I were roommates in season one and Cami and I lived together in LA this past hiatus."
Check out E!'s gallery above for more star sightings at this year's Comic-Con parties!