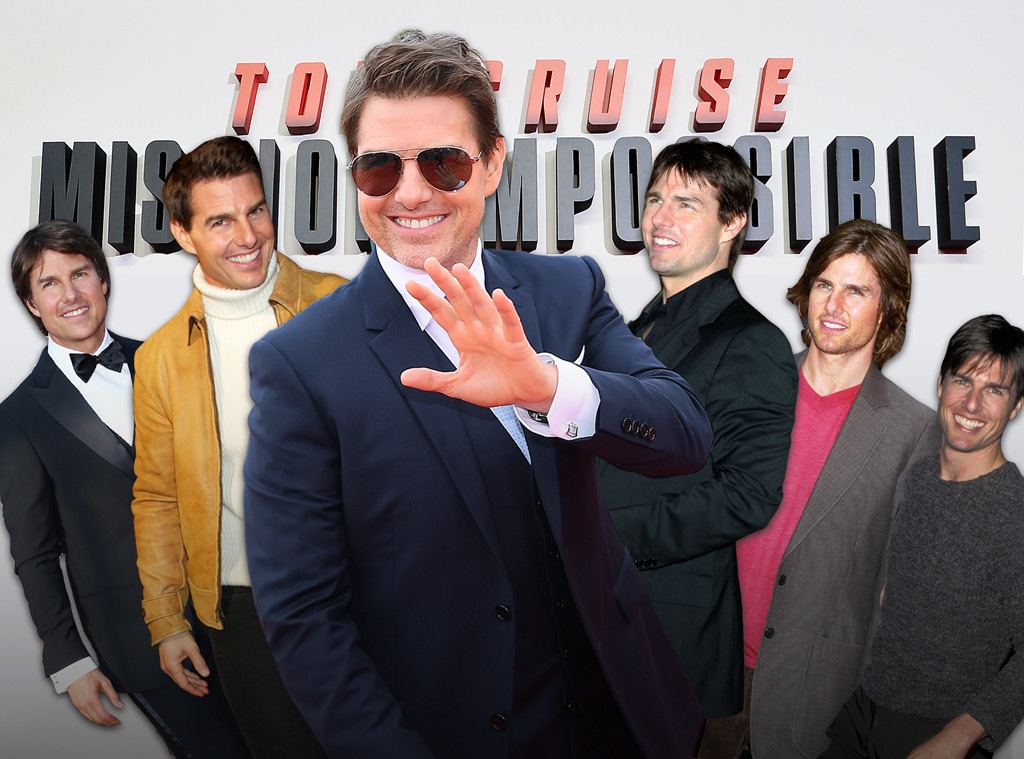 Getty Images; Shutterstock/E! Illustration
A lot has changed for Tom Cruise since Ethan Hunt received his first mission 22 years ago.
When the superstar hit the red carpet for the 1996 premiere of Mission: Impossible, the film that would go on to spawn the world's 20th-highest-grossing film franchise,  by his side, of course, was wife of six years Nicole Kidman. At the time, the couple, young parents to four-year-old Isabella and infant Connor, were perhaps the it couple in Hollywood and they remained that way through the 1999 release of their much-maligned joint project, Eyes Wide Shut, and the release of the franchise's second entry, Mission: Impossible 2, in 2000.
Subject to all manner of rumors about the nature of their relationship in the latter half of the '90s, those rumors would only intensify when, in 2001, the pair announced their separation and Cruise filed for divorce, citing irreconcilable differences. With Kidman said to have been blindsided by the decision, a legal battle broke out over the couple's estimable fortune, as well as custody over Isabella and Connor. When asked about the cause of the split by Vanity Fair, Cruise was uncharacteristically curt.
"She knows why, and I know why. She's the mother of my children, and I wish her well," he told the publication. "And I think that you just move on. And I don't say that lightly. I don't say that with anything. Things happen in life, and you do everything you can, and in every possible way, and there's a point at which you just sometimes have to face the brutal reality."
In the years immediately following, Cruise would be romantically linked to Penelope Cruz, Sofia Vergara, Scarlett Johansson and Nazanin Boniadi, stepping out for dates with each and allowing himself to be photographed by the paparazzi throughout, but by the time he was walking the red carpet for the third installment in the franchise, debuting a decade after the first, the actor would find himself in the early days of his next life-defining relationship--and trying to live down a a couch-jumping moment that will forever live in infamy.
Steve Granitz/WireImage.com
Only two months after beginning dating Katie Holmes, Cruise jumped across Oprah Winfrey's couch in May of 2005, declaring his love for the Dawson's Creek actress in what might go down as one of his most bizarre public appearances of his career. "People are going to do what they're going to do," he told MTV News a month later, talking about the public reaction. "Here's the thing, you can't think about it in terms of what people are going to do or say. It's 'I want to share my life with this woman. This woman is exceptional, she's special, she's extraordinary and I have great respect for her.' It's someone who's saying 'I've got nothing to hide, I'm happy.' I'm happy, man!"
By the time Ethan Hunt returned to the big screen for Mission: Impossible III on May 5, 2006, Cruise was still celebrating the birth of his and Holmes' daughter Suri, born just a month prior and his relationship with Holmes was something you could count on the superstar to gush about at every turn. TomKat would tie the knot at a castle in Italy in November of that year.
Andrew H. Walker/Getty Images
The union, however unpredictable it may have seen at its surprising start, lasted for six years and gifted the couple their beloved daughter. But when it did come to its end in 2012, the once incredibly public couple did an about-face and made sure to keep a lid on the details of their split on—and keep it on tight. Mere weeks after announcing their separation, a divorce settlement was agreed upon and accepted out of court in December of 2013—the terms of which miraculously never made their way to the tabloids.
Though linked to women by means of mere tabloid conjecture following his divorce from Holmes, Cruise would go into the world premiere of 2015's Mission: Impossible—Rogue Nation a single man. At least, as far as we knew. In the years following that endlessly talked about split, the actor adopted a bit of a new approach to his career and personal life in that he somehow found a way to keep them nearly entirely separate. He presumably spends quality time with all of his children, we'd imagine he's gone on at least a date or two, and certainly he spends downtime with friends--but the mystical thing is that he's truly managed to do it all without any of us knowing or the prying lenses of the paparazzi catching proof.
He works hard—harder than most—and when it comes time to promote that hard work, he makes his grand return to the PR blitz hamster wheel, turning in dutifully entertaining talk show appearances and posing for photos at world premieres—all the while, tuning the tabloid chatter out as much as possible.
With Mission: Impossible—Fallout in theaters over two decades after the release of the original film, audiences are able to spend time with the same Ethan hunt they've loved all these years. But the man playing him? That's a different Tom Cruise altogether.