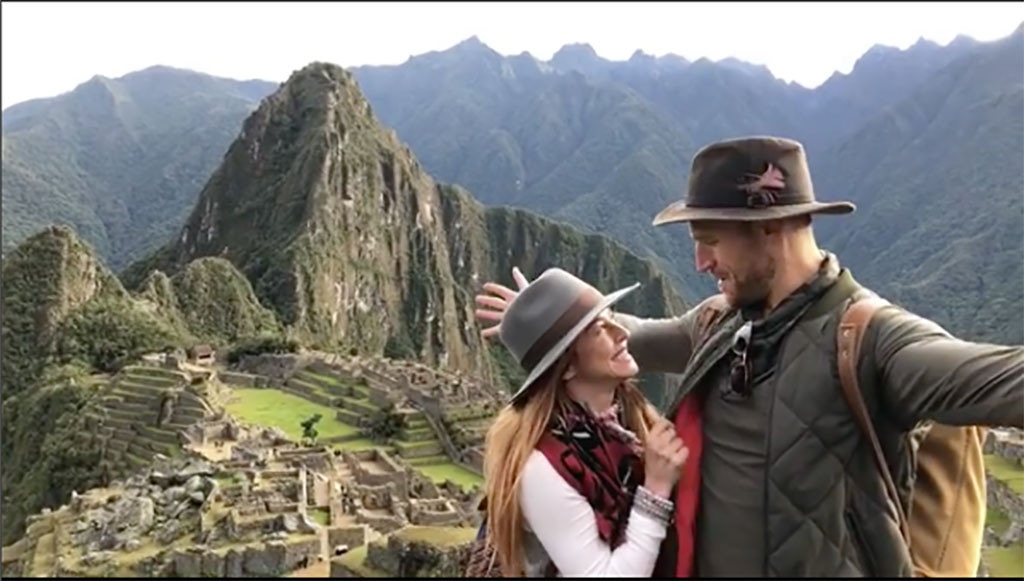 Instagram
Julianne Hough's birthday wish this year? To spread the love. 
The triple threat, who is celebrating her 30th birthday today, rang in her milestone day at—surprise!—Machu Picchu with her husband, Brooks Laich. "This is unbelieveable," she said in a video on Instagram as she overlooked the entire scene. 
The ballroom pro sounded elated to be spending her big day at the Incan citadel with her loved ones just a few weeks after her first wedding anniversary. 
The star seemed especially grateful to her hubby for gifting her the trip to Peru as she stopped along the walk to thank her "babe."
"You're welcome, love," Laich sweetly replied. The ice hockey player surprised his wife with the getaway when they headed to the airport in Los Angeles on Wednesday to jet off to the then-secret destination. 
Needless to say, the star got the surprise of a lifetime when they landed in Peru. The location did not disappoint as Hough was mesmerized by the sights and surroundings and even came close to a llama along the way. 
In honor of her birthday, she also made a gift request to all of her fans and followers—to breath some love back into the world. 
"For my birthday I want to spread and receive more love than we could ever think imaginable," she wrote on social media. "Here is a little breath exercise to send and receive love and gratitude to the world, to humanity and all that keeps us alive. [Whether] you believe in energy and the power of our love or not, it's my birthday and you do things for people on their birthday regardless if you want to or not! Haha sooooooooo spread this message and let's all plan on doing this together 10x's in 1 Hour from now! That means it will be 3pm eastern time 2pm central and 12pm Pacific... wherever you are in the world today... let's all do it together and spread and receive all the love we can!!!! Thank you in advance for the incredible birthday presents!!!! :) love you all sooooooo much!!!!!"
The dancer was also showered with plenty of birthday love on Friday, including from her beau and from her famous brother, Derek Hough.
"Words cannot express how much love I have for you babe!" Laich gushed on Instagram. "I love your spirit and your soul, and you bring more joy into my life than I could have ever imagined. You are powerful young woman capable of anything you want in this world, and I can't wait to see how you continue to grow, evolve, and change the world!"
Derek had equally nice things to about his baby sis. "Being able to experience so many amazing things together has been such a blessing that I will always cherish. Your light, energy, humor and compassion has impacted so many lives, including mine. 
You're a warrior, a champion and a force to be reckoned with. Thank you for being the best sister any brother could ask for. I truly feel privileged and blessed to witness your greatness on a daily basis. Greatness in love, caring , passion, motivation, commitment and greatness within yourself!!! Happy birthday !!!!!"