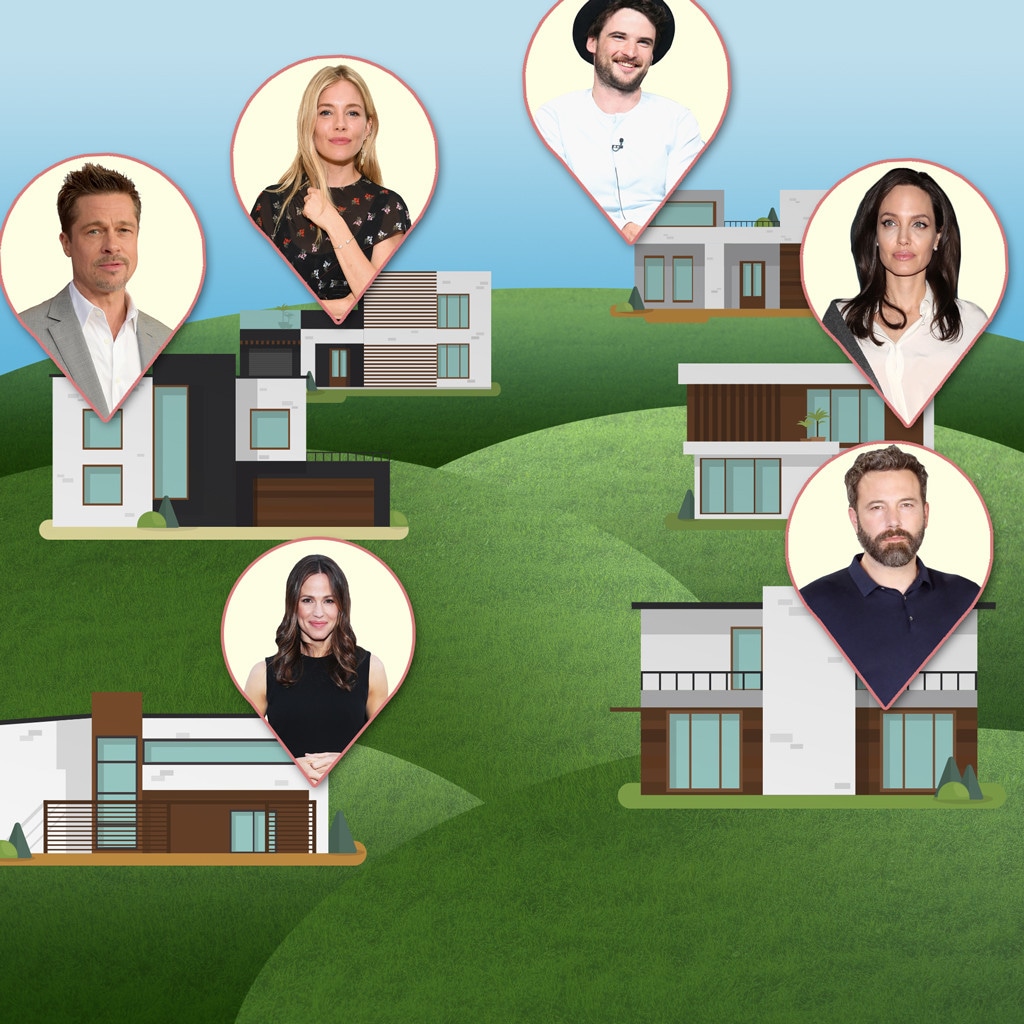 Getty Images; Melissa Herwitt/E! Illustration
When Jennifer Garner and Ben Affleck sent word out in 2015 that they were through with their nearly 10-year marriage, fans were surprised to hear that they were riding out the storm of initial reactions in the most luxurious of bunkers—a villa at the private Bahamian resort Baker's Bay—together. 
Their relationship status became even more confusing when they returned stateside only to bunk up in an Atlanta rental with kids Violet, 12, Seraphina, 9, and Samuel, 6, while Garner filmed Miracles From Heaven, then spent weeks gallivanting around Europe, where Affleck was shooting Justice League, and finally settled back into the Pacific Palisades ranch they'd shared since 2009. Again, together. 
If Gwyneth Paltrow and Chris Martin consciously uncoupled, these two did it downright affably. Because even as the more unseemly details of their split seeped out into the press, Affleck and Garner insisted they would remain a united front for the sake of their three kids—their shared housing serving to underline that point, then bold it and add an exclamation point. 
"The main thing is these kids—and we're completely in line with what we hope for them," Garner would explain in Vanity Fair's February 2016 issue. "Sure, I lost the dream of dancing with my husband at my daughter's wedding. But you should see their faces when he walks through the door. And if you see your kids love someone so purely and wholly, then you're going to be friends with that person." 
And if that means letting him ride out the split in the guest house, so be it. 
MiamiPIXX/FAMEFLYNET PICTURES
Considering how much the average person obsesses over inadvertently running into an ex, the idea of voluntarily signing up to see one every single day (plus all the time and effort spent trying to look your best 24/7) sounds exhausting. But by all accounts, these two handled it like champs. After all, this wasn't a high school romance that flamed out, but rather the dissolution of life partners who were responsible for bringing up three small humans. 
Simply put, remaining a team was a given. "It's been a hard few months but you would never know," an insider told E! News in the more immediate aftermath of the split. "Jen always has her head up high and a smile on her face. She does a great job of keeping it together for the kids." 
And cohabitation had its up sides. Say, when Garner was booked for a 2016 appearance on Today and Affleck was on hand for a.m. duty. "We're doing really well," she acknowledged to Savannah Guthrie. "The kids are great. They'll be getting up in the morning and going to school soon, and Ben is there and he'll be taking them. We will make it work." 
With a publicly united front that included shared vacations and annual appearances at the Palisades Fourth of July Parade, the couple made it seem as if they nailed the shift from soulmates to amiable exes with ease. But insiders say that transition period—which included Affleck quietly checking into rehab in early 2017—was rough. Working determinedly and ever so slowly, the pair rebuilt themselves into a different type of teammates "as seamlessly as possible," an insider tells E! News. "They're great co-parents and make decisions together regarding their kids. Everything is structured and organized, and they're on the same page with their plans." 
The pair were so united it wasn't until Affleck embarked on a romance with Saturday Night Live producer Lindsay Shookus last year that he started really buckling down on finding a new place to live. (We'd imagine the idea of having your new girlfriend over for date nights at the ex wife's place is just one step too far for even the most well-adjusted of pairs.) "He was looking for a long time," a source told E! News, "and really wanted to find the right house for his family." 
The $19.2 million mansion he eventually settled on this April included a chef's kitchen, screening room and a gym, but it's best feature was it's location—less than a mile from the family's 5-bedroom home. An insider says the proximity was crucial to Affleck: "Everyone has a good relationship. They are adults who are co-parenting." 
They're hardly the only former spouses keeping it in the neighborhood. 
Before she moved into her Brentwood spread with now-husband, Snapchat CEO Evan Spiegel, Miranda Kerr boasted of her thoroughly modern living arrangement with ex-husband Orlando Bloom. As "a family," she told Hello! Fashion Monthly, the parents to 7-year-old Flynn decided to both relocate. "We live five minutes from each other," she explained. "Everything revolves around my son and his welfare." Maintaining a close relationship with her former spouse, she noted, made it easier to work out a custody schedule: "Flynn will be with his dad for a couple of days, then when I come back, he'll be with me so that his dad can travel."
Sienna Miller sees their friendly exes arrangement and raises them actual cohabitation. For the sake of their 6-year-old daughter Marlowe, she and Tom Sturridge willingly submit to staying under one roof. Of course it helps that their split was so amicable that she still calls the actor "my best friend in the entire world."  
While she noted to Harper's Bazaar UK last year that they don't share a New York pad as some outlets have reported, "We do half the time. Everybody will stay over or we'll all go on holiday and that's because we genuinely want to be around each other. It's great for our daughter that she has two parents who love each other and are friends."
A happy families show is presumably good for the kids even it requires Mom and Dad to turn in one of their best performances. For all of her talk about conscious uncoupling, Oscar winner Paltrow has admitted she doesn't always want to hang with Martin. 
"We've gone through really difficult times with it but we've always said these children are our priority," Paltrow shared of daughter
Apple
, 14, and son
Moses
, 12, at 
a 2015 conference
. "What that really means is, 'Even though today, you hate me and you never want to see me again, like, we're going to brunch, 'cause it's Sunday and that's what we'll do!' You know, like, 'That's what's happening!' The children are our commitment."
Which means they're down to cross paths on the regular for the rest of the foreseeable future. "He's at my house every single day," she confessed to In Style the following year. "We have our own lives but we still have our family life."
Kevin Mazur/Getty Images for J/P Haitian Relief Organization
And if successful co-parenting requires a bit of acting, we'd imagine Brad Pitt and Angelina Jolie are up to the task. Though the parents to Maddox, 16, Pax, 14, Zahara, 13, Shiloh, 12, and 10-year-old twins Knox and Vivienne still haven't finalized a custody agreement, Jolie provided the surest sign that the end of their cold war was approaching last April when she snapped up Cecil B. DeMille's estate, a palatial 7,500-square-foot spread in L.A.'s Los Feliz neighborhood, just down the road from the family home where Pitt still lives.
Even more promising: The move came just two months after she appeared on Good Morning America in a pre-taped interview, proclaiming, "We are focusing on the health of our family, and so we will be stronger when we come out of this because that's what we're determined to do as a family."
Should they require tips for making the switch from contentious exes to a tight-knit team, might we suggest stealing a page from the Mariah Carey-Nick Cannon playbook. 
The exes don't exactly live next door, what with Cannon's suburban New Jersey pad some 30 miles from Carey's triplex in New York City's Tribeca neighborhood, but they work to make it seem that way to 7-year-old twins Moroccan and Monroe. In a 2015 interview with Howard Stern, Cannon gushed about their "really cool" arrangement. "My daughter will be like, 'I don't want to sleep here! I want to go sleep at my other house,'" he recounted. "So we'll just put her in the car and drive her to Mom's house."
Their understanding is especially successful during shared holidays. During one Thanksgiving together, "At the end of the night my son was like, 'Yo! I want to go with you!' And my daughter was like, 'I'll see you tomorrow! Come pick me up in the morning,'" said Cannon. "So we had a boys night!"
Yes, having to get along with your ex all the time is probably not always the easiest of tasks. And we'd imagine even the most pulled together of stars cringes at the thought of running into a past paramour at the local grocery store or while out walking the dog. 
But in the wise words of Mariah Carey, sometimes it's just what you've got to do.
"We try to keep it, the co-parenting so the kids can feel good about things like that and not feel like it's any weirdness," the pop star told E! News in 2016. "It's the right thing to do."