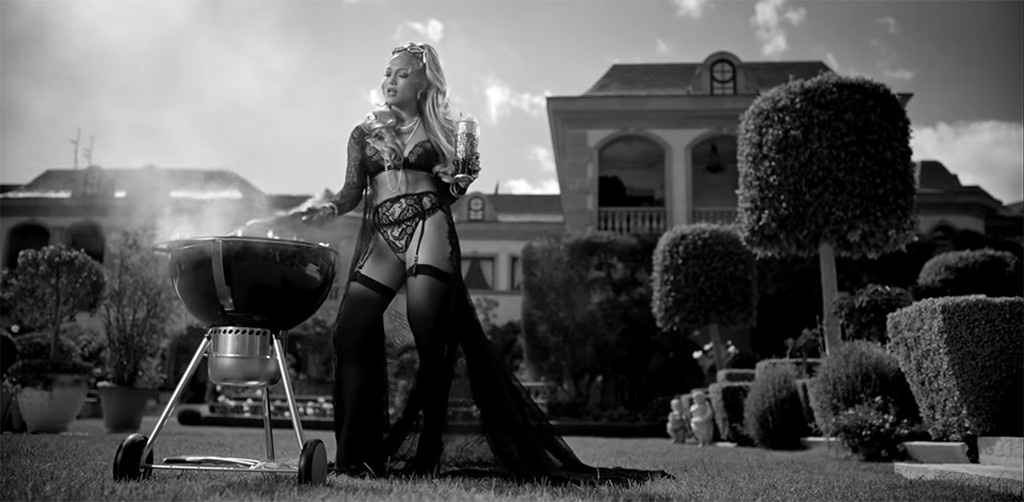 YouTube
Happy birthday J.Lo!
Today Jennifer Lopez turns 49 years old, and what better way to celebrate then to relive her best music video moments over the years?
Since entering the music scene in 1999, Lopez has consistently put out songs and sassy music videos to match that fans have loved.
Her most-recent music video for "Dinero" for example, showed the singer and actress in some of the most outrageously-beautiful and lavish ensembles as she enjoyed the good life with lots of dinero and we're still in awe of everything that took place in this video.
The craziest thing is that this is just one of many videos that Lopez has released that left fans awe-struck, and if we're being honest we'd expect nothing less.
Join us in wishing the Second Act star a happy birthday and vote for her best music video ever below.
Will it be "Dinero," or are you more old-school and love "Jenny from the Block?" No matter what video is your favorite, listening to J.Lo on her birthday is a great life decision!
"Dinero" feat. DJ Khaled & Cardi B
"Dinero" is Lopez's most-recent single and the music video is just as hot as the song is. What we love most about this black-and-white video is that the singer is wearing so many gorgeous and expensive ensembles. Plus, when she's not showing off all her riches she is dancing in a bank safe and man, does Lopez have moves.
"Amor, Amor, Amor" feat. Wisin
What happens when Lopez goes into a rundown metro station? One epic music video that's what. This video begins with the New York City native strutting her stuff at a closed metro station and quickly turns into a bit of a dance and singing battle with Wisin and it is very saucy and fierce. Like you'd expect anything less?
"Waiting for Tonight"
"Waiting for Tonight" is definitely one of the singer's most memorable tracks and her video for it is just as iconic. It shows Lopez and all of her friends getting ready for a night out and then all of a sudden she's in a jungle, dancing with club lights all around her and it's wild. The whole video is basically a jungle club (if those even exist) and it's amazing.
"Get Right"
This 2005 track and its video is one of Lopez's coolest projects. "Get Right" is a catchy song to start but when you pair it with the many versions of the 49-year-old singer within this video it takes it to the next level. Throughout the video you see Lopez as different women—one is a DJ, another is a worker at a club, one is a celebrity—with one thing in common...they can all dance. It's perfect.
"On the Floor" feat. Pitbull
Lopez and Pitbull turn it up in a glitzy and lavish club during the video for "On the Floor" and we are seriously jealous of this extravagant event. There are chandeliers, loud music, diamonds, thrones to sit on and a dance battle on stage that of course Lopez wins.
"Ain't Your Mama"
"Ain't Your Mama" is the artist's girl-power anthem and she wants everyone to know it. It starts out with Lopez reading the news (she's an anchor) and then she gets real with women. She tells them that enough is enough and that they need to start making their men appreciate all that they do. There are also a few retro, overworked and underappreciated women played by Lopez, like the stay-at-home wife, and female assistant whose boss sucks, finally taking back their power. It's wonderful.
"Jenny from the Block"
Do you remember when Lopez was dating Ben Affleck? Well, if you need a refresher then all you need to do is watch the "Jenny from the Block" video right away. This video is the ultimate throwback, showing all of the sexy and steamy chemistry between Lopez and her then-boyfriend Affleck and it's crazy how long ago this all was.
"Booty" feat. Iggy Azalea
OK, this video is basically just shots of both Lopez and Iggy Azalea shaking their booties, but is there really anything wrong with that? If you're got it why not flaunt it, right?
"I'm Into You" feat. Lil Wayne
In most of the Shades of Blue star's videos there is a romantic and sexy element to whatever character she is portraying and the "I'm Into You" video is no different. This love story takes place on a beach and shows the singer and actress rolling around on the sand in between loving up on a hot man and it's very seductive. There is also the added element of Aztec pyramids and gorgeous gowns being donned by the singer that makes this video even more elegant.
"Live It Up" feat. Pitbull
As fans of The Wedding Planner actress know, she has teamed up with Pitbull on numerous occasions and this product is one of the most interesting collaborations. The theme of "living it up" is seen throughout the video with Pitbull enjoying life on the beach with pretty ladies while Lopez is working the catwalk and causing a scene with her runway strut. It's all about loving life and these two singers definitely know how to make every day count.
"El Anillo"
As one of the singer's more recent tracks and videos, "El Anillo" is definitely one of our favorite Lopez moments this year. The video is unreal. It shows the singer as a queen taking over the throne and ruling from the most stunning castle. She rocks insanely beautiful ensembles throughout the Spanish video and we officially want Lopez as our queen.
"I'm Real" feat. Ja Rule
If we're being honest, "I'm Real" isn't the most amazing video that the artist has put out over the years, but the song always makes us nostalgic for Jenny from the Block. The video itself is pretty simple. It shows Ja Rule and Lopez in athletic outfits walking and dancing side by side in between clips of guys trying to impress the local ladies and it's just so quintessentially Lopez which we are fans of.
Jennifer Lopez's Best Music Videos