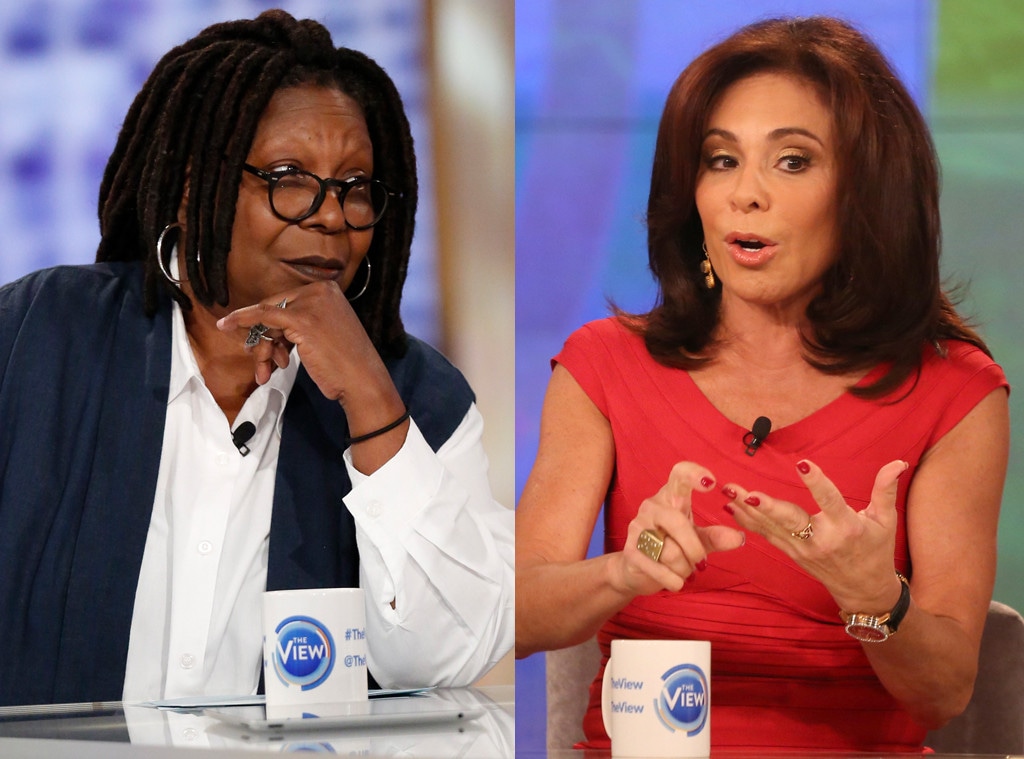 ABC/Heidi Gutman/Fred Lee
It's time to take a little time to enjoy the view and the feuds.
Daytime TV fans are buzzing this week after Whoopi Goldberg and Judge Jeanine Pirro experienced a tense conversation on and off camera.
It all began Thursday morning when the author of Liars, Leakers, and Liberals: The Case Against the Anti-Trump Conspiracy appeared on the show to promote her book. After Jeanine accused Whoopi of having "Trump Derangement Syndrome," things got a little heated.
"She came off, she could have just passed me, she didn't need to stop but she stopped, and put her finger in my face and yelled, 'I've done more for victims than you ever will!'" Whoopi recalled on The View this morning. "Then I said to her some few choice words I cannot repeat. Yes, I did say it, I did say it."
The heated confrontation got us thinking of other times guests haven't exactly gelled with some co-hosts of The View. Take a look at some pairings we won't soon forget.
Kathy Griffin vs. Elisabeth Hasselbeck: Rewind to 2010 when the comedian appeared on the daytime talk show. When co-host Sherri Shepherd was asking a question, Elisabeth started visibly yawning. "I have a debate in my head whether I'm feeding your curious fire," the co-host shared. "It's all cool." The viewers, however, thought otherwise. Kathy would make it clear in later interviews that she's not a fan of the co-host.
NeNe Leakes vs. Everyone: When the Real Housewives of Atlanta star appeared on The View back in November 2015, many thought it was just a typical interview. But when appearing on Watch What Happens Live days later, NeNe made it clear that she didn't feel welcomed. "I didn't see any of those ladies that's on the panel until I actually walked on the panel. And I felt like they were not kind to me. I just...honestly, they weren't kind. It's not even 'felt like,'" she explained to Andy Cohen. "[They] just weren't kind. They did not have nice manners. I know all of them are tired: their hairstyles are tired, their makeup is tired. Whatever."
Whoopi was caught off guard by NeNe's thoughts but told Andy, "Well, then, you know, come back another day and try again. I don't know what to say."
Whoopi Goldberg and Joy Behar vs. Bill O'Reilly: It's always a wild ride when the former Fox News co-host appears on the show. But during one visit, two of the co-hosts decided to completely walk off after they didn't agree with their guest's political views on who caused the September 11 terrorist attacks. "I don't want to sit here now," Joy shared. "I am outraged by that statement." Barbara Walters later shared that she wished the ladies stayed on the couch to have a civil conversation.
Joy Behar vs Omarosa Manigault: Some may call it playful banter. Others would call it full-on shade. Whatever the case may be, the former Apprentice candidate appeared on The View to explain her position within President Donald Trump's cabinet. When pointing out her fiancé in the audience, Omarosa told Joy, "He brings me such joy and I hope that you, one day, can find that kind of joy, Joy, in your life." When co-host Sunny Hostin replied, "When they go low, we go high," Joy handled the situation with humor. "Oh, please," she shared. "And I feel like I could get high right now."
Whoopi Goldberg vs. Kate Gosselin: While serving as a guest co-host, the TLC reality star found herself answering a few tough questions about her ex Jon Gosselin and their custody battle. In fact, many viewers were riveted when Whoopi began questioning some of Kate's actions. "When you go into a custody thing with someone you have your specific time and [they have] their specific time and you're not supposed to walk on that," Whoopi explained. "And I'm sorry that's the law. And you could have gone to jail!" When Joy lightened the mood with a few jokes, it was time to go to break. "I can't even deal with the rest of this," Whoopi shared before commercials began.
The View airs weekday mornings at 11 a.m. ET/ 10 a.m. CT and PT only on ABC.