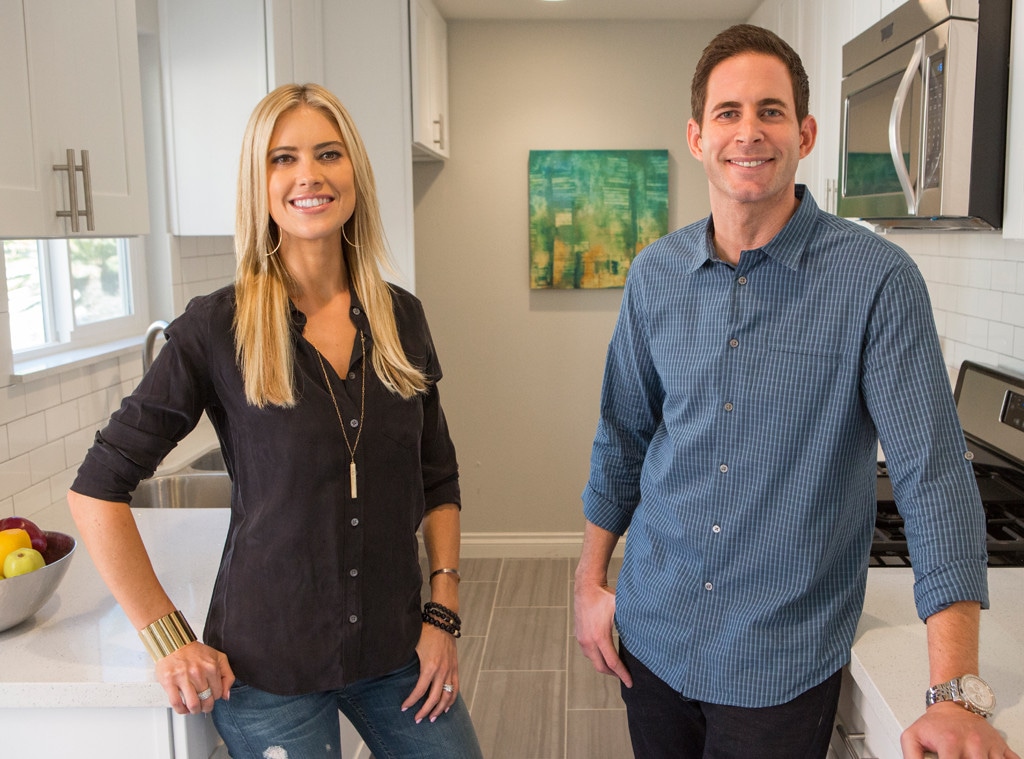 HGTV
Take a quick glance at Flip or Flop these days, and at first you don't see much of a difference from the Flip or Flop of two years ago. Stop to watch for awhile and you'll soon be able to tell that something's a little different.
Fans of the hit HGTV show, as well as most casual observers, are aware by now that the show's stars, real estate investors Tarek and Christina El Moussa, are no longer scouring listings for potential flip opportunities over morning coffee in their kitchen or sitting side by side on their laptops late into the night. Not regularly, at least.
The couple that parlayed their Orange County house-flipping business into one of HGTV's most popular series separated in 2016 and have since divorced. Tarek moved into his own $2.8 million bachelor pad in nearby Costa Mesa and in March Christina put the family home they spent two years painstakingly renovating on the market, selling it for $2.995 million.
And even though a slick editing process is involved in putting an episode of Flip or Flop together, it doesn't get any more raw than having to deal with a divorce and still go to work every day, with your ex.
"Let's be honest—it was awful," Tarek El Moussa recalled on the Dr. Drew Podcast in April. "I mean, there was more PR about our divorce than any divorce I think I've ever seen...It was wild. On every single magazine, on every news outlet. It was just beyond me."
We can safely inform him that is not the case, the El Moussas did not break any PR records—but of course news of their split attracted an unprecedented level of attention for the couple, more than they had ever experienced, not when their two children were born or when Tarek battled thyroid cancer, a keen viewer's tip about a lump on his neck having hastened his diagnosis. 
Since then, both Tarek and Christina have experienced the highs and lows that come with that added layer of celebrity. Big ratings, professional opportunities, heartwarming support from loyal fans on one side. And on the other, more stressing about maintaining what made them successful in the first place, the added emotional cost of being a two-house household while they try to co-parent their young son and daughter, and needlessly nasty comments from Internet trolls.
Sigh, times two.
And though Flip or Flop chugs along, and as smiling and simpatico-seeming as they usually are on TV, the El Moussas didn't get to the more easy-going place they are now without a full-on personal remodel behind the scenes.
Which started with a tear-down to the studs.
Richard Shotwell/Invision/AP
"There are a lot of things that happened in the past year that I had to really evaluate," Christina told Entertainment Tonight last August, "and it helped make me a stronger, better person, a better mom [and a] better friend."
"I've had a lot of different struggles in my life," Tarek, who also beat testicular cancer behind the scenes and had a bad experience with painkillers after injuring his back, told Dr. Drew Pinsky in March. "Financial struggles, personal struggles... just a whole lot of struggles and I feel like I'm finally in a place... like, I was so broken after everything I went through, literally broken, that I was devastated. I could barely walk, I was so broken as a person after going through all the trauma and the divorce and all these different things."
When the El Moussas confirmed their separation in December 2016, months after they split up, it came out that police had been called to their home about six months beforehand in response to a call about a "possibly suicidal male" after Tarek ran out of their house with a gun. According to the incident report, Tarek said that he wanted to go on a hike to "blow off steam" in the hills behind their house, and he brought the gun for protection in case he encountered a mountain lion or rattlesnake. He and Christina later said that they had an "unfortunate misunderstanding" and the cops were called out of an "abundance of caution."
A bundle of new episodes were already in the can ready to air, so the reality of their separation wouldn't actually show up on Flip or Flop until the summer of 2017. They even presented together at the Daytime Emmys that May.
But an "inspirational self-help" book the El Moussas had been working on together, Flip Your Life, was put indefinitely on hold, and there were some growing pains as they got used to co-parenting and doing business together without the romance.
"We do our best to be as professional as possible but every now and then we have to jab at each other—sometimes more serious than others," Tarek said on E!'s Daily Pop in May. "It's kind of how it goes nowadays...I just watched the first episode last week and it is absolutely different than anything you've ever seen from us. We got into a few arguments that I didn't think were going to make camera and they did."
"We want to make sure we're giving the fans what they want,"  Christina told E! News in June. "If it's not comfortable to have so much personal life, then maybe we tone it back a bit. It's relatable that we have to put our differences aside to continue to work together and do what we're good at, which is flipping houses and designing homes for other people."
While they continued to shoot Flip or Flop, eventually they also decided to reflect on their respective journeys separately and pursue new projects.
By August 2017, Christina was working on her own book, having to do "with everything I've gone through the past couple years and how I've coped going through a public divorce and things that have helped me get through it," she told ET. "Just things I hope to give back to other people that are going through hard times."
She continued, "Things have gotten significantly easier since January [2017]. You know, the initial shock of it hitting the media was extremely stressful, having to be so public, but I feel like now everything's calmed down and everything's on the up and up." At the time they were also just starting to shoot new, post-split episodes of Flip or Flop, and Christina admitted she wasn't entirely sure how they were going to work their separation into the narrative.
"But," she added, "we both still film with the kids and it shows his new house in Newport and me here with kids and other things that we're both doing in our lives. So, it should be interesting."
Tarek kicked off 2018 (on New Year's Day, in fact) with the launch of his own YouTube show, The Pick Me Up Project, in which he shows up to help people struggling with a particular crisis.
"It doesn't matter the struggle, it could be a failing business, a bad breakup, mental health, physical health or even just a lousy few months. We're going to reach out to them and find the absolute best way to put a smile on their face," Tarek explained the concept in a teaser online.
Meanwhile, as their divorce was being finalized in January, there was what looked to be some sub-Instagramming going on between the pair as they got used to their new normal after seven years of marriage.
But they could've been talking about anybody.
"I hope the best for her," Tarek also said about his ex-wife on Daily Pop. "We have kids. I need her to continue her career and I want her to be successful, make money. That way, she can live a great life. My kids can have a great life. At the same time, I'm doing everything I can to build my companies."
So far, so good. Last September Tarek showed off the two-bedroom, two-bathroom yacht he and Christina bought together in happier times, and which he still fully intended on using.
"I'll grab a huge group of friends. We listen to music, barbecue, go paddleboarding, swimming, cruise the harbor. I've taken it to Catalina," he told the Los Angeles Times. And when he wasn't utilizing the luxury cruiser for social purposes, "It's like therapy," Tarek said, "just to be out in the middle of the ocean. Sometimes I take it out by myself and just float. You don't feel like you have to go, go, go, because there's nowhere to go."
Similarly, Christina told ET last summer about how she maintains her own even keel: "Having good girlfriends, having family that I can call, go to dinner with, spend time with, I think that's the most important thing."
"My favorite thing is exercising," she continued. "I love going for like, a three-mile run around my neighborhood… [that] has always been my stress reliever. I just like you know, a nice dinner, I like to just relax. Swim with the kids in the pool, go to the beach, go on a boat ride."
Tarek, who's become remarkably ripped over the past two years, recently credited hot yoga as being "one of the main things" that helped him get through his divorce, and has been shouting his devotion to Radiant Hot Yoga in Newport Beach from the Instagram rooftops, even asking his fans to see who might come to class should he get certified to teach, or perhaps even open his own studio.
He told E! News in a recent interview that he's single, but dating—and is "hopeful that I do find someone one day. I was kind of against that for awhile, thinking that was never going to happen, but now I've been single for two years and I'm ready to slow down a little bit." Overall, "I'm finally at a place where I am healthy—mind, body and soul. And I feel good. I haven't felt good for a very long time."
Christina has been dating British TV presenter and car expert Ant Anstead, currently the host of the automotive-minded Wheeler Dealers, which airs on Discovery in the U.K. and the Velocity Channel in the U.S. He romantically whisked her away for a 35th-birthday surprise, telling her she needed nothing but a bikini and dinner clothes, and the day of Anstead captioned a cozy-looking pic of the two of them, "HAPPY BIRTHDAY to this absolute LEGEND!!!! 35 today!!! @christinaelmoussa you make me laugh every single day! You are crazy! In a good way! An inspiration! You saved me! Oh and not too shabby for 35!!"
Anstead is a father of two who reportedly separated from his wife of 12 years last year, so one of the things they've bonded over, along with the importance of creating normalcy for their kids, is the experience of navigating a major life change as a working parent. The couple took Anstead's kids to the Silver Stone Classic motor racing festival in England on Saturday and the journey continued with high tea in Ireland on Monday.
"Ant has been so supportive. He's very grounded," Christina told E! News last month. "As he entered my world, there's so many false stories spinning out there and he's never said one word to me about any of it. He always just says, 'You're an amazing person. You're an amazing mom. You're an amazing girlfriend.' He's so positive with me that he's just really lifted me up in so many ways."
And then there's Christina's new baby, her upcoming solo show on HGTV, Christina on the Coast, in which she'll be whipping outdated properties into chic showplaces. 
"I'm so excited for my own show. I love design," she told E! News. "That's my favorite part about flipping houses and that's what I'm good at, so to be able to go outside the box and not just design houses that are flips…is such an amazing opportunity."
Back on Flip or Flop, the house that built them, Tarek and Christina have had their testy moments—which, while viewers would be salivating over that sort of thing on most reality shows, is not necessarily what they come for when they tune into HGTV. But for every argument, there's far more teamwork, such as when, on a recent episode, Tarek told Christina to wait out front while he took a closer look at a broken sliding door in the back to make sure no one was still inside the house.
He goes room to room before giving Christina the all-clear that it's OK to come inside. No matter what, they still have each other's backs.
For an exclusive tour of Tarek El Moussa's renovated bachelor pad, tune into E! News on Thursday, July 26, at 7 & 11 p.m.