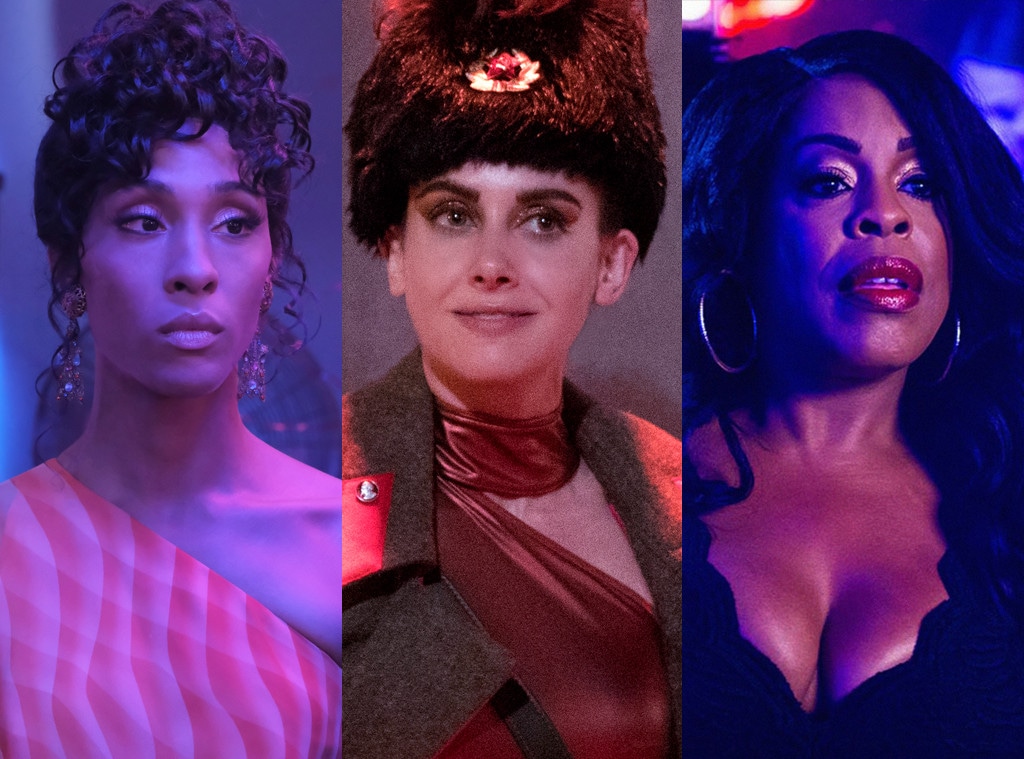 FX; Netflix; TNT
The category is: The best shows of the summer. And that's a Pose reference, so get ready…
Claws, GLOW and Pose—these are three of the best shows to grace the TV airwaves during the summer of 2018. Each show aired on different platforms—Claws on TNT, GLOW on Netflix and Pose on FX—and have different settings, but they all have this in common: they're entertaining, smart and have diverse ensemble casts led by women.
Claws, starring Niecy Nash, Carrie Preston, Judy Reyes, Jenn Lyon, Karrueche Tran, Dean Norris, Jack Kesy and Harold Perrineau, leaned in to both the crime drama and the Florida-set wackiness in its second season. The series easily flips between Preston in one of her character's many personas instructing exotic male dancers in a commercial for a pain relief clinic used for mafia money laundering, to a poignant emotional, quiet moment with Nash's character.
Claws is downright fun. It knows how to balance the campiness that comes along with setting a TV series around a nail salon whose workers are entrenched with various mobs (Dixie Mafia, later the Russians) with enough dramatic twists to keep this viewer hooked week after week. Add in the fact that Claws is routinely showing women in situations normally reserved for a male hero (or anti-hero) and it's near-perfect escapist television.
"The whole ethos of the show is about exploring the intersection of gender and power and flipping it in compelling, fresh ways," series creator Eliot Laurence told E! News in an email interview about Nash's work on the series. "I wanted to create a show where women were allowed to be as complicated and layered as male antiheroes… where their female badassery isn't necessarily a response to trauma, but something inherent and unapologetic."
Over on FX's Pose, created by Ryan Murphy, Brad Falchuk and Steven Canals, the series made TV history by featuring the largest number of transgender series regulars. Familiar TV faces Evan Peters, Kate Mara and James Van Der Beek take a backseat to the likes of Mj Rodriguez, Dominique Jackson, Billy Porter, Indya Moore, Ryan Jamaal Swain and Angel Bismark Curiel week in and week out. Set in the 1980s world of ball culture, the show follows Rodriguez's Blanca Rodriguez-Evangelista, a trans woman who starts her own "house" to compete in the balls. Blanca takes in the underdogs, the people with nowhere to go.
Pose is full of heart, it's a family drama mixed with messages of acceptance and history. The series is important, not just for the history-making cast, but for the stories it's letting transgender people tell—their stories—both behind and in front of the camera.
In an interview with Papermag, Janet Mock, a writer, director and producer on Pose, called the show "deeply revolutionary." She's not wrong. Mock credited the likes of Transparent and Orange Is the New Black for slowly building up the general public's willingness to hear stories like the ones Pose is telling.
"So, I think there was a craving to make sure that those people who were trans were actually centered for once. I think viewers demanded it and wanted a more diverse writers room. I am the first trans woman of color to write and direct an episode for television and the first to be hired to write in a writers room," Mock said. "I think that all of these milestones happen because of all the hard work of all of the pioneers that come before. I think these cultural milestones were already there, but also there's the audience's demand for more accurate storytelling, where we are center stage and are no longer the sidekick, we are the actual star. I think it's deeply revolutionary."
And then there's the recently Emmy-nominated GLOW. GLOW season two dropped on Netflix in late June with much fanfare and for good reason—the sophomore season was wildly entertaining. Each episode of the series, which includes Alison Brie, Betty Gilpin, Marc Maron, Kate Nash, Jackie Tohn, Britney Young, Sydelle Noel, Kia Stevens and Chris Lowell as cast members, told a well-paced story. The performances were richer, right along with the storytelling. What fun it was to watch the ladies of GLOW (the TV show within the TV show) develop a sisterhood through the wrestling ring.
The show, although set in the 1980s like Pose, is incredibly timely, also like Pose. GLOW star Noel said viewers should take "empowerment" away from the new season. Brie and Maron echoed her statements.
"That men should learn how to behave themselves," he told E! News. "Be a little more empathetic to women."
"That's a great life lesson," Brie added. "And that women should continue to make their voices heard and empower themselves."
Claws, Pose and GLOW do that and more, making for some excellent TV along the way.
Claws airs Sundays, 9 p.m. on TNT, GLOW season two is now streaming on Netflix and Pose's season finale airs Sunday, July 22 at 9 p.m. on FX.