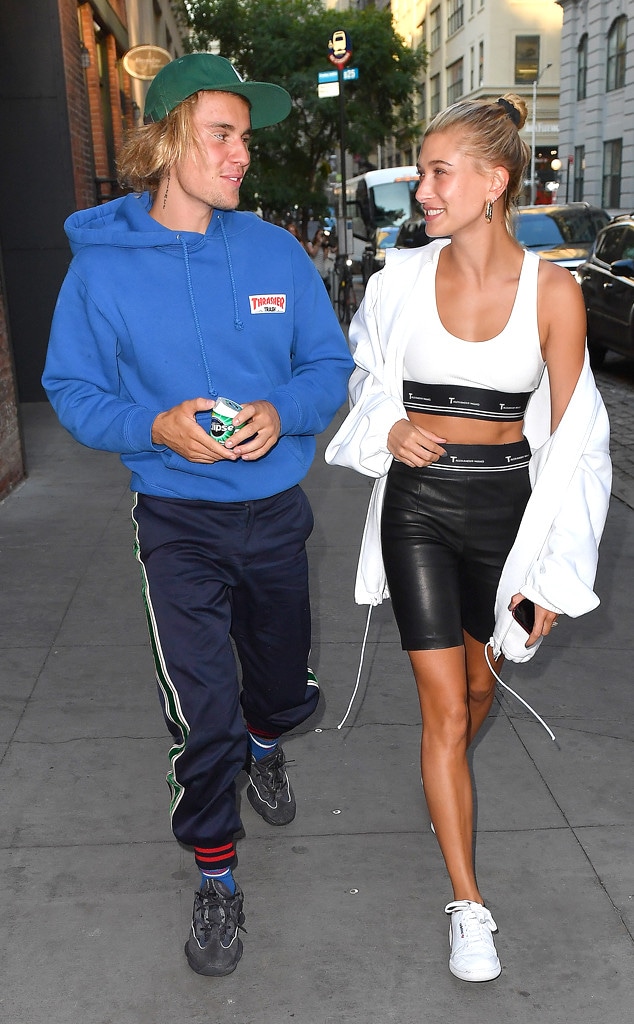 Splash News
Justin Bieber and Hailey Baldwin are taking their love story all across the country.
Ever since the "Baby" singer popped the question to his supermodel girlfriend in the Bahamas, the Hollywood couple has been celebrating their engagement in multiple parts of the United States.
Earlier this week, the pair was spotted enjoying some time on the West Coast. And no, we're not talking about Hollywood and Los Angeles.
Instead, the duo appeared in Washington where they celebrated Pastor Chelsea Smith's birthday and stopped in Dote Coffee where they ordered milk lattes. "They seemed to be a happy couple," a source shared with E! News. "They looked to be enjoying their Wednesday and time in Bellevue."
In fact, Justin and Hailey have remained by each other's sides as they've explored several neighborhoods.
It started last weekend when the duo headed to the 305 partly because of Miami Swim Week. When Hailey wasn't attending ROXY's Miami Swim Soiree with close friend and surfer Kelia Moniz, the model lounged poolside with Justin at a cabana near the SLS South Beach pool.
"They seemed extremely happy and loving," a source shared. "They were steps away from the pool party at the Hyde Beach lounge with over a thousand people nearby."
Next stop on their road trip was Atlanta where the couple had some fun at Top Golf and enjoyed dinner at Fuji Hana East Cobb restaurant.
"Look who is here again last night! Justin Bieber, his fiancé and friends," the restaurant shared on Facebook. "Thank you JB and friends for dining with us and take pictures with us, that was awesome."
And while they may be A-list stars, both Justin and Hailey appear to be friendly with polite fans as they visit businesses including the local Starbucks.
"He was so happy every time we congratulated him. They held hands a lot of the day," an eyewitness shared. "Justin was sweet."
As to where these two may head next, your guess is as good as ours. Ultimately, the couple appears to be enjoying any and all time together as they begin the next chapter in their relationship.
"My heart is COMPLETELY and FULLY YOURS and I will ALWAYS put you first! You are the love of my life Hailey Baldwin and I wouldn't want to spend it with anybody else," Justin previously wrote on Instagram. "You make me so much better and we complement each other so well!! Can't wait for the best season of life yet!"
—Additional reporting by Taylor Bryant and Miana Massey