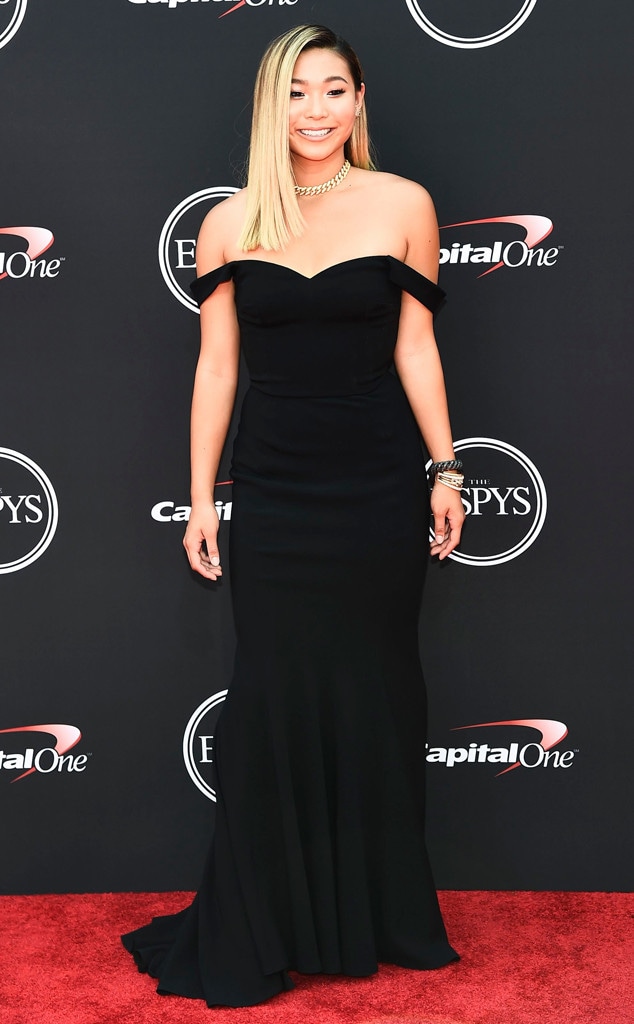 Michael Buckner/Variety/REX/Shutterstock
If you don't know who Chloe Kim is by now then you are probably living under a rock.
The 18-year-old Olympian won the gold medal for the women's halfpipe at 2018's Pyeongchang Olympics and ever since she's been one of our favorite athletes to watch...and not just because she has amazing skills on the slopes.
We are major fans of Kim because she is the most down to earth Olympian out there. Oh, and she's pretty freaking cool.
Don't believe us? Well, in addition to becoming the youngest female athlete to win a gold medal in snowboarding she tweeted about food in between her runs and that's when she became our hero.
Since the months following her big win, Kim has stayed on our radar taking home three awards at the 2018 ESPYS last night and rocking out with G-Eazy in celebration.
These amazing accomplishments and her hilarious reaction to success are just some of the reasons she's our No. 1 female athlete to watch. 
Check out 15 examples of how the California native is the coolest girl around right now below, and prepare to feel a little envious of her "cool girl" vibes.
Jamming with G-Eazy:
Not only did Kim win big at the ESPYS (she won all three categories she was nominated for), but she celebrated in style. During an after party for the award show, G-Eazy called her out and asked her rap Cardi B's part to his song "No Limit" and of course she did...perfectly.
Dodger Darling:
In April, the athlete threw out the first pitch at a Los Angeles Dodgers game earning her major cool points in all baseball lover's minds.
Her Dad Is the Man:
After Kim's win in Pyeongchang, her dad's reaction down at the bottom of the slope was priceless. Once they were off the mountain his memorable expression and reaction was still getting him recognized which led him to tell his daughter that he was now famous AKA he is all of our dads...except we didn't win a gold medal.
"I think it's rad," Chloe told E! News earlier this year. "My dad came up to me and was like, 'Chloe, I need a bodyguard. I'm a celebrity now.' I got so many pictures of him at the bottom of the halfpipe during the Olympics just surrounded by cameras and people trying to talk to him. He just has the biggest smile on his face. I don't know how he does that! He just has the best attitude about things and is a pretty rad human."
What Diet?
While training for her sport, Kim didn't exactly stop indulging on her favorite foods including California Pizza Kitchen, and she really doesn't care who knows about it. In another food-related Instagram post she showed off a delectable waffle and slushie drink she was eating and captioned it, "Working on my winter bod." Honestly, we love how much this girl loves her food.
Cereal Cutie:
Her face is on a box of Corn Flakes! Seriously, could anything be cooler than that? "You all know I think about food too often...which made me the perfect fit for #teamkelloggs," she captioned her Instagram announcement. LOL!
She's a Dog Lover:
We don't know about you, but the fact that the young athlete is so in love with her pup, and any dog for that matter, makes her so much more relatable. 
Photobomb Queen:
When appearing on The Tonight Show With Jimmy Fallon after her gold-medal performance, Kim helped the show's host out by photobombing groups of fans who had no idea they were there. She was such a good sport and a total goofball, which makes her even more lovable.
Adam Levine Knows Her Name:
In case you missed it, the snowboarder was one of the many amazing women in Maroon 5's music video for "Girls Like You." Like all of us, she showed zero chill when sharing the news on social media. "I'm like way too excited in this pic but @adamlevine and I got to hang a bit for @maroon5 's new music video!" she wrote and we feel you girl.
She is a Musician:
Not only can the girl snowboard better than any other female out there (she has a medal to prove it!), but she can also play the guitar. We're impressed, but are we really that surprised? No, she's good at everything!
Throwback Pro:
If you take a look at Kim's Instagram account you'll see that she loves a good throwback post and it makes us like her even more. Just look at how freaking cute she is in this fairy costume. Come on, she's adorable.
Nature is Her Friend:
The Long Beach native loves the great outdoors—she does snowboard whenever possible—and we not-so-secretly want to go on a trip with her anywhere that has mountains or beaches. Doesn't Kim seem like the perfect road trip buddy?
She's a Team Player:
When Kim attended the 2017 Kid's Choice Awards she tried Vegemite and despite her grossed-out face she followed through with the red-carpet challenge and we salute her for her efforts!
Olympic Ice Cream Scream:
While Kim was in Pyeongchang to snowboard she kept up with her Twitter account and instantly won us over while doing so. While she was actually competing on Feb. 11, she found the time to tweet about her ice cream cravings and seriously how can you not root for this lady? She followed up her initial cry for ice cream by getting more specific and it's too funny.
"Cookies & Cream is some good stuff. If anyone can get me some to the village that'd be dope," she tweeted earning a lot of people's respect in the process.
Riverdale Crushing:
Just like you, Kim has a major crush on Riverdale's KJ Apa and we totally get it. "Is that how you say his last name?" she teased when talking with E! News in February about Apa. "There are some cuties on that show, not bad. Really attractive!" 
Twitter Gold:
In addition to her food tweets, Kim keeps it real on her social media accounts at all times and proves time and time again that she is just so chill. "Does anyone ever get ready and look kinda cute but end up laying in bed watching movies cuz same," she wrote in July and yes, we do this all the time.
Check out some more of Kim's hilarious—and just fun—tweets below. 
After reading them you'll love her as much as we do, and if you don't that's fine because she already has a fan in us!