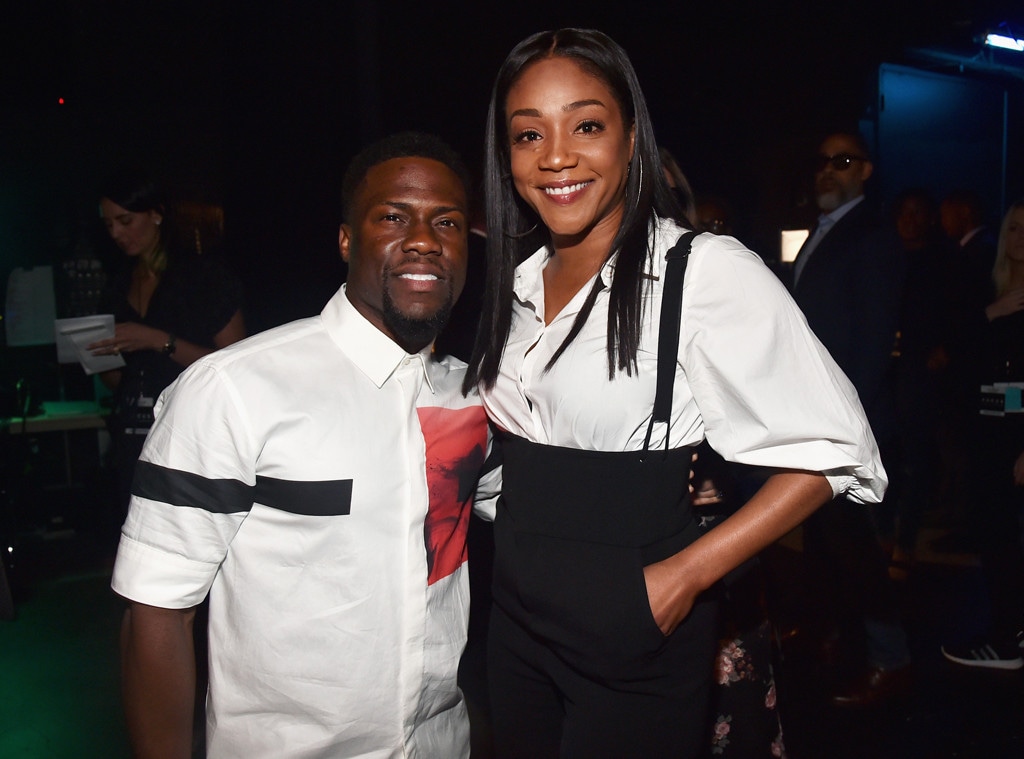 Alberto E. Rodriguez/Getty Images for CinemaCon
Sorry Kevin Hart, but you're going to get your money back somehow, someway.
As many fans know, the Hollywood actor helped change Tiffany Haddish's life when she was first starting out in the industry.
When working on a sketch comedy show together, Kevin realized his co-worker was living out of her car. Without any hesitation, he loaned her $300 to find a place to stay for the week.
The gesture proved to be priceless as Tiffany found huge success in and around Hollywood. Today, there's just one problem: Kevin won't accept the money back.
"I love my sister @tiffanyhaddish ....She has been trying to pay me back for years & I refused to take the money so she ambushed me on set and made it rain on me....What she doesn't know is that I put the money back in one of her wig caps that she wasn't wearing later that day!!!! I'm dead serious," he wrote on Instagram. "Check your wig cap @tiffanyhaddish ....I love u and I will never take from you. You being my Co-Star in my movie Night School was more than enough. Love u with ur funky ass!!!! #NightSchool #HittingTheatersEverywhereSept28th."
If at first you don't succeed, try again. Right Tiffany?
"Ok so @kevinhart4real I see your post and I checked my back pack, and right there in my bag is the money I gave you, in a wig cap at that. I see you," she wrote on social media. "Thank You very much. But You getting this money back. I am paying you back! I pay all my loans off. That is something you and my Grandma taught me 'never owe nobody money' #nightschool #payback #sheready."
In other words, we haven't heard the end of this hilarious story.
Back in December, Tiffany appeared on The View and revealed why she considers Kevin her "comedy angel."
"One day, I'm rolling up in my G.O. Metro and I've got all my stuff in there and he sees it and he's like, 'Yo! What's going on' and I'm like I'm in between houses right now. Leave me alone," she recalled. "He pulled me to the side and talked to me and he's like, 'Why are you living in your car?' And I just told him what was up."
The actor gave her $300 to find a place to live for the week and asked her to create a list of goals she hopes to achieve and "start tackling those goals."
"I got me an hourly spot, took a shower, rolled out a list and started tackling them," Tiffany recalled to Whoopi Goldberg, Meghan McCain and the co-hosts. "And here I am today."