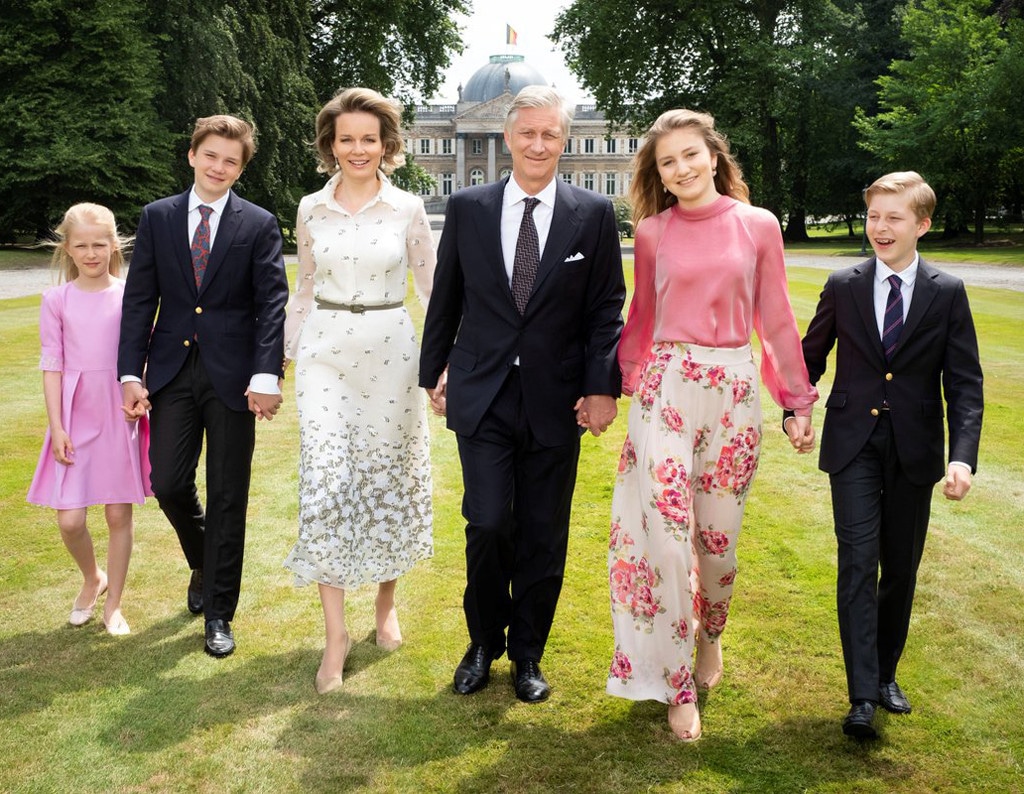 Belgian Royal Palace
Belgium's King Philippe and Queen Mathilde appear with their four children in new official portraits to mark five years since he ascended the throne.
Philippe, 58, came in power in July 2013 to become the country's seventh monarch after his father King Albert II abdicated at age 79. While the monarchy is largely ceremonial in Belgium, a ruling monarch bears the power to sign legislation and appoint mediators to help form government coalitions after national elections. The royals will celebrate the five-year anniversary of the king's ascension on Belgian National Day on Saturday.
In photos released on Thursday, Philippe and Mathilde pose with daughters Princess Elisabeth, who is 16 and first in line to the Belgian throne, and Princess Eléonore, 10, and sons Prince Gabriel, 14, and Prince Emmanuel, 12.
In one pic, the six royals stand on the grounds of the Royal Palace of Brussels. The queen wears an elegant white patterned dress, while her eldest daughter sports a long sleeve, flowing pink top and light pink floral maxi skirt. Her younger sister is wearing a bubblegum pink half sleeve dress. The king and the boys are wearing black suits.
In a second photo, the king and queen stand together indoors at the foot of a staircase. He is wearing the same suit and she is wearing a light pink boatneck dress with a lace overlay. In a third photo, the king sits in a chair adorned with golden lions while his eldest daughter stands beside him. A fourth picture shows the king wearing a black military uniform and a purple sash representative of the Order of Leopold.
The Belgian royal family had also appeared in official photos earlier this month, taken during a trip to Villers Abbey in Belgium.