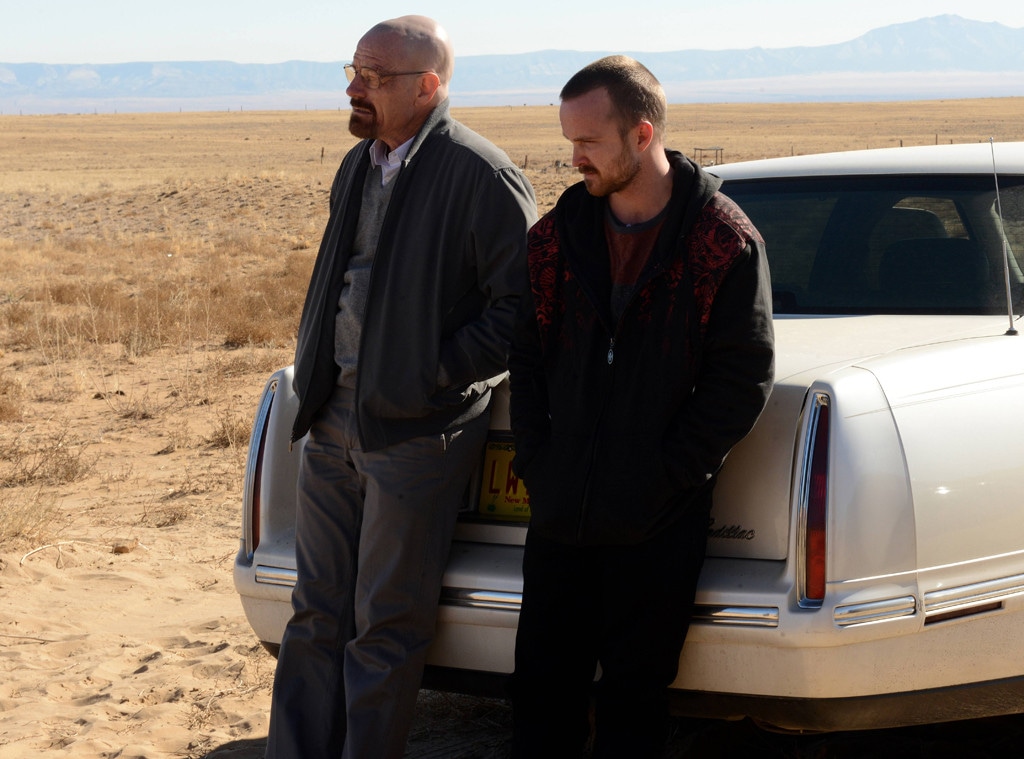 AMC
It's happening. After years of speculation and comments, it's really happening.
A Better Call Saul, Breaking Bad crossover is on the way. The highly-anticipated announcement was made Thursday afternoon at Better Call Saul's 2018 Comic-Con panel, which also commemorated the series' 10th anniversary. 
It's unclear how the show's respective worlds will collide, but our fingers are crossed that Walter White and Jesse Pinkman will somehow play a role. Both Bryan Cranston and Aaron Paul are in San Diego for the star-studded convention, however neither of the main character's will be reprising their Breaking Bad roles in the upcoming fourth season of the prequel series starring Bob Odenkirk.
But before fans become disappointed, it is worth noting that the two men will apparently be making an appearance on the show at least once before the season ends. 
And the cast welcomed a new addition to the Breaking Bad family when Aaron brought his 5-month-old daughter, Story Anabelle Paul.
Better Call Saul is set primarily before the events of Breaking Bad and Walter White's rise to meth kingpin, but the series has featured scenes of Odenkirk's Jimmy McGill aka Saul Goodman aka Gene that take place after the events of Breaking Bad. 
Writer Peter Goul teased of upcoming episodes, "You're going to see some stuff that's going to look very familiar in a delightful way." 
See the full trailer for the upcoming season above.
Better Call Saul returns for a fourth season on August 6 on AMC.