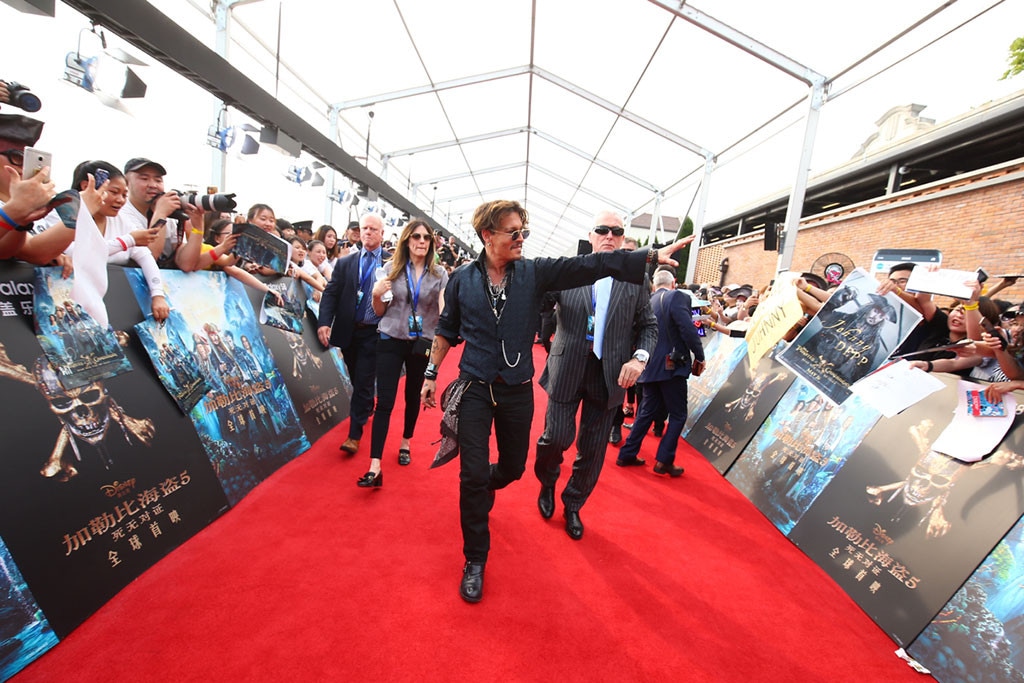 Disney
All of the elements were there. The years spent "poisoning" himself, the bad-boy antics, the numerous flops sprinkled among the popcorn blockbusters, the increasingly aggressive ex-pat accent.
Johnny Depp's inevitable decline in popularity was seemingly written in the stars years ago and yet...
It never actually occurred. 
The unmistakable charisma, his contentment with wallowing in weirdness, the sheer Deppth of it all—and maybe even his acting skills, too—kept the two-time "Sexiest Man Alive" afloat when it came to public appreciation, even though his collaborations with Tim Burton and Disney were the only movies big audiences bothered buying tickets for. He had become a bit quirkier as the '00s went by, but still in an appealing way, and he frequently ranked atop the list of people's "favorite." Actor, movie star, heartthrob, oddball—favorite everything.  
Then 2016 came along.
The year started off swell, with the oft-cited Harris Poll letting it be known in late January that Depp was America's second-favorite movie star, behind only Tom Hanks. Nothing to argue with there. Depp had taken the title in 2011 and 2012, but was No. 4 in 2015. So his stock was back on the rise. He had gotten strong reviews for playing murderous mobster Whitey Bulger in 2015's Black Mass and 2016 held promises of a windfall with the sequel Alice Through the Looking Glass due in theaters.
At the same time, however, word was getting around that all was far from fine in his marriage to Amber Heard. He had married the actress in February 2015, a strange turn of events for those who wondered why he took that step, considering he had never officially married Vanessa Paradis, the mother of his two children and partner for almost 14 years. (Their split back in 2012 wasn't exactly a high point for Depp popularity, with even fans who spent years wishing they were Paradis not caring for the breakup of a family. And then he rebounds with someone 23 years his junior? Quelle horreur! Très cliché!)
"I try not to react to the horrible misrepresentation of our lives, but it is strange, and hard," Heard said in the December 2015 issue of Marie Claire about the ever-hovering rumors that they were having marital troubles.
And they were hanging in there, with Depp telling E! News about his wife at the November 2015 premiere of The Danish Girl, "She's a voracious reader as I have been, so we connected on that as well and she's kind of brilliant and beautiful. I'm a lucky man."
Jason Kempin/Getty Images
Yet by the time their first anniversary rolled around in February 2016, a source was telling us, "Because of their strong personalities they do not always see eye to eye. They are both stubborn and overly dramatic, which doesn't help when they disagree." At the same time, the insider added, "They're in a good place right now and are excited for the future."
The couple who in April showed up in an apology video meant to assuage the Australian government as amends for Heard bringing her dogs into the country in 2015 without going through proper protocol, however, looked neither excited for the future nor as if they were in a good place.
Depp made light of the video's inherent ridiculousness while on the promotional circuit for Alice Through the Looking Glass, but behind the scenes he and Heard were imploding—and then on May 23 she filed for divorce. In response, Depp's rep tried to quash any wild speculation, stating that the actor, whose mother had also just died, would "not respond to any of the salacious false stories, gossip, misinformation and lies about his personal life."
But the Johnny Depp-loving world really turned upside down four days later when Heard, with a visible bruise on her cheek, went to court to obtain a temporary domestic violence restraining order against her husband, alleging he had thrown a phone at her face in a rage on May 21 and, according to court documents, continued "screaming at me, pulling my hair, striking me and violently grabbing my face." (Police were called to their home that night but left after determining no crime had occurred.) She alleged in the filing there had also been a "severe incident" in December 2015 during which she feared for her life. She requested $50,000 a month in spousal support. (A judge denied that amount.)
Within hours, the warring factions had formed online.
Andreas Rentz/Getty Images
A combination of existing Depp skeptics and till-then admirers jumped ship immediately, figuring they didn't need to wait to see how it all unfolded to conclude something unsavory had occurred and the actor deserved to be relegated to the toxic-star graveyard. They weren't surprised, they claimed. Saw it coming even, maybe.
Countless others, however, dug in. Depp was the best, Heard was trash, and that was that. (And they have not gone anywhere. They are right now astounded and appalled by the fact that anyone, anywhere, thinks Depp is having any trouble whatsoever.)
Then, of course, there was the majority of people who saw the news, who mainly were just morbidly fascinated both by what was going on and by what others were saying about it—all of which revealed more about the others than shed light on what was really going on between Heard and Depp.
Months of mud-slinging followed, punctuated by leaked photos and videos to TMZ seemingly showing Depp acting a mess, as well as a People cover with a close-up of Heard's bruised face, purported evidence of the actor's alleged abuse.
"Amber has suffered through years of physical and psychological abuse at the hands of Johnny," Heard's attorneys told E! News. Depp's attorney maintained Heard was fabricating abuse claims to secure herself a big payout. Heard's friends shored up their support for the actress. Paradis and their daughter, Lily Rose Depp, as well as numerous friends of Johnny, came to his defense. No one fired him.
But there weren't enough loyal, ticket-buying Depp film fans to make Alice Through the Looking Glass, which came out the day Heard secured her TRO, a success. Over Memorial Day weekend in 2016, the $170 million film opened to a disappointing $32.6 million in the U.S. and Canada and ultimately only made $77 million overall on these shores, compared to Alice in Wonderland's $334 million (and $1 billion haul worldwide). 
Alex J. Berliner/ABImages via image.net
Depp and Heard reached a $7 million settlement agreement in mid-August and said in a joint statement that their "relationship was intensely passionate and at times volatile, but always bound by love. Neither party has made false accusations for financial gain. There was never any intent of physical or emotional harm." Heard stated her intent to donate the entirety of the settlement to charity and then the exes did the legal equivalent of locking their dirty laundry up in a trunk, throwing the trunk into the sea and swallowing the key.
A squabble over which one of them actually got to make the donations prolonged the divorce proceedings, however, as did the question of whether a domestic violence PSA Heard appeared in in November 2016 and an essay about domestic abuse that she wrote for the December 2016 issue of Porter magazine qualified as a breach of their confidentiality agreement. (She never mentioned Depp and her lawyer insisted she was in compliance.) They also pointed fingers about leaks to the press that painted each other in unflattering lights.
All the while, Depp was on the road playing guitar with his band Hollywood Vampires, plus he lined up the Biggie-Tupac murder investigation drama City of Lies (based on the true-crime book LAbyrinth) and had Kenneth Branagh's remake of Murder on the Orient Express coming up.
After what was inarguably a rough summer in the PR department, however, audiences were polarized by Depp's well-guarded cameo in the hotly anticipated Harry Potter universe installment Fantastic Beasts and Where to Find Them, which came out in November 2016. He only popped up at the very end, but with a promise of a main role to come in the sequel which, sure enough, he had quietly signed up for.
Critics of the casting choice couldn't understand what the filmmakers, including master of the Potterverse J.K. Rowling, were thinking, bringing him aboard the beloved burgeoning franchise in light of Heard's allegations against him. (Or keeping him aboard, since he was hired to play Gellert Grindelwald before his divorce.)
Rowling merely said at the film's New York premiere that Depp had done "incredible things" with the character, the BBC reported. "He was beyond excited about working on this material," added director David Yates.
Meanwhile, Depp and Heard finally divorced for good in January 2017, and a few days later Depp attended the People's Choice Awards to accept the honor of Favorite Movie Icon. 
"Listen, I was very deeply affected by the kindness of your recognition and by your well wishes to my family and to myself," the fame-averse yet always fan-appreciating actor said, "which is why it's especially meaningful to me to be here in front of you to say thank you, and to tell you that I, to thank you."
But if it's possible, the year that unfolded turned out to be just as bizarre as 2016.
"I was as low as I believe I could have gotten," Depp recently told Rolling Stone for a controversial-upon arrival story (unnecessarily harsh and exploitative vs. accurate reflection of circumstances, went the debate) in its July 2018 issue. "The next step was, 'You're going to arrive somewhere with your eyes open and you're going to leave there with your eyes closed.' I couldn't take the pain every day."
The profile, titled "The Trouble With Johnny," was a marked turn in tone from the still characteristically subversive but more laudatory articles such as the magazine's November 2012 cover story "Johnny Depp: The Last Buccaneer" or 2013's "Johnny Depp: An Outlaw Looks at 50."
But Rolling Stone's Stephen Rodrick was merely chronicling how off course the Depp train, which had been chugging along without real incident for almost 30 years, had gone in the prior 24 months.
Within hours of Depp agreeing to the terms of his divorce, he sued his former managers for $25 million, alleging he was $40 million in debt and had been forced to start selling off some of his priciest possessions (such as his yacht) because of the defendants', as the lawsuit charged, "self-dealing and gross misconduct."
The managers, The Mandel Group founders Rob and Joel Mandel, fired right back insisting that Depp was solely to blame for his money troubles. For 17 years, "they did everything possible to protect Depp from his irresponsible and profligate spending," they said in a statement.
Well, with Depp having been rumored to be worth as much as $400 million at one point, the news that he was perhaps foundering financially piqued more than a few people's interest. It would unfold over the next month that he had actually made $650 million—and also spent millions upon millions on wine, real estate, shooting dear friend Hunter S. Thompson's ashes out of a cannon and other assorted luxuries.
In a cross-complaint, the Mandels' attorney Michael Kump wrote that Depp had been warned that his $2 million-a-month lifestyle was not sustainable. 
"Why didn't they drop me as a client if I was so out of control?" Depp lamented to the Wall Street Journal in April 2017. "I've worked very, very hard for a lot of years and trusted a lot of people, some who've clearly let me down." And at the end of the day, "It's my money. If I want to buy 15,000 cotton balls a day, it's my thing."
Right when the money drama had everyone in a lather, it was time again for Depp to start making the publicity rounds for Pirates of the Caribbean: Dead Men Tell No Tales, which as always included him donning the Captain Jack Sparrow costume and visiting children's hospitals and schools, and surprising utterly delighted fans at Disneyland. (That's right, utterly delighted. Most people do not care about fiduciary duty and other legalese.)
Pirates' actual release in May 2017, a year after his divorce drama put a damper on the arrival of Alice Through the Looking Glass, again only proved so much of a litmus test for Depp's big-screen appeal. Sure, it was the lowest-grossing movie in the franchise with $173 million domestic, but it still made almost $800 million worldwide and any fifth movie in an increasingly silly franchise might show evidence of fatigue.
Interest in Depp's real-life treasure proved irresistible, however, and the picture of a spendthrift run amok further chipped away at his untouchable-movie-star image. Then in June, after he became one on a long list of celebrities to catch heat from the White House for making a dig at President Donald Trump (in front of an audience at Glastonbury; he quickly apologized), Depp decided he had had enough of this public-eye thing for the year.
He re-emerged to do a smattering of press, and only in England, for Murder on the Orient Express, which came out last November, as did the HBO documentary Rolling Stone: Stories From the Edge, for which he provided a voice for Hunter S. Thompson. Otherwise, he was off the radar, playing music, seeing his kids and, as always, working on movies.
J Hogan/Dave J Hogan/Getty Images
Only by the end of 2017, the #MeToo movement had cranked the microscope up on every decision being made in Hollywood, from the set to the writers rooms to the corner offices at the studio.
Asked about Depp in November, David Yates, who returned to direct Fantastic Beasts: Crimes of Grindelwald, told Entertainment Weekly, "Honestly, there's an issue at the moment where there's a lot of people being accused of things, they're being accused by multiple victims, and it's compelling and frightening. With Johnny, it seems to me there was one person who took a pop at him and claimed something. I can only tell you about the man I see every day: He's full of decency and kindness, and that's all I see. Whatever accusation was out there doesn't tally with the kind of human being I've been working with...
"It's very different where there are multiple accusers over many years that need to be examined and we need to reflect on our industry that allows that to roll on year in and year out. Johnny isn't in that category in any shape or form," Yates concluded. "So to me, it doesn't bear any more analysis." Warner Bros. too said that, "based on the information available" to the studio, it was supportive of Depp's involvement—and future involvement—in the franchise.
And J.K. Rowling had no choice but to finally address the controversy over Depp's role in Fantastic Beasts.
"When Johnny Depp was cast as Grindelwald, I thought he'd be wonderful in the role," she wrote in a statement on her website in December. "However, around the time of filming his cameo in the first movie, stories had appeared in the press that deeply concerned me and everyone most closely involved in the franchise. Harry Potter fans had legitimate questions and concerns about our choice to continue with Johnny Depp in the role. As David Yates, long-time Potter director, has already said, we naturally considered the possibility of recasting. I understand why some have been confused and angry about why that didn't happen.
"The huge, mutually supportive community that has grown up around Harry Potter is one of the greatest joys of my life. For me personally, the inability to speak openly to fans about this issue has been difficult, frustrating and at times painful. However, the agreements that have been put in place to protect the privacy of two people, both of whom have expressed a desire to get on with their lives, must be respected. Based on our understanding of the circumstances, the filmmakers and I are not only comfortable sticking with our original casting, but genuinely happy to have Johnny playing a major character in the movies."
Rowling concluded, "I've loved writing the first two screenplays and I can't wait for fans to see The Crimes of Grindelwald. I accept that there will be those who are not satisfied with our choice of actor in the title role. However, conscience isn't governable by committee. Within the fictional world and outside it, we all have to do what we believe to be the right thing."
Indeed, many won't be satisfied and some might stay away if they weren't sold on the film otherwise, but it's unlikely that the Fantastic Beasts sequel will suffer at the box office from Depp's presence when it opens Nov. 16. Tacit compromises are made every day, especially when it comes to entertainment (in all forms—movies, music, sports, etc.), whether you're a part of the production or a consumer enjoying it from a safe distance.
With two films now on the horizon, not least one in which he plays the titular wizard, we're again starting to see signs of life in the Depp universe. Alas, it's been a rocky re-entry. 
There were the photos with fans that shocked people because of how gaunt the actor looked. Subsequent photos of him performing onstage showed him looking more robust, but there was a brief cry of alarm over Depp's health. Then there were rumors that Vanessa Paradis had skipped an event to be with their son, Jack Depp, because he was having health issues. Report denied. Jack was "fine," a source told People. 
Also last month, Depp sued the publisher of The Sun in the U.K. after the tabloid referred to him as a "wife beater" in the headline of an April story questioning Rowling for working with Depp that appeared both in print and online. According to People, he's asking for about $260,000 in damages, plus court fees.
Then this month, Depp was sued by a crew member on City of Lies, which is due out Sept. 7, who claims the actor punched him on the set. Plaintiff Gregg "Rocky" Brooks alleges that Depp's "intoxication and temper created a hostile, abusive and unsafe work environment" and Brooks ended up getting fired after refusing to waive his right to file a lawsuit over the incident.
Brad Furman, the film's director, countered that assessment to Us Weekly, calling Depp a "consummate professional, great collaborator and a supporter of other artists. He always treats the crew and people around him with utmost respect. Movies can be stressful, and nonevents often become exaggerated. We all love stories—there isn't one here."
So Depp remains in legal limbo, but he does have one less thing to worry about moving forward. A few days ago, he and his former managers at The Mandel Group settled their respective complaints, a month before the case was supposed to go to trial. "Both sides reached a settlement, this matter is settled," a source tells E! News. "TMG and the team are very happy."