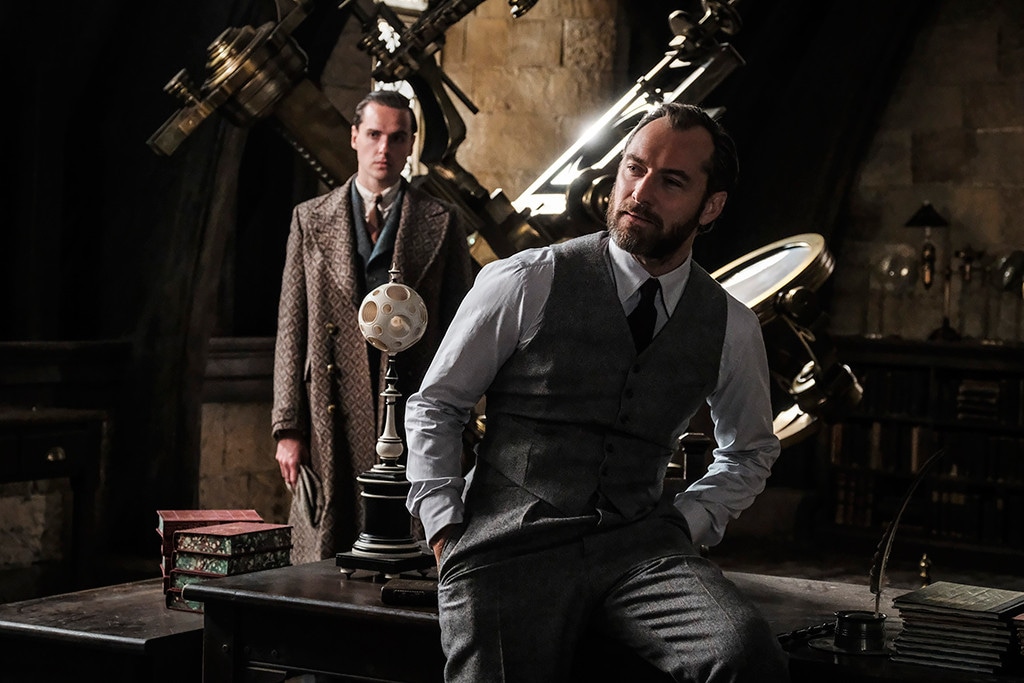 Jaap BuitendijkWarner Bros.
Fantastic Beasts fans can breathe a sigh of relief.
After the 2007 publication of Harry Potter and the Deathly Hallows, the final novel in the popular book series, author J.K. Rowling revealed one character, Albus Dumbledore, was gay. Which is why, in January, much ado was made after director David Yates said the character's sexual orientation would not be "explicitly" explored in the movie Fantastic Beasts: The Crimes of Grindelwald (premiering in theaters Nov. 16, 2018). "But I think all the fans are aware of that. He had a very intense relationship with Grindelwald when they were young men," Yates told Entertainment Weekly. "They fell in love with each other's ideas, and ideology and each other."
In a new interview with the magazine, Jude Law, who plays a young version of the character in the upcoming film, says fans won't be disappointed as the Fantastic Beasts series continues. "Jo Rowling revealed some years back that Dumbledore was gay. That was a question I actually asked Jo and she said, 'Yes, he's gay,'" recalls Law, who stars in the Warner Bros. blockbuster alongside Johnny Depp (as Grindelwald) and Eddie Redmayne (as Newt Scamander). "But as with humans, your sexuality doesn't necessarily define you," Law explains. "He's multifaceted."
Law hints that somewhere down the line, fans will learn more about his character's love life. "I suppose the question is: How is Dumbledore's sexuality depicted in this film? What you got to remember this is only the second Fantastic Beasts film in a series, and what's brilliant about Jo's writing is how she reveals her characters, peels them to the heart over time. You're just getting to know Albus in this film, and there's obviously a lot more to come. We learn a little about his past in the beginning of this film, and characters and their relationships will unfold naturally, which I'm excited to reveal," Law teases. "But we're not going to reveal everything all at once."
The actor was familiar with the Harry Potter series before he was cast, and he "enjoyed" 2016's Fantastic Beasts and Where to Find Them. "Then I had the good fortune and opportunity to sit with J.K. Rowling shortly after we started work on it," he says. "She gave me a very good sense of Albus' life journey and who he was and what was happening in his head and his heart and his world for this particular story." He was inspired by the performances of Michael Gambon and Richard Harris, who both played an elder Dumbledore in the Harry Potter movies. After talking to Yates, "We both decided that it wasn't necessary to do an impersonation of one of them as a younger man. This is a man with almost 100 years ahead of him before he became that character, so we wanted to look at who he was in this moment and construct our own version."
"It makes me laugh when he's called 'Young Albus' because I'm 45, so I'm more in the middle of a midlife crisis," the actor jokingly confesses, "but I'm happy to hold onto that as long as I can!"
For this movie in particular, Law wanted to lean into Dumbledore's playful side. "He has a youthful mercurial approach to life, but that there's something that hangs heavy in his heart, in his past, that underlies all of that," he says, adding, "There's a sense of humor and mischief, a dash of anarchy, a sense of what's right and what he believes in, and a sense of mystery."
"There's a lot you don't know about Albus in this film. And there are certain restrictions in storytelling—you'll see, it all makes sense," Law promises. "You don't see him in full flow yet."