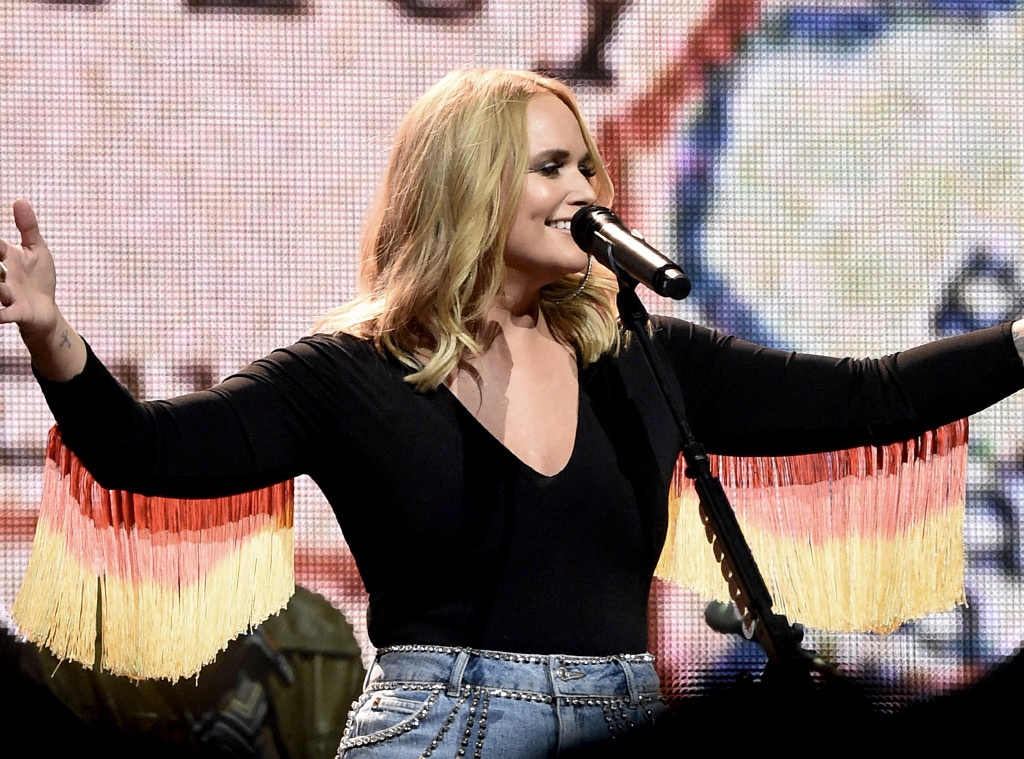 R. Diamond/Getty Images for True Public Relations
Preparing to write her version of a breakup album fresh off her divorce from Blake Shelton, Miranda Lambert turned up at an East Nashville recording studio with a rolling cooler full of alcohol and zero shame. 
As her astonished writing team looked on, she transformed her raw emotions into telling lyrics, like this standout from lead single "Vice": "Another vice, another call / another bed I shouldn't crawl out of / at seven a.m. with shoes in my hand / Said I wouldn't do it, but I did it again / And I know I'll be back tomorrow night." 
While co-writer Shane McAnally recalls being stunned by her vulnerability—"I kept looking at you and kept saying, 'You're not gonna say that.' And you'd go, 'Yep,'" he recalled to Lambert at a 2017 acoustic concert—the country singer says she felt as if her team was silently encouraging her to push further. "They could use me to be honest themselves, because I'm willing to do it," she explained in an especially candid interview with Holly Gleason from HITS Daily Double. "I'm willing to say whatever I need to say so people understand. I'm hoping my story's their story, because everybody's had s--t in their lives." 
Lambert's share involved the painful end of a four-year marriage she had forcefully insisted would last forever with a side of cheating rumors that pegged her as the reason for the union's unraveling. It was a devastating one-two that was followed by a knockout punch when months later Shelton, 42, moved on with his Voice costar and fellow divorcée, Gwen Stefani, 48, telling anyone who would listen that the No Doubt rocker was the person who brought him back to life.
Three years after the country darlings' surprise divorce filing, the Academy of Country Music's nine-time Female Vocalist of the Year, 34, is back on her feet as well, crediting her 2016 double-album, The Weight of These Wings, for being the perfect antidote to heartbreak. (Though we'd imagine finding love, first with musician Anderson East and now rumored flame Evan Felker helped, too.) "Sometimes you have to wallow in it a little bit. You have to feel it," she noted to HITS Daily Double. "I didn't even know really what all it was gonna take to come out of it, but I was gonna feel it. And I was gonna come out alive. Hungover a lot, maybe, but I was gonna get through it. Alive and feeling like death, but it was OK."
While Shelton's breakup album, If I'm Honest, hinted at infidelity, with lyrics such as "Lying, cheating, screwed / Yeah, all the words I thought I knew / they got a brand-new meaning now," Lambert's take was more nuanced. "I think lots of people expected a revenge vibe," she told Gleason. "I've heard that a couple of times, but really, this is the opposite of that." 
Instead she laid bare a flawed woman dealing with the painful end of a marriage the best way she could—with more than a few nights spent at the bar and indulging in her favorite vices—and finding her way back to a new kind of normal. 
That message started with the aforementioned "Vice". According to McAnally, Lambert walked into the studio the same day her divorce with Shelton went public nearly three years ago today and peeled off the lyrics, including a line that poked fun at the rumors about her—"If you need me / I'll be where my reputation don't proceed me,"—in roughly five minutes. "It was like a Band-Aid ripping off," McAnally told Billboard last year. "Sometimes you can just tell that people are ready to let off some steam." 
John Shearer/Getty Images for WMG
Rolling cooler filled with what she called "some numbing substance," at the ready, she also churned out "Things That Break" (sample line: "I'm hard on things that matter / Hold a heart so tight it shatters / So I stay away from things that break") and "Ugly Lights" about a series of rough nights out that end with a bartender hitting the light switch.
Explaining the genesis of the song at her 2017 concert, filmed for PBS' Front and Center CMA Songwriter Series, she said it sprang to mind after one such evening out in Nashville. "I did start drinking a lot. And I did go to bars in midtown," she explained. "And I had to pick up my car. It'd been there three days. Yeah…and I still had mascara on from the first day." With co-writers Liz Rose and Natalie Hemby en route to meet her for a session, she had sketched out all the lyrics "on my way home from picking up my car."
The process, which involved a three-month hiatus from social media and plenty of introspection, was admittedly painful. "It's unpleasant for me sometimes to write it down and sing it into my phone," she told Gleason. But it proved to be the best form of therapy. 
Stepping back to admire her handiwork, Lambert felt so confident about how she had said her piece that she felt no need to do any interviews. (She grudgingly agreed to one after the discs were released only to be asked her thoughts on Shelton and Stefani, prompting her to hang up and refuse any other press.) "All the sad moments were there, all the truths were right in those songs," she said. "All you had to do was listen. I didn't need to say anything."
What's more, she didn't want to. "It was going to be hell, and I'd already been through hell," she said. "It was hell putting it all on paper, putting my words on paper. So I didn't want to rehash." 
Especially not when she'd come to terms with the end of decade-long relationship. At some point while she and Shelton were working through their issues in separate recording studios, they connected and reached a détente, a source tells E! News, where they "let the past go and just want each other to be happy."
And that's exactly where Lambert was as she put the finishing touches on her seventh disc, she told Gleason: I'd finally gotten to a place where I wasn't sad anymore." 
Evan Agostini/Invision/AP
Credit a little of that happiness to East. Presuming "Pushin' Time"—one of two songs they worked on together for her album—is biographical, the Nashville-based pair crossed paths sometime before the sun set on Sept. 12, 2015. Just three months removed from her marriage, and right around the time Shelton was getting to know Stefani, Lambert fell hard and fast for the southern soul singing musician. 
In contrast to the press attention she received every time she stepped out with Shelton, she and East were able to explore their favorite Nashville haunts and build their union relatively unbothered. Coupled with a shared attraction, similar personalities ("Whenever they are together, they act like free spirits," one insider told E! News) and scant arguments, Lambert believed she may have just found her match in the Athens, A.L. native. "She has learned many things about what she wants and needs after her breakup," said a source, "and Anderson fulfills it all." Soon, says the source, the pair were talking about marriage and starting a family, things they both wanted "in the near future." 
They mused about life a ways down the road as well, with Lambert revealing the line in "Pushin' Time" where she sang, "If it has to end in tears / I hope it's in 60 years," was inspired by something East once said. 
Instead, their romance flamed out in two and a half. But true-to-form Lambert is already back on the road to happiness, thanks to a months-long romance with Oklahoma-based musician Evan Felker. 
While details are still murky, Lambert reportedly reached out to Felker via text before his band, Turnpike Troubadours, was to join her on the road for three February dates. Says a source of the flirty missives, "She was pursuing him."
At some point, though Felker was a newlywed, just a year and a half into his marriage with wife Staci Nelson, her charms worked. After the third gig, Felker decided not to come home, "literally ghosting" Nelson, an insider told E! News, as Lambert posted cryptic Instagrams, boasting, "I do this thing called whatever I want." 
In the five months since, Felker has started divorce proceedings with his estranged wife, and signed up for a second stint on the road with Lambert. The two-time Grammy winner, meanwhile, has yet to even acknowledge she's seeing Felker. And given her insistence on keeping her private life as close to private as she can, it seems unlikely her fans will witness a proclamation of love when his band joins her and Little Big Town for a stop on The Band Wagon Tour tonight in Wantaugh, N.Y. (They're set to tour together through August.)
Unless you count this admission, couched in her two-part interview with Gleason. Asked about serving as role model to young country music fans, she said that's a part she's not interest in playing. "I am who I am. I am honest about being flawed. That's all I can be, you know?" she said. "I cuss. I drink. I get divorced and get my heart broken. I break hearts." 
Maybe some day she'll be ready to talk about that chapter. And we'll all be ready to listen. 
But as for the previous one, the pages that included her decade-long union with Shelton, that's firmly closed.