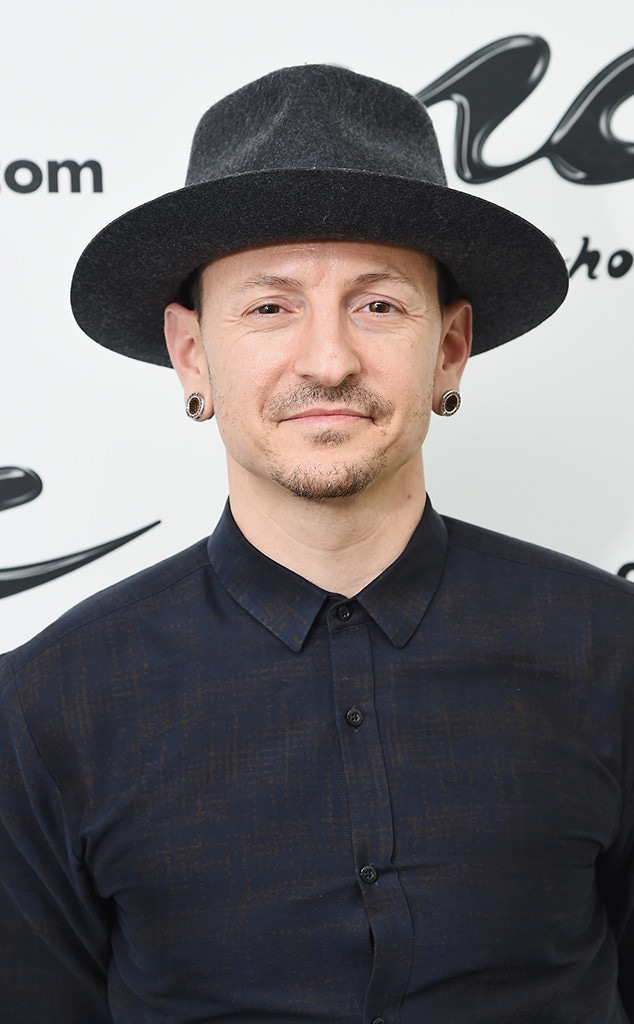 Michael Loccisano/Getty Images
"This place right here, this skull between my ears, that is a bad neighborhood, and I should not be in there alone. I can't be in there by myself. It's insane! It's crazy in here. This is a bad place for me to be by myself. And so when I'm in that, my whole life gets thrown off. If I'm in there, I don't say nice things to myself. There's another Chester in there that wants to take me down."

Five months later, Chester Bennington would tragically take his own life.
The musician candidly discussed his battle with depression with 102.7 KIIS-FM, one of the last interviews he gave before heading out on the road with Linkin Park for their One More Light World Tour. The globally-recognized band performed 21 dates before Bennington's body was found hanging in his Los Angeles home. Linkin Park promptly cancelled the tour, instead embarking on a journey to keep Chester's legacy  alive by highlighting the importance of mental health.
Today marks the first anniversary of Bennington's death. And in the seven days that followed after his passing, Linkin Park helped organize and support a worldwide memorial honoring the 41-year-old. 
Over the next two months, thousands of fans united across Los Angeles, Canada, Mexico, Europe, South and Central America, Asia, Australia and the Middle East to honor Bennington with balloon send-offs, candlelight vigils and performance tributes. Current band members Mike Shinoda, Rob Bourdon, Brad Delson, Dave Farrell, Joe Hahn also launched a suicide prevention site and Music for Relief fundraiser in Bennington's name. 
Christopher Polk/Getty Images
In October, Linkin Park continued their mission by holding a benefit concert for the One More Light Fund, which spanned from their Music for Relief organization. Blink-182, Steve Aoki, members of No Doubt, Alanis Morissette, Gavin Rossdale as well as Bebe Rexha performed, and Chester's wife Talinda Bennington took the Hollywood Bowl stage to share her own perspective on the somber gathering.
"Chester and I always loved bringing people together, and he was filled with joy when our house was full of family, friends, kids, dogs, cats, birds, turtles," Talinda said, "and he would have loved all of this tonight... He was incredibly proud of the work done for Music For Relief. He knew it saved lives, and saving lives is exactly what we plan to do in Chester's memory. It is time we recognize that mental health is as important as our physical health. It is my mission to make it easier to have access to mental health resources."
She's since launched 320 Changes Direction, an initiative named after Bennington's March 20 birthdate with goals to provide resources supporting loved ones of those struggling with mental health issues. 
Kevin Winter/Getty Images
Linkin Park highlighted their new tagline, #MakeChesterProud, at the 2017 American Music Awards in November, where they accepted the award for Favorite Alternative Rock Artist with an emotional speech about Bennington. 
"We want to dedicate this award to him, to his memory, to his talent, to his sense of humor, to his joy," they shared onstage. "And remember, you guys, all of you tonight, whether you're a fan or an artist—I want you guys to take a moment to appreciate what you've got. And make Chester proud."
So how can you make Chester proud today? Almost 100 memorials are scheduled for the anniversary in 16 states and 45 countries, which Linkin Park shared on their Twitter page. 
And as the band figures out what Linkin Park the musical act looks like without their lead singer, Mike Shinoda admit in a recent interview that they're still grappling with the profound loss. 
"It was so weird being given a membership to this club that I never wanted to be a part of," he said during an appearance on The Daily Show with Trevor Noah. "One thing I've learned, in terms of mental health, we talk about it being like physical health. Mental health should be the same. Mental health is just health. The way we get to that point is to check in with ourselves."
If you or someone you know needs help, call 988 to reach the Suicide and Crisis Lifeline. You can also call the network, previously known as the National Suicide Prevention Lifeline, at 800-273-8255, text HOME to 741741 or visit SpeakingOfSuicide.com/resources for additional resources.