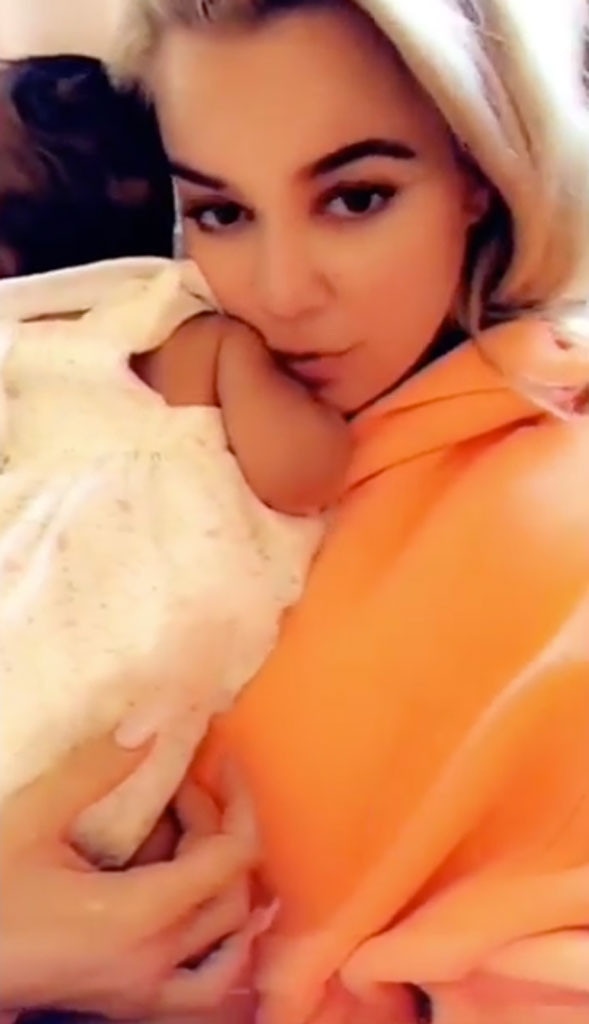 Instagram
Khloe Kardashian is trying the find that working mom balance.
As the Keeping Up With the Kardashians star continues to savor all of baby True Thompson's latest milestones, the new mom has slowly but surely found herself getting back to business.
And as the journey continues, Khloe is opening up about the wide variety of emotions she is feeling.
"Going back to work after having True has definitely caused me a little anxiety. The days leading up to my very first day back were tough, but once I started going through the motions, everything fell into place. It's like riding a bike!" she explained on her website and app. "On my first day back, True was perfect while I was gone. Plus, coming home was soooo much fun—I acted like I hadn't seen her in forever!"
This week, however, will be the first full week that Khloe has to work every day. As a result, she's feeling a little nervous.
"I know I'll be OK. I have to remind myself that she's in the best possible hands. It's way harder on me than it is for her, LOL—she doesn't even know what's happening!" Khloe wrote. "I've never had to juggle a baby and work at the same time, so it'll be interesting to see how I'll learn to handle everything."
The Good American founder added, "Women do it every single day, so I know I'll get through it—I'm just anxious because it's the unknown. But, I'm so fortunate and blessed that I have a job where I'm allowed to bring my daughter pretty often. I know how fortunate I am. However, I also think it's important to get my old 'normal' back together while incorporating my new one."
Putting business aside, Khloe has been adjusting to her new normal in Los Angeles. In fact, because the NBA is experiencing an off-season, boyfriend Tristan Thompson is also able to spend a majority of his time in Southern California as well.
"Right now Khloe and Tristan are trying to make it work. Khloe is committed to making things work with Tristan no matter how her family feels about it," a source previously shared with E! News. "Khloe really wants True to have stability at home so it's important to her that they make an honest effort and that's what they're doing while in L.A. this summer."