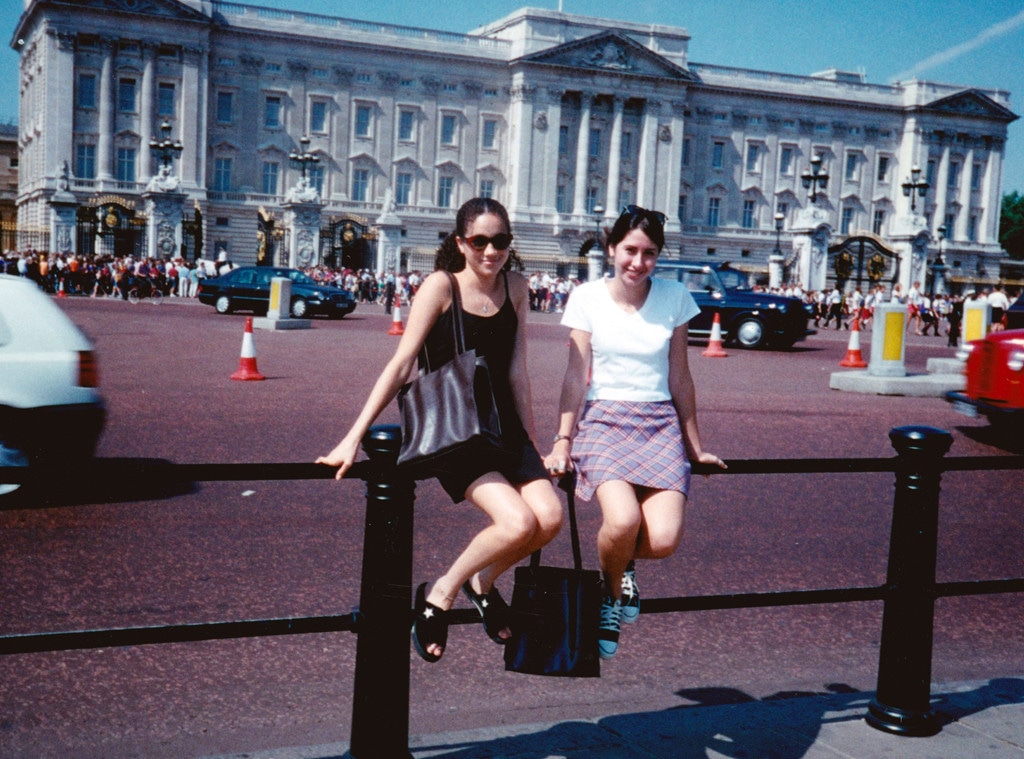 Splash News
Olivia Munn channeled Hollywood royalty during her recent trip to London. 
That's right—we're talking about America's favorite new duchess, Meghan Markle. During a group getaway to England this week, the Office Christmas Party star and her friends took advantage of the prime photo locations, including in front of the London Eye, while going over the iconic Tower Bridge and, of course, in front of Buckingham Palace. 
When it came time for Munn to strike a pose, she did so with Markle in mind. As her pal Matthew Hoffman documented on Instagram, the two took a seat on a guard rail outside of the palace, in the exact same fashion the former Suits star and her childhood friend Ninaki Priddy did during their 1996 visit to the landmark when Markle was roughly 15 years old. 
Hoffman knew his royal history because he posted the photo of the friends before sharing his and Munn's copy. 
It seems the star has been following in Markle's footsteps as of late. Before heading to London, Munn checked out Wimbledon, where she and her family watched Serena Wiliams compete much like the tennis pro's other Hollywood pal. 
Markle attended the match alongside her new sister-in-law, Duchess of Cambridge Kate Middleton, and cheered on her longtime friend before Williams was defeated by Angelique Kerber. 
Sooner or later, we feel like Olivia and Meghan are bound to run into each other!