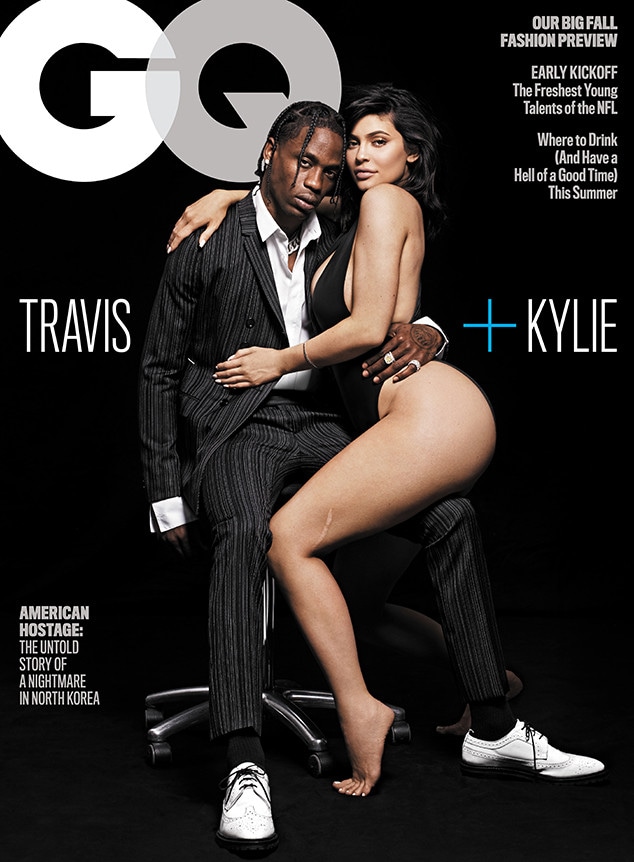 Paola Kudacki/GQ
It's Kylie Jenner and Travis Scott's world, and we're just living in it.
GQ's August issue features the beauty mogul and the rapper on its cover, cementing their status as a power couple. It marks their first interview and photo shoot since they got together in the spring of 2017—and it makes Travis nervous. "He was whispering to me the whole time," Jenner says after the photo shoot with Paola Kudacki. "He just doesn't like taking the photos." Travis admits he's "impatient as a mother--ker" during photo shoots, although he prefers them to being photographed by the paparazzi. "I hate when people randomly take pictures of me," the "Watch" rapper says in the magazine. "I'd look crazy as f--k in them. No lineup, no nothing."
Jenner and Scott met during Coachella—neither remembers exactly where—and hit it off immediately. He happened to be on tour, so she decided to join him. "I really jumped on the bus. And then we rode off into the sunset. I did the whole tour with him," she recalls. Even then, Jenner wasn't worried about what her family might think of the whirlwind romance. "My whole family knows that I do whatever I'm going to do. I've been that way my whole life. I don't really answer to anybody. I live on my own, and so I just rode off into the sunset. We had a lot of downtime. It was organic," she says. "And we would just go to these random cities. We got to not be who we really were. Like, if we were in L.A., I feel like it would've been way different. Everything happened for a reason. We weren't going out as 'Kylie and Trav.' We would just be in Cleveland, walking the street for hours. We would go on walks, and no one would bother us."
Months into their relationship, Jenner discovered she was pregnant—something she chose not to speak about publicly until her daughter, Stormi Webster, was born in early 2018. "It was crazy," Scott says of Webster's birth. "I was there through the hell, the epidural and s--t. Crazy."
At one point, Mark Anthony Green asks Jenner and Scott about the "Kardashian Curse"—i.e., "the belief that all the men who go through the Kardashian orbit end up flaming out." Scott isn't worried that he might end up gone—like Scott Disick or Lamar Odom. "I don't even be looking at mother--kers. I don't be looking at s--t. Kylie actually likes me for me," he says, adding, "I'm on my own island. So hey, come over there to Astroworld. I'm not into all the other s--t. I don't get involved. I'm over here. Kylie is different." Green shares his theory about the "Kardashian Curse" with Jenner, saying, "Maybe it's just extremely difficult to fly this close to the sun. You were built for this level of celebrity—Travis and the other men weren't." The Keeping Up With the Kardashians star agrees, insisting, "That's exactly what it is. They come and can't handle it."
To keep Scott from spiraling, Jenner reminds him it's best to ignore tabloid articles. "Well, for all the news stories, it's how I get over them so fast. Trav, for example, he's like, 'Wait...but how do you just get over this?' He gets more angry about things," she says, noting that her BFF Jordyn Woods has also bene affected. "It's everyone around us that aren't used to it. And we're just like, 'Oh, that'll go away in a day.' I know these stories aren't going to matter, so don't even let them affect you, you know? I think you're correct. But it's not just men—it's friends, it's people who come and just don't know how to handle it. It's the negative. There's a lot of people who love us, but there's also a huge handful of people who don't like us," she says. Regarding Scott, "I don't think he's really cool with it, but he deals with it, because we love each other and we have a family. For sure, I know he doesn't like the attention. That's why we just go the extra mile to keep our relationship super private, or like, if he has events or something, I won't come. Because I want him to do his own thing. I want him to be him. I don't want it to be Kylie and Trav. If people don't ever see us together, that's okay with me, because we just do our thing."
For more from the couple, pick up GQ's August issue, on newsstands July 24.